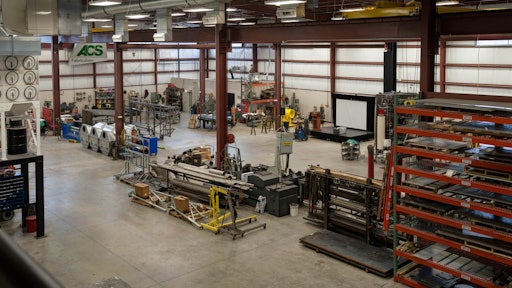 ACS recently celebrated 20 years in business along with the opening of its new 40,000 square-foot Manufacturing Facility at 3119 Deming Way in Middleton, WI.
As a supplier of custom facility and equipment solutions to the engine and vehicle test market, the new facility allows ACS to better serve the company's global clients, including industry leaders such as Caterpillar, Cummins, Daimler, Fairbanks-Morse, Harley Davidson, GE, John Deere, Navistar and MTU America.
"Our clients give us some tough problems to solve," says Jim Corkery, President of ACS. "They value our ability to meet their needs and schedule for custom equipment by managing all phases of engineering design, manufacturing, factory acceptance testing, and site installation and commissioning." With full machining and sheet metal fabrication capabilities and a UL listed electrical and control panel build shop, ACS produces mechanical, fluid, and control systems used in engine and vehicle testing.
"The building was designed with input from users to allow us to increase our capacity while improving our quality, safety, and efficiency. We now have sufficient space for clients, engineers, designers, and project managers to work here during the equipment build and factory acceptance testing as necessary," explains Matt Thiel, Director of Systems and Equipment.
This year also marks the 20 year anniversary of ACS. During that time ACS has grown to 150 employees – 20 of whom work in the new facility. One hundred-thirty others work at the corporate headquarters in Madison, two regional offices in the US, job sites throughout the US, and in offices and jobsites in England and China. "We are very proud to be moved into this 40,000 square foot manufacturing facility so that we can produce even more systems and equipment for our growing client base around the world," concludes Corkery.