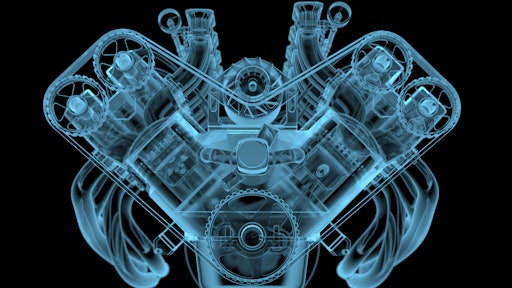 ©JustContributor – stock.adobe.com
Despite the amount of news coverage electrification receives these days, including here at OEM Off-Highway, traditional power sources like the internal combustion engine are still relevant and an area in which manufacturers continue to focus R&D efforts.
The power they provide is currently unmatched in many applications, particularly in very heavy-duty equipment. And while engine emissions have been greatly reduced in the last several years, there is still a lot of interesting work going on in this space as well as others which aim to further improve engine performance and efficiency.
READ MORE: Engine Efficiency and Performance Remain Key Design Factors for Manufacturers
Enabling the use of alternative fuels is a major area of focus for many engine manufacturers. The right fuel can help reduce emissions while providing performance similar to diesel or other currently used fuels. And in some instances, this can mean fewer changes are needed to engine designs which would make it easier to begin using the fuel immediately.
This was one of the reasons FPT says it began researching the use of DME (dimethyl ether) in heavy-duty engines. The fuel's similarity to liquified petroleum gas (LPG) makes it suitable as a replacement for diesel fuel, and testing has so far shown a reduction in NOx and other emissions which are expected to be the target of future emissions regulations.
Listen to our full podcast episode with FPT to learn more about their DME research.
Westport Fuel Systems recently announced it was researching the use of hydrogen in heavy-duty engines equipped with its High Pressure Direct Injection (HPDI) 2.0 System. The HPDI is designed to offer simple integration with minor changes to the base engine design. According to Westport, only custom fuel injectors, fuel supply and pumps are substituted for the traditional diesel components and the engine operates as it would with those traditional components. While initially introduced as a natural gas system, initial testing for use with hydrogen is showing a range of gaseous fuels can be utilized with the system to aid carbon-reduction efforts the company says.
New engine technology is also looking to make it easier to use alternative fuel options. Achates Power and Libertine FPE, for instance, are developing opposed-piston engine technology to provide performance enhancements in heavy-duty equipment while also enabling use of fossil-free fuels available today like ethanol. Although opposed-piston engines are not a new concept, these companies are developing new technology that can be used in the engines to meet performance and emissions reduction needs in today's equipment.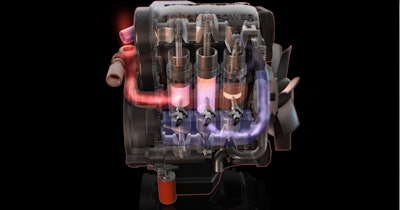 Libertine, for example, is developing opposed free-piston engine technology which replaces the crankshaft with software control. This enables every combustion event to be optimized through the use of real-time compression ratio control. Not only does this allow the engine to run more efficiently, but also enables the use of renewable fuels which often require more nuanced compression ratios.
Achates Power is currently testing use of opposed-piston engines in several applications, including military vehicles and most recently it received an award from the DOE to develop a two-cylinder medium-duty opposed-piston engine. The lack of a cylinder head in these engines helps to improve efficiency because heat losses common with cylinder heads are eliminated.
You can read more about these technologies, as well as other emissions reduction technology efforts being undertaken by engine manufacturers in our upcoming powertrain article in our April/May issue. Not a subscriber yet? Sign up now so you don't miss an issue!
You can also get news delivered directly to your inbox by subscribing to our newsletters, including our quarterly Engine Revolutions newsletter with the latest engine content.
Seeing what can still be done to improve engines and other technologies which have been around for decades makes writing for OEM a great experience. There's always something new and interesting to learn about, and seeing how much the industry works to advance means this will continue to be the case week after week.
We want to hear from you!
What new engine advancements to you see in the future? What will be the next thing in emissions regulations? How big a role do you see alternative fuels playing in the coming years? Let us know!
And be sure to follow us on social media to stay up to date on news, articles and more highlighting our ever evolving industry.