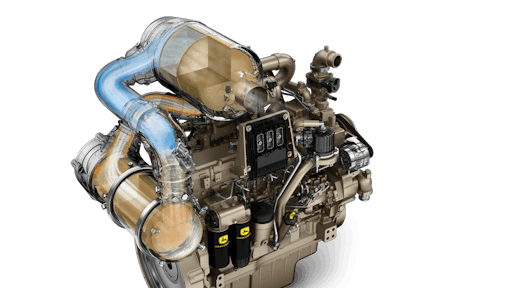 John Deere Power Systems
Aftertreatment systems have become an integral component of engines today due to the implementation of increasingly stringent emissions regulations. "In the last decade, aftertreatment systems used by our global OEM customers have become increasingly complex and more densely packaged," says Dr. Korneel De Rudder, Development Manager, Europe at Donaldson Co. Inc.
This increased complexity is necessary to meet the ever-tightening emissions standards being implemented in the U.S., Europe and other parts of the world he says. "As a result, there are more catalysts and sensors incorporated into a given package size," De Rudder explains. "For many off-road machines, because under-hood space is limited, we need to be creative to fit these new components onto the machines – and the components need to be more densely packaged."
To address this, De Rudder says Donaldson has focused on developing components and systems which allow for less "dead" volume inside the afterteatment system. "With earlier generation systems, 'dead' volume was often used to increase the residence time of the DEF (diesel exhaust fluid; also called AdBlue), which enhanced its decomposition and mixing in the exhaust gas," he says. "Modern systems have less space for 'dead' volume, which results in less residence time and drives the need for improved mixer performance. At Donaldson, we've developed a comprehensive range of compact and advanced DEF/AdBlue mixing systems that are specifically designed to be more efficient at achieving effective mixing in smaller spaces."
Determining how to develop and utilize the aftertreatment system is integral as well, says Alex Eden, Product Marketing Manager for Small Engines at Perkins Engines Co. Ltd. Manufacturers can choose to have a smaller diesel particulate filter (DPF) and larger selective catalytic reduction (SCR) or vice versa. They can also choose to focus their development efforts on the combustion system to make it a very clean system which helps to reduce emissions and can help reduce the size of the aftertreatment system.
"You have to think of aftertreatment as part of the entire system and take a systems approach that looks at satisfying the customer's need for power, product, price and packaging, while also meeting emissions standards.
"Our philosophy is we choose the right technology for the right engine at the right point of power to satisfy the customer," says Eden.
Mark Borst, Product Marketing Manager for Large Engines at Perkins Engines Co. Ltd., says that when Tier 4 Final came into effect in the U.S., the company chose to include a DPF on its larger engines even though it was not required to meet the regulation. The company felt including a DPF was beneficial for meeting the emissions regulation and allowed it to commonize its engines once the EU's Stage V standard was put in place.
"OEM customers buying our engines, Tier 4 Final or Stage V, get the same installation. They know the size, they know the package, they know what they have to accommodate," says Borst. "Aftertreatment is just as integral to their machine as it is to our engine."
Recent advancements in aftertreatment systems
Eric Hruby, staff engineer, Power Unit Development at John Deere, says that since the implementation of Tier 4 Final the company has worked on advancing its aftertreatment system designs based on real-world experiences and customer feedback. "Our efforts have been focused on improving customer value in vehicle integration, visibility, service life, product reliability and fuel consumption," he says.
To help ease installation and improve machine operator visibility, the company has integrated the diesel oxidation catalyst (DOC) and DPF as well as the SCR and ammonia oxidation catalyst (AOC) into a single module. Development of a compact DEF mixer is a key technology enabler which allowed John Deere to achieve this more compact aftertreatment system design. In addition, the company was able to use an advanced SCR coating on high porosity substrates to improve SCR catalyst activity. This reduced thermal mass and pressure drop to help broaden the operating temperature window for effective oxides of nitrogen (NOx) reductions in a smaller package says Hruby.
Improving the washcoat and substrate of the SCR over the years has greatly benefited packaging of the aftertreatment system. Doing so even by a small percentage enables better engine system optimization by either increasing power for the same package size or decreasing package size to fit into compact machines more easily, says Eden.
Combining the SCR and DPF functions into a singular SCR-on-Filter Substrate (SCRoF) is becoming more common in the industry as a means of meeting system packaging challenges says Gary Simons, Engineering Director, North America at Donaldson Co. Inc. "Because SCRoF substrates have higher porosity than DPFs and SCRs, they are more fragile. Canning them requires careful management of the installation forces and the substrate mat holding pressures."
As aftertreatment system packages get larger and more complex, De Rudder also notes they tend to have more surface area. This larger external surface can lead to heat rejection issues. Proper insulation will become more critical and those designs which have already been implemented will need to be further refined.
DEF/AdBlue mixing is an important aspect of aftertreatment systems, as well, says De Rudder. "It is commonly expected the ammonia (NH3) uniformity requirements need to exceed 0.990 to meet emission standards. This level of performance is expected with little or no DEF/AdBlue crystallization."
This crystallization is a recurring challenge with many aftertreatment systems he says. While some crystallization is possible, minimizing its occurrence and impact is the goal for all equipment manufacturers. De Rudder says the industry currently struggles with defining a specification for consistent testing of crystallization. However, Donaldson has developed its own test cycle to measure crystallization so it can apply appropriate mixer solutions to minimize its occurrence.
"Because it is more likely to generate crystallization/deposits during challenging duty cycles, at Donaldson we often recommend that mixers are designed to allow for effective function even during demanding duty cycles – rather than an unoptimized system that will result in a greater risk of deposits," says De Rudder.
Compact, modular exhaust gas aftertreatment systems have become essential in the off-highway equipment industry says Klaus Schrewe, Head of Innovation and Strategic Product Management, HJS Emission Technology GmbH & Co. KG. This is due to the numerous applications within the industry which have their own unique needs and machine designs. Having a compact and modular design allows OEMs to place the engine and aftertreatment system in a way that best fits the design of a piece of equipment without impacting operator visibility or machine performance.
"The range of user profiles in the NRMM (non-road mobile machine) area is much wider than in on-highway applications, from extremely long low-load operation to almost continuous full load," says Schrewe. "This results in very high demands on the development and validation process for the corresponding aftertreatment systems as well."
He says the company has utilized a simulation-based development cycle in combination with testing rigs to meet specific customer requirements. Doing so enables the company to develop systems with a high degree of maturity in a short amount of time even when the customer has complex requirements.
New regulations bring new design needs
Currently, Europe's Stage V emissions regulation is the strictest in the world for off-road equipment engines. Stage V put in place a particulate number limit which requires the use of a particulate filter for engines from 19-560 kW says Schrewe. This brought about the need for increased engine efficiency and a reduction in exhaust gas recirculation (EGR) which resulted in higher raw NOx emissions. To overcome this, SCR systems had to become more efficient with significantly improved DEF treatment in the mixing section, he says.
Like Donaldson, HJS also sees the important role DEF/AdBlue treatment plays in aftertreatment system performance. Schrewe says the company's HJS Swirl Cap mixer meets the industry's need for optimized DEF/AdBlue use. "It utilizes the installation space of the end-cap of a substrate canning and realizes an almost complete evaporation of high AdBlue dosing rates even at very low exhaust gas temperatures."
Although there are no new emissions regulations for off-road equipment currently on the books in the U.S. and Europe, the California Air Resources Board (CARB) has proposed a potential Tier 5 regulation. And with many countries looking to reduce emissions from all industries, stricter regulations are possible in the future.
READ MORE: What will a Tier 5 Emissions Regulation Entail?
"Following the development of exhaust emission legislation in recent times, one sees that the emission limits for heavy-duty on-road and NRMM applications, as desired by the legislator, are converging more and more," says Schrewe. "This trend affects both the limits themselves and the test procedures which are moving further towards real-world applications."
He says engine cold starting will become increasingly important as well in the calculation of emissions. So-called secondary emissions such as NH3 and N2O (nitrous oxide) may become more important as well in future regulations. "A combination of engine and exhaust gas aftertreatment is therefore required which, based on a low raw emission level of the engine, enables almost emission-free operation directly after engine start," says Schrewe.
"To meet the emerging new emissions regulations, twin-dosing for the DEF with a first SCR catalyst close to the engine and auxiliary heating measures such as high-efficiency electric exhaust heaters will be used in addition to further-developed coating technology."
Hruby says John Deere envisions there will be significant changes to the engine, aftertreatment and embedded controls. These changes will likely impact vehicle design and visibility for operators. "Additional investments in testing and development capabilities will be necessary to accurately and precisely measure near zero-level NOx emissions," he says.
He also notes the potential impact of increased product costs associated with longer durability and more stringent emissions reductions. Those using equipment in the below 56 kW (75 hp) power range in particular are sensitive to product costs and packaging constraints; a new emissions regulation would thus have a large impact on customers' buying decisions.
"We are still evaluating several technology pathways," says Hruby regarding the potential of a Tier 5 emissions regulation. "The focus has been on low-temperature NOx reduction, exhaust temperature management, high NH3 uniformity, catalyst selections, control strategy and fuel efficiency improvement technologies."
Although the proposed CARB Tier 5 emissions regulation has not yet been formally accepted, Donaldson's De Rudder and Simons say changes that could be included in the final rule will likely impact aftertreatment system designs. Reductions in NOx, particulate matter (PM), carbon dioxide (CO2) as well as increases in the useful life/warranty limits and colder duty-cycle tests are expected to be part of the regulation. "The reduction in criteria pollutants and CO2 will drive a change in emissions strategy," they say. "Dual DEF/AdBlue injection systems are possible, as well as closer coupling of the aftertreatment system to the engine."
In addition, De Rudder and Simons say there is growing consensus in the industry that use of EGR will be necessary to meet the next generation of emissions limits. "This means that engines that are calibrated for very high raw NOx and low PM will become less prevalent," they explain. "This will lead to reduced burden on DEF/Adblue mixers – which will bring other trade-offs/challenges such as the need for greater regeneration of DPFs.
"Today's off-road engines tend to rely on passive DPF regeneration with an off-line active regeneration when needed, while many on-highway engines can have active regenerations during normal operating with minimal impact to the user," adds De Rudder and Simons.
They go on to say the higher raw PM which results from the reintroduction of EGR will increase the need for more frequent active regeneration. This will likely require OEMs to develop similar regeneration strategies used for on-highway engines.
The differences in emissions regulations around the world can be challenging for manufacturers. Perkins' Eden notes that most countries follow either the U.S. or European Union regulations, but there are a few exceptions such as China. There are also those countries which do not have any regulations or one that is more akin to the former U.S. Tier 3 regulation.
Dual certifying engines is one of the ways Perkins and other engine manufacturers have gone about ensuring their products will work in various markets and not cause extra design work for OEM customers. In addition, Eden says simplifying installation and use of the engine and aftertreatment system can benefit OEMs needing to serve multiple customer markets.
To aid with the simplification efforts, Perkins updated its engine control modules (ECM) on its larger 15 and 18 L engines. Borst says the company went from having three ECMs—one on the engine, one on the aftertreatment and one on the DEF tank—to a single ECM mounted on the engine. This enabled a simplification of the wire harnessing to not only ease installation but also increase durability and robustness.
He says the company also upgraded the ECM with a 2-wire Ethernet connection which allows for simpler, faster installation. It also enables remote service and software flash, enabling a more complete integration with the customer's machine.
This freed up the CANbus so additional customer peripherals could be controlled and brought a common ECM across engine platforms for the company. "Basically, [we are] just trying to make it easier for our customers to understand what we're producing, make it easier for them to install into their machines, and make it easier for them to get their machines and our engines to work more closely together so we all get the most out of what we can with these units."
Further technology developments will be necessary
"During the last 15 years, global emission regulations have evolved rapidly," says De Rudder. "Because the industry rushed from one legislation to the next, this may have led to some over-engineering, with little time devoted to cost and product optimization."
However, now there is more time being given between emissions regulations which is better enabling the industry to optimize aftertreatment systems and harmonize between different platforms he says. OEMs too have been better able to focus their design efforts on optimized products and functionality instead of meeting tight emissions regulation deadlines which has also benefited the industry and likely will continue to be the case going forward.
Additionally, many in the industry see passenger car and heavy-duty on-highway standards merging at the EURO 7/VII level. "If, and when, this happens, there will be questions regarding how the next Stage/Tier off-road standards can be harmonized with the on-highway EURO VII limits," says De Rudder and Simons.
In general, further technological developments will be necessary for aftertreatment system designs whether that be to meet customer requirements or future emission regulations.
Eden says customers will continue to want more with less, necessitating companies like Perkins to determine how they can keep package sizes the same while increasing power density.
Use of downsized and down sped engines has been a bigger trend in Europe he says. When doing so, efficiency still needs to be maintained as does emissions compliance. All of this needs to be evaluated as part of an overall system design to ensure customer requirements are met. "Anything we can do as part of our value proposition to our customer," will be beneficial says Eden. In addition to ensuring the functional performance of the engine, if there is anything Perkins can do to help reduce packaging size while also improving fluid consumption by reducing DEF consumption and creating a durable, fit-and-forget product ensures customers are happy.
Going forward, Hruby says John Deere sees a need in the industry for advancements in SCR catalyst technologies as well as improved selectivity of ammonia oxidation catalyst, DEF mixing and exhaust sensing technologies. "The industry also lacks the validation of whether further reduction of fuel sulfur level and tightening of DEF specifications are required to achieve the longer useful life of aftertreatment while also meeting the proposed Tier 5 regulations."
"We also expect to see significant changes on the low-power side of the market," concludes De Rudder. "Specifically, electrification will play a significant role by replacing some diesel engines and hybridization of engines [and] machines will make high-power electricity available for use during the heat-up phase of the exhaust," which will aid aftertreatment system performance.
Companies in this article