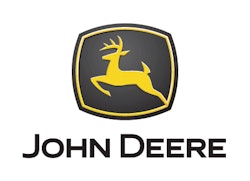 Deere & Company says it will build a factory to manufacture engines for John Deere equipment that is built in China. The factory represents an investment of approximately $60 million and will be located in the Tianjin Economic and Development Area, in which Deere already has other facilities.
"John Deere aspires to deliver great products to our customers around the world," says Samuel R. Allen, chairman and chief executive officer of Deere & Company. "This engine factory will allow John Deere to deliver increased technology for China customers while leveraging enterprise investments and engineering resources in China."
This is the company's sixth engine factory worldwide, all which are strategically located to support facilities that manufacture John Deere's agricultural, construction and forestry equipment. Deere has engine factories in Argentina, France, India, Mexico, and the United States. Deere estimates the factory in China could start production in late 2013.
Jean Gilles, senior vice president, John Deere Power Systems, says, "We believe the integration of John Deere engines into the equipment we manufacture provides Deere with a competitive advantage because our customers have a highly integrated machine and they experience improved performance for fuel economy, emissions and noise reduction."