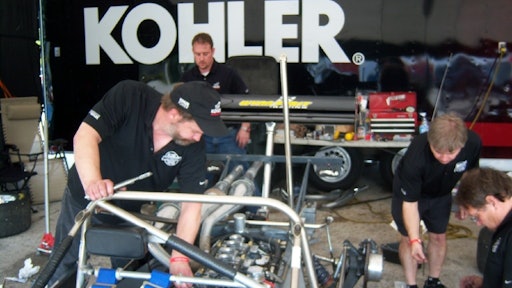 KOHLER and Wynnfurst Racing…for many race fans these names are interchangeable due to the long and storied relationship between the two. What began as a small gift on KOHLER Co.'s part in the early 1970s has grown through ingenious engineering into a successful racing legacy. In fact, working together, Wynnfurst Racing and KOHLER have captured six SCCA National Championships in D Sports Racer and C Sports Racer classes, as well as thirteen June Sprints victories. Currently, Wynnfurst is eagerly preparing for the KOHLER International Challenge (KIC), one of the largest vintage road races in the United States. The event, to be held July 14-17 at Road America in Elkhart Lake, WI, is unquestionably special for the Wynnfurst team.
"It's an honor to participate in an event that bears the name of your primary team sponsor," says Jeff Miller, a longtime driver and founder of Wynnfurst Racing. "But, I think it's important to note that the relationship between KOHLER and Wynnfurst is uncharacteristically deep. The company's engines and unmatched intelligence have really been the driving force behind our success over the years."
A Long-Standing Partnership:
In the early 1970s, Miller was serving as a corporate pilot for KOHLER when he commented that a KOHLER prototype engine, being tested at the time for military drones, could be adapted to work as a racecar engine. So, the company gifted one of the engines to Miller, who then purchased a custom-built Lola chassis from the legendary Carl Haas.
Nearly 40 years later, the relationship between KOHLER and Wynnfurst Racing stands as a testament to hard work, creativity, loyalty, and success. In addition to victories on the track, Wynnfurst has given back to KOHLER in the form of product intelligence. Many of the lessons learned through pushing engines on the raceway have been shared directly with the engineers and product designers who craft the KOHLER engines commonly found in lawn mowers, utility equipment, recreation vehicles, and more.
"I can tell you firsthand that KOHLER engines are absolutely built to perform," Miller commented. "If they can propel us into victory lane, they can certainly stand up to whatever a typical lawn or jobsite can throw at them. Any vehicle or piece of equipment is only as strong as the engine powering it, and I wouldn't take a chance with anything less."
The KOHLER International Challenge:
The KOHLER International Challenge is an annual peak-of-summer tradition for anyone who loves racing. It offers spectators an opportunity to see art-on-wheels and great competition between numerous vehicles – from cult favorites to priceless limited-edition production models. No other vintage event in the country draws a larger crowd or more praise from those in attendance. Advance tickets to the event can still be secured online at www.RoadAmercia.com.