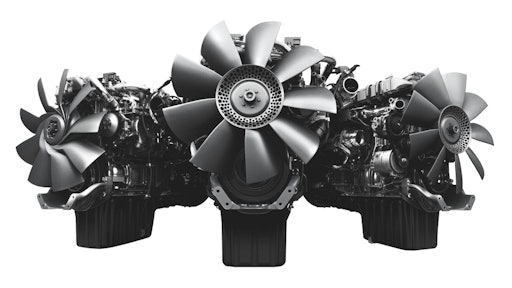 Less than seven years after introducing its groundbreaking Detroit DD15 engine, Detroit Diesel Corporation (Detroit) today marked the production of its 250,000th DD Series engine. The DD Series engines – which also includes the Detroit DD13 Detroit DD15 TC and Detroit DD16 engines – feature superior performance and power.
"When we unveiled our new heavy-duty engine platform in 2007, we anticipated our customers would benefit from greater efficiency and uptime," says Brad Williamson, Manager, Engine and Component Marketing for Daimler Trucks North America. "The achievements of our engines – most recently combining with the Cascadia Evolution to deliver a 7% improvement in fuel economy – have exceeded expectations."
Jointly developed by Daimler Trucks in Germany, Japan and the United States and featuring more than 90% globally shared parts, the DD Series heavy-duty engine platform was the largest investment ever made in product development by an engine manufacturer.
"The DD Series engines were well-received by the market, outperforming the Series 60 engine in just the first year," says Williamson. "Our customers embraced the products and performance benefits the engines delivered."
Powering the Road: Advanced Technologies
All DD Series engines feature a robust design with the exclusive Amplified Common Rail System (ACRS), which works in combination with Detroit DDEC electronic engine controls to benefit fuel consumption while reducing noise and vibration.
"The DD Series lowers the real cost of ownership for our customers," says Williamson. "Our engineers implemented industry-first technologies that set the stage for ongoing achievements."
These achievements  include using BlueTec SCR emissions technology, introduced to meet EPA 2010 emissions standards and achieving Greenhouse Gas 2014 (GHG14) regulations a full year ahead of the mandate for certification.
"Our emissions solutions not only contribute to reducing pollutants, but also provide enhanced reliability, durability and efficiency," says Williamson.
Integrating Solutions
With the launch of the new integrated Detroit Powertrain, Detroit engines are poised to deliver even better results for customers.
"The DD15 kicked off an important era of development and innovation for Detroit, and the integrated Powertrain marks the culmination of our achievements," says Williamson. "The DD15 is now our flagship product, and it serves as the heart of our solutions."
The integrated Detroit Powertrain has the DD15 engine with a new downspeed rating of 400 hp and 1,750 lbs.-ft. Together with the Detroit DT12 transmission and Detroit axles, the Powertrain provides seamless component communication.
The Detroit Difference
All Detroit engines are manufactured at the Detroit headquarters in Redford, MI. Since its opening in 1938, Detroit has built more than five million engines at the three million-square-foot plant. Over the past 10 years, parent company Daimler Trucks North America has invested more than $750 million dollars in the facility.
"A big part of the heavy-duty engine platform success story is our plant and the team behind it," says Jeff Allen, head of Redford plant operations for Detroit Diesel Corporation. "Our facility investments and commitment to lean manufacturing processes contribute to our ongoing product quality and advancements."
Adds Williamson: "We're proud that our DD Series engines have reached this important milestone, and we're proud that its pioneering technologies have contributed to the success of our customers. We will continue to push the envelope of innovation."