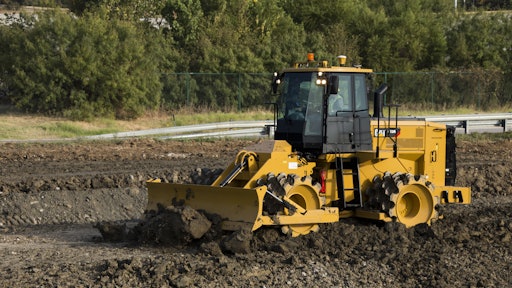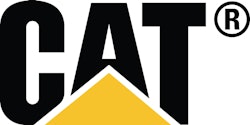 The new Cat 815K soil compactor, weighing 49,353 lbs. and equipped with a Cat C7.1 ACERT U.S. EPA Tier 4 Final/EU Stage IV engine, is designed for heavy-duty compaction and dozing operations. This durable design, which lasts through multiple life cycles, provides optimum customer value with high production and low-cost operation. The Caterpillar built powertrain ensures reliability in this difficult application, and the 815K's wheel design delivers high ground pressures. In addition, the available Cat Compaction Control system and Cat COMPACT technologies provide compaction-measurement and mapping capabilities that enhance the overall efficiency of the compaction process.
Structures and wheels
The 815K's full-box-section rear frame resists torsional shock, twisting forces and heavy-duty steering-cylinder mounts that dissipate steering loads into the frame. Axle mounting is designed to provide increased structural integrity. This robust design combines with high-strength materials and robotic welding to ensure durability and overall machine strength.
Four forces (pressure, manipulation, impact and vibration) combine with the 815K's modified-chevron, tamping-wheel tip design to provide optimum compaction results, meeting density requirements (typically 95-100% Standard Proctor) in fewer passes (whether forward or reverse), while delivering superior traction and a smooth ride.
The 815K achieves compaction from the bottom of the lift to the top, and the tampered wheel tips "walk" out of the lift without fluffing the soil, leaving the top of the lift compacted with a relatively smooth and sealed surface. Haul units can maintain high speeds on the surface when delivering fill, which the 815K can spread without assistance, possibly eliminating extra on-site machines. Each wheel has two cleaner bars with hardened-steel, adjustable tips.
Compaction technology
Available for the 815K is the Cat Compaction Control system, which uses Machine Drive Power (MDP) technology to measure rolling resistance and to correlate resistance with soil stiffness. The MDP system works in both cohesive and granular soils. An optional 3D mapping system correlates compaction measurements with the machine's location, providing a graphic, real-time view of compaction progress and a record of compaction results.
In addition, available Cat COMPACT technologies combine an advanced compaction-measurement system with in-cab guidance and reporting capabilities to assist in consistently meeting compaction targets, uniformly, in minimum passes, saving fuel and rework costs.
Also, Cat LINK technologies, Product Link, for example, wirelessly deliver pertinent operating data (such as machine location, hours, fuel usage, idle time, and event codes) via the online VisionLink user interface to assist in managing the fleet and lowering operating costs.
Powertrain
The 815K's Cat C7.1 ACERT engine, developing 248 net hp (185 kW), features innovative Cat electronics, fuel injection process, air-management system, and emissions controls, including the Cat NOx (nitrogen oxide) reduction system and selective catalytic reduction (SCR) and diesel particulate filter (DPF) aftertreatment systems. The DPF regenerates (eliminates accumulated soot) without interrupting the work cycle. The high-pressure, common-rail fuel system contributes to fuel efficiency, as does the 815K's automatic idle-shutdown system.
The 3F/3R Cat planetary power-shift transmission uses integrated electronic controls for smooth shifting. Advanced gear metallurgy and premium, exceptionally durable clutch-disc material ensure long service life.
Operator amenities and safety
The 815K's comfortable, well-appointed cab is isolation-mounted to reduce vibration and sound, and a Cat Comfort Series III air-suspension seat adds to operator comfort. Temperature control is automatic, and a cab-pressurization system uses filtered air to keep the cab environment clean and fresh. Expansive glass areas ensure all-around visibility, enhanced by a rearview camera.
The 815K uses Cat STIC steering control, which allows single-lever, low-effort steering with simple side-to-side movements, as well as fingertip transmission control. An electro-hydraulic, single-lever implement-control system provides responsive, precise blade positioning. For further machine control, the left pedal acts as a brake, transmission neutralizer and engine decelerator. The decelerator allows quickly overriding the engine speed selected by the throttle lock to slow the machine when maneuvering.
Serviceability
Routine maintenance is performed safely and conveniently with the 815K's ground-level or platform access. Service points are grouped, swing-out doors on both sides of the engine compartment provide easy access to daily service checks, and ecology drains help prevent spills. Sight gauges permit quick, visual inspection of fluid levels and minimize fluid contamination. The Cat VIMS (Vital Information Management System) provides notifications that allow potential operational issues to be resolved in a timely manner.