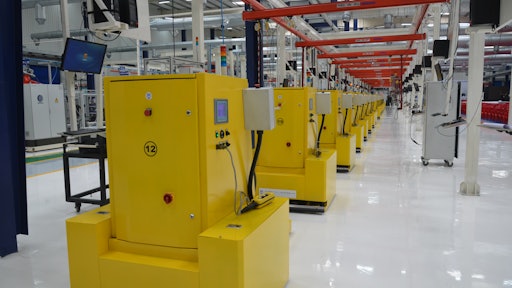 Volvo Penta will begin production of 5- and 8-L industrial engines in India, aimed at the Indian market, next year. The company has already been supplying engines for industrial and marine applications, to customers in the country for more than two decades. The 5- and 8-L engines will be made for Indian customers at the VE Powertrain (VEPT) plant in Pithampur, near Indore. A new line will be added at the plant exclusively for the Volvo Penta engines.
"The plant in Pithampur is not only one of the most modern engine production facilities in India but by any global standard," says Volvo Penta's Senior Vice President, Global Operations and Quality, Peter Hertinge.
"It is highly automated with integrated testing facilities and has quality standards and procedures in place to consistently produce engines that are suitable for customer requirements and fulfill the latest and most stringent emissions regulations."
The commencement of engine production at VEPT reconfirms the Volvo Group's commitment towards the 'Make in India' initiative by investing in local production.
Make in India is an initiative run by the Indian government to encourage national and international companies to participate in production in the country, to utilize local skills and boost manufacturing and employment.
The VEPT plant in Pithampur is part of the VE Commercial Vehicles' joint venture between the Volvo Group and Eicher Motors. It is one of six manufacturing plants that the Volvo Group has invested in, in India, including several in Bangalore for the Trucks, Buses and Construction Equipment divisions.
"We see a great opportunity in infrastructure development in the country," says Jonas Nilsson, Head of Volvo Penta in India. "As the demand from customers is increasing constantly, there is pressure on contractors to complete the projects within the specified time with the cost levels they have calculated. So there is need for highly reliable and fuel efficient equipment to meet these demands.
"The ability to supply engines quickly is a key capability for Volvo Penta. Our engines enable our OEMs to make their products more competitive in the market, as well as to explore the global market."
Volvo Penta's range of 5- and 8-L engines are certified for Indian Bharat (CEV) Stage III emissions standards which are equivalent to EU Stage IIIA/Tier 3 and are already in the field, powering a variety of applications including construction, material handling, raw material exploration and agriculture. The new production and assembly lines will enable versatile solutions tailored to the local market needs.
Bjorn Ingemanson, President of Volvo Penta, says that the division is exploring ways in which to fully leverage its investment at VEPT in the future.
"One of Volvo Penta's global ambitions is to create a premium supply chain for our products with competitive lead-times at a competitive cost. Introducing production in India will help us to develop the foundation on which to build for the future.
"We see great value in expanding upon our knowledge gained over working with OEMs in the country, and we look forward to putting that into practice for the benefit of our Indian customers."