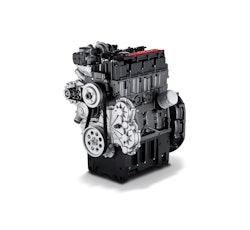 FPT Industrial

FPT Industrial is taking part in EIMA International 2021, the International Agricultural and Gardening Machinery Exhibition being held in Bologna (Italy) from October 19-23. For this very important occasion, which will finally see the return of large audiences, the brand will be showcasing its roadmap to enable an easy and feasible energy transition, through a comprehensive collection of products and solutions on display, all meant to drive and lead the change to alternative and sustainable propulsion systems.
The FPT Industrial stand will be displaying the following main themes: commitment to innovation for a sustainable future with the use of multi-propulsion solutions for the agricultural segment; the consolidation of the company's extensive experience with CNG engines; the full range of Stage V engines for the agricultural and power generation segments featuring breakthrough technology for Stage V compliance and PowerPack solutions; FPT's innovative Customer Service offering, with a presentation of the latest remote assistance and predictive maintenance solutions.
New F28 – The modular engine platform
Incorporating various models ranging from 37-75 kW, the F28 Stage V is a one-engine solution ideal for both space and performance-driven applications thanks to its enhanced output in a highly compact package. Delivering 3.4 L performance in a 2 L package, the F28 diesel allows for genuine streamlining, thanks to the integrated EGR channel through the cylinder head, reduced bridge block design and the most compact ATS in the category.
High low-end torque (300 Nm at1,000 rpm; +23% versus competitors) and maximum torque 26% higher than the competitor average (375 Nm at1,400 rpm) ensures top performance in the 55 kW category.
The high-horsepower version (up to 75 kW) enables installation synergies across vehicle platforms, with a wide range of options and datasets for different working cycles ensuring maximum ease of installation. Its versatile design makes the F28 ideal for a large number of agricultural applications, such as specialized and small utility tractors. Single-side serviceability and a 600-hour oil change interval mean real ease of maintenance and reduced operating costs.
The F28 is designed to be multi-power and features a modular architecture - it can run on diesel and natural gas, and is also suitable for hybrid applications - providing the best performance in all working conditions and ensuring maximum installation flexibility.
New F28 Hybrid – Agricultural power enters a new era
The hybrid version of the F28 engine for agricultural machinery will be unveiled for the first time. The F28 Hybrid leverages the new multi-fuel platform design for a scalable hybrid approach. Starting with the P1 Low Voltage (48V) architecture (electric power up to 20 kW continuous-30 kW peak) for improved load response with e-torque assist to ensure productivity in all working conditions, the system is a modular concept, scalable to high voltage solutions for more demanding electric loads and ready for P2 architecture with integrated clutch enabling plug-in solutions for low noise/zero-emissions operations (indoor/stable/greenhouse activities). Its integrated layout allows for plug and play replacement of larger diesel versions.
The F28 Hybrid is the best solution for an effective use of agricultural e-implements, guaranteeing improved efficiency thanks to engine downsizing and optimized operating points. Thanks to decoupling and improved implement efficiency, a 15% to 20% reduction in fuel consumption can be achieved, depending on the e-implement technology.
F28 NG – The first natural alternative
The F28 Natural Gas is the first agricultural engine in its category to run on alternative propulsion. Designed with a modular approach, the F28 Natural Gas shares common base components with the diesel version, offering the same performance but with net CO2 emissions which are near-zero or even negative when running on biomethane obtained from agricultural waste and liquid manure. Its versatile design makes the F28 ideal for a range of agricultural applications, such as specialized and small utility tractors.
The F28 Natural Gas offers up to 55 kW (75 hp)/375 Nm with high torque approach for prompt response: low-end torque is 23% higher than the market average. The specific high-performance version achieves 75 kW (100 hp)/415Nm.
Stoichiometric technology and multi-point injection ensure clean combustion, high performance and low emissions.
New proprietary model-based engine emission controls, with EGR-free technology and compact maintenance-free three-way catalyst, allows for Stage V compliance with no need for either DPF or SCR. Single-side serviceability and a 600-hour service interval ensure easier maintenance and low running costs.
A special F28 prototype running on biomethane and powering a New Holland TK Methane Power crawled tractor is the star of the show in a 3-year partnership signed between FPT Industrial and the famous and historic Fontanafredda winery (Langhe Region, Piedmont, Italy), founded in 1858 by the first King of Italy, with the goal of producing the first zero-emissions Barolo wine vintage. The grapes were harvested in October for the Vigna La Rosa cru, a Barolo which Wine Spectator magazine ranks in its world top 100. Through this successful experience, the biomethane-powered F28 will establish itself as a real enabler of sustainable viticulture and agriculture.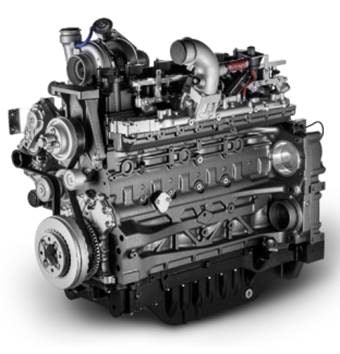 N67 Natural Gas – The same performance as diesel, with one big difference
Leveraging more than 20 years' experience in Natural Gas engine development, proven by over 60,000 units sold globally, FPT Industrial is now pioneering the introduction of Natural Gas technology in off-road applications, with customized engine solutions for installation on agricultural equipment. Powering the "Tractor of the Year 2022" candidate New Holland T6.180 Methane Power, the N67 Natural Gas is the 6-cylinder, 6.7 L engine from the NEF series that represents the ultimate clean energy solution specifically designed for agricultural applications. The N67 NG engine delivers the same performance as Diesel engines in terms of power, with up to 180 kW at 1,800 rpm, 1,184 Nm torque at 1,500 rpm, and extended durability and maintenance intervals, with an oil change interval of up to 600 hours, thus ensuring equivalent in-field performance and operation for end-users. Stage V compliance is attained through a simple maintenance-free 3-way catalyst, with no need for EGR, DPF or SCR, maximizing reliability, machine uptime and efficiency.
In real-world agricultural working conditions, CO2 emissions are reduced by a minimum of 10% when compared to a standard diesel tractor and are close to net-zero when running on biomethane. Moreover, polluting emissions are reduced by 80% on average when compared to a standard Diesel engine. The structural engine configuration ensures robustness and reliability in all operating conditions thanks to new high-strength materials: a new cylinder head and exhaust manifold with increased thermomechanical resistance, and a stainless-steel turbine housing with water-cooled bearings. The N67 NG engine will also be on display at the New Holland stand together with the V20 model powering the New Holland FR920 Forage Harvester.
New F34 Stage V PowerPack – The all-in-one Plug & Play solution for Power Units and Power Generation
FPT Power units featuring F5 engines deliver from 55-105 kW. The F5 Series stands out for its compactness, with 3.4 and 3.6-L displacement and high torque up to 600 Nm; a 3.2-L version is also available for Tier 3/Stage III A markets. The FPT F34 Stage V/Tier 4 Final presented at EIMA International 2021 comes in a complete pre-assembled plug and play solution: this means that the cooling package, air filter and ATS are installed on the engine with an optimized and compact layout to minimize installation and assembly work. But there's more. In fact, this innovative solution actually reduces fuel consumption, thus minimizing costs and simplifying maintenance.
The F34 Stage V/Tier 4 Final for agricultural applications below 56 kW is equipped with a compact DOC+DPF solution, ensuring ease of use and low operating costs. High pressure common rail and waste gate turbocharging allows for a fast and ready engine response to all loads, delivering 55 kW with reduced fuel consumption. Long oil change interval (600 hours), single-side maintenance, and a maintenance-free ATS simplify maintenance activities and maximize engine uptime.
Designed for demanding applications, such as construction, rental and events, and featuring the same ATS architecture of the IPU engines, the F34 Stage V/Tier 4 Final for Power Generation is available in 30 kVA, 40 kVA and 60 kVA G-Drive versions.
The standard switch-ability feature allows cross regional emission compliance with the same solution: this means that it is possible to switch from 1,500 rpm (Stage V compliant) to 1,800 rpm (Tier 4 Final compliant) without any hardware or software changes, or the need to install additional components.
More efficient stock management and higher product flexibility, a key requirement in rental applications and international business, is therefore ensured.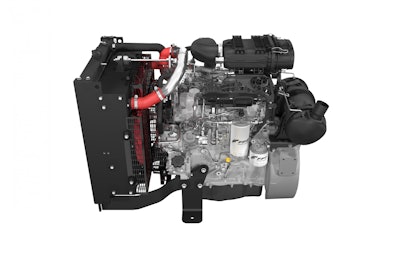 New N45 – Best-in-class power, torque, fuel efficiency and reliability
Designed for the most demanding agricultural equipment missions, the NEF series is the prime example of FPT Industrial's technological excellence. Since 2001, more than two million engines have been produced for a huge range of applications: agriculture, construction equipment, on-road, marine and power generation.
With best-in-category performance in terms of both power and torque, fuel efficiency and reliability, the NEF series stands out for its flexibility, with either structural or non-structural design and a wide range of options to meet customer requirements.
Thanks to FPT's pioneering EGR-free combustion and exclusive, patented HI-eSCR2 aftertreatment technology, the NEF series N45 model represents the benchmark for productivity in mid-range applications, with further enhancements in performance and efficiency with newly designed Stage V engines.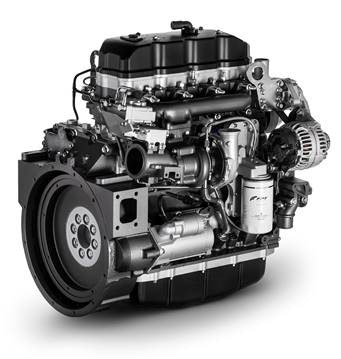 Thanks to cutting-edge common rail injection technology, single stage turbocharging, and redesigned hardware, the N45 ensures optimal combustion efficiency. This means low fuel consumption, high power density and high system reliability.
The Stage V NEF engines feature a performance increase compared to Stage IV/Tier 4 Final models with the same engine displacement and no layout changes: up to 150 kW for the N45 (+15%). A best-in-class service interval of up to 1,200 hours, thanks to new high capacity filters, completes the package.
Both the N45 engines and the Hi-eSCR2 system for Stage V compliance are offered in a compact and lightweight design to reduce packaging and facilitate installation on the vehicle. As a matter of fact, EGR-free technology reduces cooling power requirements, further simplifying installation for OEMs with the same cooling requirements across all emission stages.