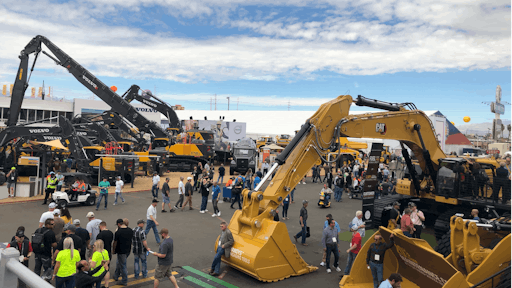 S. Jensen
CONEXPO & IFPE 2020 set the stage yet again for a host of new equipment and technology launches for the construction, aggregates and mining industries.
Read our daily report which was continually updated during the show with the latest news and product launch announcements.
While the current global health crisis was on the minds of many during the show, it did not hinder the interest of attendees or exhibitors who wanted to learn about the latest industry technologies and trends. Crowds filled the halls of the Las Vegas Convention Center to see new equipment and components.
In its post-show release, show organizer AEM (Association of Equipment Manufacturers) says registrations totaled over 130,000 and that cancellations from international attendees—those most impacted at the start of the show by COVID-19 concerns—were less than 1%. Mary Erholtz, Vice President of Marketing at Superior Industries and CONEXPO-CON/AGG 2020 Show Chairperson, says it was one of the best editions of the show due to the number of exhibits and interest from attendees.
Many exhibitors noted during the show it was the quality versus quantity of people they had discussions with which made this year's CONEXPO and IFPE a success. This sentiment was felt especially in IFPE, which features many component manufacturers—and for whom the quality of the conversations is of particular importance.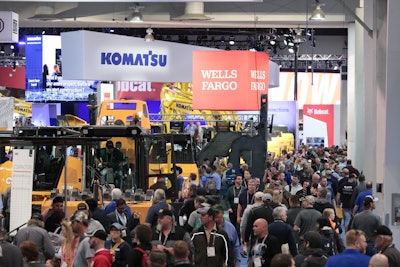 Alternative energy takes center stage
Electrification and other alternative power sources continue to grow in the heavy equipment industries. This was apparent during CONEXPO with many manufacturers exhibiting their newest developments in this area.
One of the biggest launches came from CASE Construction Equipment which unveiled on the first day of the show its fully electric backhoe loader known as Project Zeus. The 580 EV backhoe loader is powered by a 480V, 90 kWh lithium-ion battery pack and offers performance equivalent to a diesel machine.
Two units have already been sold to utilities in the United States, and CASE has the capability to produce additional units throughout 2020 before ramping up production to meet greater demand in following years.
Visit our media center for even more video interviews and equipment announcements from the show floor.
Hyundai Construction Equipment Americas introduced several new pieces of equipment during the show including two prototype electric-powered compact excavators—the Hyundai R18E developed exclusively in house, and the R35E which was designed in collaboration with Cummins Inc.
The prototype Hyundai R18E is a two-ton-class machine designed for use both indoors and in urban settings. Offering power and productivity equivalent to the diesel-powered Hyundai R17Z-9A compact excavator, the R18E is 60% more energy efficient. It is powered by an induction-type motor with 1-hour current rating of 225 amps. The R18E can operate up to 8 hours on a full charge.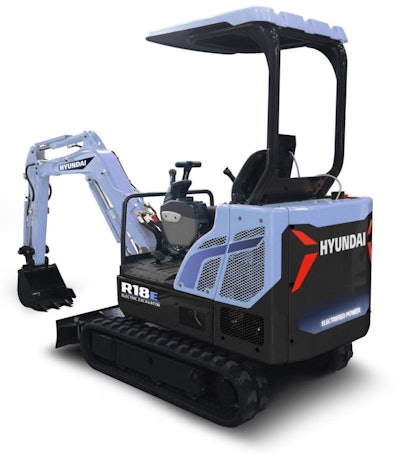 Takeuchi and Avant Techno also showcased electrified machines during the show. Avant Techno's first fully electric loader, the Avant e5, offers zero emissions and lower operating costs. Reduced noise levels from the machine also benefit use in residential areas or within buildings.
Among engine manufacturers at the show, hybrid systems were a key theme. FPT Industrial debuted its F28 Hybrid engine system featuring a diesel engine paired with an e-flywheel.
Caterpillar Inc. also debuted a hybrid engine concept. The Cat C18 hybrid optimizes machine performance by capturing surplus energy via a parallel hybrid system which can re-introduce that energy into a machine when necessary. The company says this can help improve fuel consumption and reduce emissions.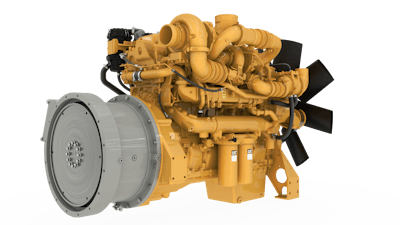 Perkins engines introduced the next generation of its hybrid-electric engine which now enables an electric motor to be placed at the front of the engine or by the flywheel, offering flexibility for OEMs.
DEUTZ and Kubota Engine have continued to develop and exhibit their hybrid engine and alternative power system technologies over the last several years—showing the newest advancements at each of the major industry shows Intermat, bauma and CONEXPO.
This year, DEUTZ introduced its 360V drive system which utilizes a split drive comprised of two 40 kW electric motors, one of which drives the vehicle while the other powers the hydraulics system. The system was shown on an all-electric JLG telescopic handler concept to demonstrate the ease with which the system can be integrated.
The Kubota V3307 Micro-Hybrid system prototype made its North American debut at CONEXPO. Kubota's system can be applied to a variety of applications and maintains accessibility to the existing power take-off positions of a conventional engine. Kubota also announced its entry into the 300 hp engine market with the new S7509 which provides 100% power take-off at the flywheel and fan side. The company says its customers have been wanting engines in this range, and that among its future goals is to investigate expansion into higher horsepower ranges.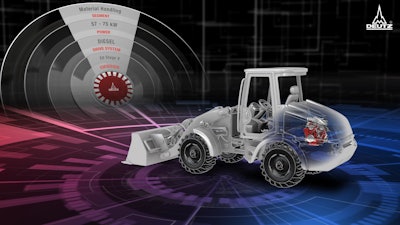 Machines keep getting smarter
Several manufacturers introduced advanced technologies aimed at improving productivity and efficiency for operators. John Deere, for instance, debuted its SmartGrade 333G Compact Track Loader. With the SmartGrade system, grading tasks are automated to enable them to be completed faster and with fewer passes. The machine also features DozerMode, a control solution that enables the EH joystick control system to function like a crawler dozer — with the push of a button.
Komatsu introduced its suite of Smart Construction solutions aimed at helping customers control construction planning, management, schedule, costs, and optimize processes remotely and in near real time. The company will offer 11 new solutions which begin rolling out this year and include fleet management and remote data sharing to job sites.
Topcon debuted at the show its Thermal Mapper for asphalt pavers. The system monitors temperature segregation to ensure accuracy during the paving process. It uses GPS technology and real-time kinematic positioning to guarantee accuracy and allows operators to make adjustments as necessary to fit project needs.
The company also announced the release of new functionalities for its machine control solutions. These include tilt rotator functionality for the Automatic Excavator system and mobile and bring your own device (BYOD) display options. Advanced tilt rotator functionality will allow Automatic Excavator operators to easily swivel or tilt the bucket with automatic boom control for faster and more efficient excavation.
With these new functionalities, Murray Lodge, Senior VP of Construction, says, "Operators can excavate more quickly, moving the excavator fewer times, with less wear and tear on the chassis – all with the proven hydraulic, automated control the system offers. It is also extremely beneficial when navigating around manholes, trenches, and generally tight spaces."
Donaldson announced its Filter Minder technology is now available for on- and off-highway heavy-duty engine applications. The filter monitoring system uses wireless sensors and receivers to send filter performance data to the cloud and provide machine operators with data and analytics on their filter. It prompts filter changes based on filter condition, rather than on scheduled maintenance intervals to ensure optimal filter performance.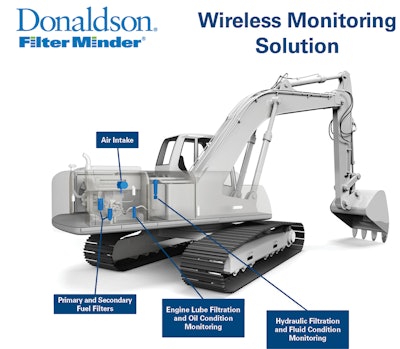 Automation and remote control continue to make gains
In conjunction with the smart systems being integrated into equipment has come an increase in automated systems and vehicles, as well as remote control capabilities.
Caterpillar, for instance, announced the expansion of its Cat Command technology to a broader range of machinery. This includes the launch of a line of remote control and semi-autonomous technologies, ranging from operator-assisted compaction to remote control loading, dozing and excavating operations.
Remote control provides full machine maneuverability from a safe distance when working in potentially hazardous environments. By removing the user from the cab, it also eliminates machine vibration feedback felt by the operator, reducing fatigue. Helping to address current and future labor shortages, the technology expands machine operation to a larger pool of potential operators, through its "virtual cab," which offers easy access to accommodate those with physical limitations.
During the show, Caterpillar's display featured two Cat Command Stations configured for remote, non-line-of-sight machine control. Throughout the show, attendees were welcome to sit in the "virtual cab" and control equipment – a Cat D6 XE dozer, 930M wheel loader and 320 Next Gen excavator – located from just under 500 to more than 2,300 mi. (800-3,700 km) away.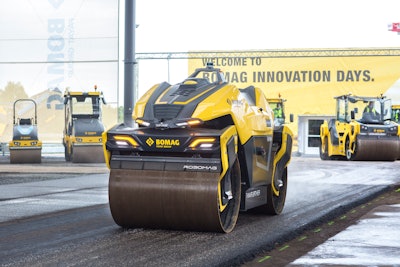 BOMAG's fully autonomous tandem vibratory roller known as ROBOMAG made its North American debut at CONEXPO. ROBOMAG combines guidance technologies such as GPS, Lidar and state-of-the-art positioning sensors with BOMAG ASPHALT MANAGER, the company's intelligent compaction technology.
ROBOMAG is fully autonomous in defined work areas. The system obtains information on position, situation and movement using a combination of different technologies for spatial orientation, work area awareness and job site safety.
With these and the many other products shown at this year's CONEXPO & IFPE, its evident the construction equipment industry is well poised to continue advancing in the years to come.
Find even more news and product announcements from the show on our IFPE & CONEXPO channel, which is being updated daily as more news continues to filter in.
Did you attend this year's show? What were the most interesting things you saw? If you didn't make it to the show, what new technologies or trends are you most looking forward to seeing or learning more about in the coming year? Let us know! Email [email protected] and tell us your thoughts!