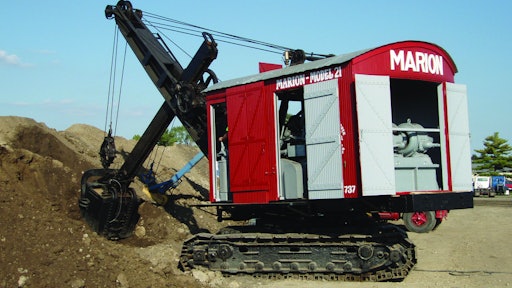 Although it was standard from the steam shovel's invention in 1835 until the early 1900s, steam had a number of inefficiencies as a power source for excavating equipment. Considerable time was required to build up boiler pressure to operating levels; along with the operator, the crew included a fireman and the necessary manpower and stock to keep the boiler supplied with water and coal or firewood, which when practical was gathered on site; and expensive, time-consuming repairs were needed after plant and mineral content in the water contaminated the boiler tubes, a common problem when onsite water was used.
In 1919, the Vulcan Iron Works of Toledo, OH, developed the first electric-powered excavator. Although requiring either an off-board power source or an on-board gas-powered generator set, each incurring its own costs, electric power eliminated the problems inherent with steam. Electricity was inherently more efficient; an electric shovel could go to work at once; and it eliminated the costs of the fireman, the fuel-gathering crew, and boiler tube repairs.
Electric power was offered for a wide range of excavators. The smallest known electric excavator was the Marion Steam Shovel Company Model 21, which was rated at 1-1/4 cubic yards capacity as a shovel. An electric-powered Model 21 built in 1926 has been fully restored to original physical and operating condition, and is on display at the Historical Construction Equipment Association's National Construction Equipment Museum in Bowling Green, OH. The largest was the Marion 6360.
As internal combustion was perfected as a power supply for construction machinery, electricity was mostly phased out except for two highly diverse applications where it had significant advantages over gas and diesel: Operation in enclosed areas such as tunnels and buildings, and very large shovels and draglines designed for quarry and surface mining applications. In the one case, electricity eliminated exhaust emissions (as did compressed air, a rarely-used alternative power supply for tunnel shovels); in the other, it was more efficient to power the machine's remote working systems such as crawler propulsion and dipper crowd with motors installed where the power was needed than to convey power there by mechanical means from a central source. Today's huge cable shovels and walking draglines that work surface mines around the world are powered by electricity in the same manner as the first electric shovel of 1919.
The Historical Construction Equipment Association (HCEA) is a 501(c)3 non-profit organization dedicated to preserving the history of the construction, dredging and surface mining equipment industries. With over 4,100 members in twenty-five countries, our activities include operation of National Construction Equipment Museum and archives in Bowling Green, OH; publication of a quarterly magazine, Equipment Echoes; and hosting an annual working exhibition of restored construction equipment.
Individual memberships are $30.00 within the USA and Canada, and $40.00 US elsewhere. We also offer a college scholarship for engineering students. Information is available at www.hcea.net, or by calling 419-352-5616 or e-mailing info@hcea.net.