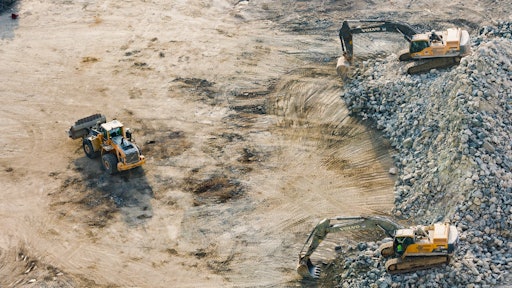 Pexels
COVID-19 has impacted the various heavy equipment and related industries OEM Off-Highway covers in numerous ways, from manufacturers having to temporarily shut down to others shifting their efforts to produce needed medical supplies. Market impacts continue to fluctuate but the overall consensus seems to be equipment sales will be down for the foreseeable future, and recoveries won't occur until late in the year or possibly not until next year.
We've been covering the various ways this global health issue has affected our markets, and compiled all of our coverage in this article to help make it easier for you to keep up to date on what's happening in the industry. Content will continue to be added to this article, so be sure to check back for more news as it becomes available.
Manufacturers lend a hand
Several manufacturers in or related to the heavy equipment industry have announced they are helping with the efforts to battle coronavirus. For some, this has meant donating money or supplies to healthcare workers and organizations helping those who have been impacted by the virus. Others have shifted some of their manufacturing efforts to produce face shields, masks and ventilators of which there has been a global shortage since the outbreak of COVID-19.
AEM Connecting Manufacturers with Safety Supplies
AEM and The Marek Group are partnering to provide a hub for businesses to find COVID-19 supplies, including PPE and sanitizing supplies.
Yanmar Tractor Utilized to Disinfect Streets of Brazil
Yanmar partnered with John Deere to equip one fo its Solis 90 CV tractors to spray disinfectant throughout the City of Indaiatuba to help protect citizens from COVID-19.
Vision Systems Creates Anti-COVID Glass to Protect Bus Drivers
The glass is designed to help prevent possible transmission of COVID-19 when bus drivers come in contact with passengers.
Manufacturers Continue Efforts to Provide Needed Supplies to Combat COVID
The number of manufacturers offering their help to provide PPE and other medical supplies to those combatting COVID-19 continues to increase.
Manufacturers Shifting Gears to Aid Global Health Crisis
Manufacturers in the heavy equipment industry are donating various resources to provide much needed medical supplies for the fight against coronavirus.
SDLG Excavators Support 10-Day Hospital Build in Wuhan
Four SDLG excavators were used to support efforts to construct two hospitals in Wuhan, the epicenter of the Coronavirus.
Robotics Industry Aiding Efforts to Combat COVID-19
Use of robotics and automation technologies are helping manufacturers ramp up production of protective face masks.
Robots are Helping in the Fight Against Coronavirus
These autonomously operated machines are able to help cleaning staffs disinfect rooms and various facilities to help curb the spread of germs, bacteria and viruses such as COVID-19.
Industry impacts
While some manufacturers have had to temporarily shut down some of their operations, others have been able to continue as normal—or as normally as possible given the current circumstances. Some manufacturers have begun announcing they will slowly begin reopening their facilities with stringent cleaning and safety practices put in place to protect the health of workers.
In a new video series OEM Off-Highway is conducting in partnership with its sister brands, called Transportation Chain, we're examining the impacts of COVID-19 on various aspects of the heavy equipment manufacturing industry, as well as the construction, trucking and supply chain industries. Below is our latest segment from the second episode; full episodes can be found on our YouTube Channel.
Heavy Equipment Manufacturers Alter Operations due to Impacts of COVID-19
In the wake of the global COVID-19 crisis, manufacturers in the heavy equipment industries are implementing new safety procedures and methods to continue production as normal where possible.
DEUTZ Begins Reopening of Production Facilities
Operations will resume with extended safety measures to protect the health of the workforce.
SDLG Makes Safety a Top Priority Upon Reopening of Factory Following Coronavirus
SDLG is implementing strict safety measures at its factory and offering tips for operators returning to job sites.
Industry Events are on a Break...at least for Now
Several industry events set to take place in the coming weeks and months have rescheduled for later in the year.
Four Guiding Principles for Re-Launch of EU Vehicle Manufacturing After COVID-19
ACEA has laid out a set of guidelines to help the European auto and commercial vehicle industries begin production again after being severely impacted by COVID-19.
Three Ways for Manufacturers to Continue Production During COVID-19
Ogletree Deakins' Manufacturing Industry Group offers several measures which can be employed to keep workers safe and help manufacturers continue production during the coronavirus pandemic.
Purdue University Examines How COVID-19 will Change Manufacturing
A new working paper from Purdue University provides a roadmap to recovery for manufacturers managing through COVID-19.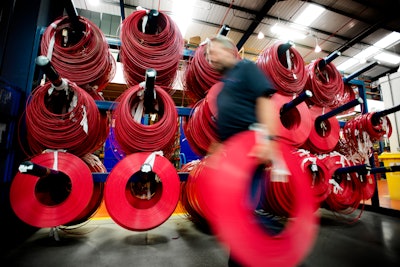 Through our Strength of Industries series, we're highlighting the various ways companies are getting through this difficult time. Submit your story for us to share with the industry.
Strength of Industries: Manufacturers Get Back to Work and a New Normal
For the many heavy equipment and component manufacturers who had to temporarily shut down due to COVID-19, operations are starting to reopen and get back to some normalcy.
Industry Shows its Strength Through Coronavirus
Companies are demonstrating their ability to weather the difficulties presented by the COVID-19 crisis in various ways.
Strength of Industries: Hallite Continues to Serve Customers While Keeping Employees Safe
Collaboration between Hallite manufacturing teams in different parts of the world and consistency of safety procedures where possible is helping the company continue its operations.
Video Interview: Stark Manufacturing Provides Insight into How it Keeps Business Going Through Coronavirus
Markets will be affected
In general, COVID-19 is anticipated to have a negative impact on heavy equipment sales in 2020 as production is slowed or stopped at many manufacturers and customers don't have the funds to purchase equipment—or in some cases the work to necessitate doing so.
Global Construction Markets Slowing due to Impacts of COVID-19
GlobalData reports global construction markets such as the Philippines and Sub-Saharan Africa will see slower growth in 2020 due to measures put in place to slow the spread of COVID-19.
COVID-19 Impact on Trucking Industry Most Severe Now, Potential for Recovery Emerging
ACT Research's latest report indicates the slowdown that hit freight in April is expected to continue into June, but there is optimism for recovery to begin in the third and fourth quarters of 2020.
2021 Likely to be Transition Year for Trucking Industry
ACT reports 2021 is anticipated to be a transition year as markets recover from the negative impact of COVID-19.
Commercial Vehicle Registrations in Europe are Down 34.5% in 2020
ACEA reports commercial vehicle registrations in the EU declined 67.0% in April, and are down 34.5% for the first four months of the year.
India's Construction Industry Projected to Contract 1.7%
GlobalData reports India's construction industry will be negatively impacted in 2020 due in part to shutdowns caused by COVID-19.
Manufacturers Report First Quarter 2020 Negatively Impacted by COVID-19
Demand for heavy equipment, vehicles and most components was much lower during the first quarter of 2020 due in large part to the global spread of coronavirus.
Global Commercial Vehicle Production Expected to be Down 22% in 2020
IHS Market projects commercial vehicle markets will decline compared to the previous year due to the impact of COVID-19.
U.S. Equipment Manufacturers say COVID-19 Negatively Impacting Economy and Industry
Four of 10 equipment manufacturers surveyed by AEM expect the outlook for the next 30 days to get worse and said they plan to lower their financial outlook for the same period of time by more than 30%.
High Order Cancellations Lead North American Class 8 Sales to Plummet
The sudden downturn in economic conditions and uncertainty over the duration of the COVID-19 crisis is limiting orders to short-term, definite needs.
HDMA Hosting Webinar Series on Impacts of Coronavirus on Commercial Vehicle Industry
The HDMA Pulse Series Webinars will cover global and domestic issues facing the commercial vehicle industry, and off-highway and engine sectors.
Italian Agricultural Equipment Market Sees Impact from COVID-19
FederUnacoma reports there were noticeable declines in agricultural equipment sales, followed by the halting of production and registrations which will further impact the market.
European Construction Equipment Market Grew 3.4% in 2019
CECE's annual report for 2019 shows growth was strong in the first two quarters of the year; initial optimism for the market in 2020 has declined since the COVID-19 outbreak.
COVID-19 Significantly Impacting European Construction Equipment Industry
A recent industry conducted by CECE finds the current global health crisis will negatively impact about 60% of the European construction equipment market.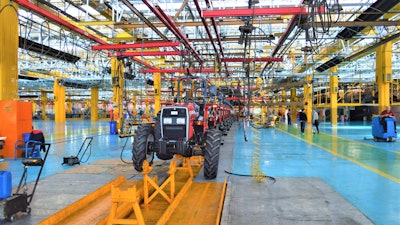 Despite some of the negative impacts this global health crisis has presented, it's also brought to light ways the industry could improve and advance further through implementation of more automation and robotics.
Surge in Use of Mobile Robotics to Propel Market
ABI Research says the growing use of mobile robots for disinfection, monitoring and delivery will increase the market's value to $23 billion by 2021.
COVID-19 Could be Impetus for More Industrial Automation Investment
GlobalData reports the current global health crisis has brought to light the lack of investment in advanced factory automation and could be an impetus for its growth once economies recover.
Push for Mobile Robots and Autonomous Vehicles in Logistics Grows in Importance
IDTechEx's latest report examines the growing need for autonomous machines in logistics and delivery applications, especially now due to current health concerns around the globe.