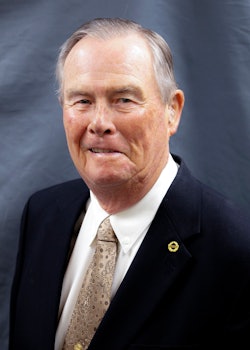 GOMACO
Godbersen Manufacturing Co. (GOMACO) announced the death of its company founder, Gary L. Godbersen. According to GOMACO, he passed away on January 17, 2023, the first day of World of Concrete 2023. He was 83.
Godbersen is said to have dedicated his life to the concrete slipform paving industry. His career in concrete began in 1963 in Minnesota, where he took on leadership roles in two family businesses as president of Highway Bridge Inc., and vice president of Godbersen-Smith Construction Co.
In 1965, Godbersen, along with his father, Harold, created GOMAC) to manufacture bridge deck finishing machines. GOMACO grew to include a full line of concrete paving equipment and became a leader in concrete paving technology, holding several domestic and international patents for new machine innovations.
Godbersen served as GOMACO's chairman of the board, president and CEO since 1986. Other leadership roles within his family-owned companies include: chairman of the board and president of GOMACO International Ltd. in the U.K. since 1984; chairman of the board, president and CEO of Godbersen-Smith Construction Co. in Ida Grove since 1986; president and chairman of the board of BOBALEE Hydraulics in Laurens, Iowa, since 1986; and president of Gomaco Trolley Co. in Ida Grove since 1982.
Godbersen was a leader within the construction industry, as well, lending his time and talents to all the industry's major organizations throughout his career. Because of his dedication, he was recognized by his peers for several of the construction industry's highest honors and awards.
He was one of 12 individuals honored as an inaugural inductee into the Construction Equipment Hall of Fame for outstanding contributions to the construction equipment industry. He was a recipient of the Annual American Road & Transportation Builders Association (ARTBA) Award. ARTBA also named Godbersen as one of the "Top 100 Private Sector Transportation & Design Construction Professionals of the 20th Century."
Godbersen earned the Governor's Achievement Award from the Iowa Department of Economic Development for community betterment. He was the Iowa and Nebraska recipient of the Ernst and Young Entrepreneur of the Year award. He earned the construction industry's most coveted award, the Hartmann-Hirshman-Egan Award from the American Concrete Pavement Association (ACPA) in 2015. He is also a member of the Construction Equipment Hall of Fame. The Hall of Fame honors pioneering individuals who have invented, managed, built and led the off-road equipment industry.
Godbersen spent his career traveling the world promoting the advantages of GOMACO's line of concrete slipform paving products and advancing the use of concrete on paving projects. He enjoyed visiting with contractors and finding solutions for their project challenges. He loved his family and took great pride in his children and grandchildren.
A celebration of life service will be held Saturday, Feb. 18, 2023, at the Skate Palace, 203 Susan Lawrence Drive, Ida Grove, Iowa 51445, from 4 to 7 p.m. Christensen-Van Houten Funeral Homes, http://www.christensenvanhouten.com, of Ida Grove is in charge of the arrangements.