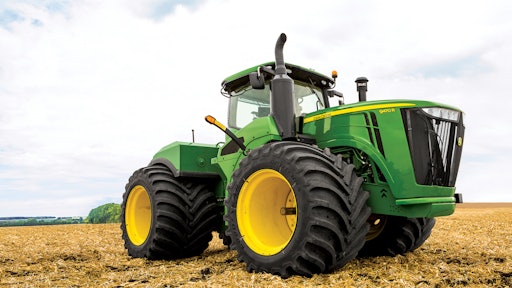 Despite storms that caused evacuation and closure of the show the first day, and the copious amounts of mud from said storms, attendees flocked to this year's Farm Progress Show to see the latest technologies and products for the agricultural industry.
View our media gallery from the show to see some of the products that were on display.
Scott Harris, newly appointed Vice President for North America at Case IH, said during a presentation at the show that replacement demand is currently driving the market. "We've come through the low point the cash crop market and are definitely down the path to recover," he said. "We're into a replacement demand cycle as far as equipment demand goes, and I believe this is very positive. It's positive, it's healthy and it's sustainable, particularly when you compare it to 2012 and 2013 when there was more horsepower sold than acres to work."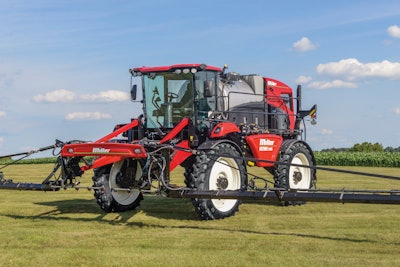 During the industry's most recent downturn, Case IH—like many OEMs—used the time for R&D efforts.
Read about the company's recent machine launches, all of which were on display at Farm Progress.
Case IH Adds to Farmall Tractor Lineup
Case IH Introducing New Miller Nitro Series Sprayers
Case IH Launches New Features for Steiger Series Tractors
Case IH Updates Magnum Series Tractors to Boost Productivity and Performance
Technology integrated into equipment was a highlight at many OEMs' booths, as it continues to play an increasingly bigger role within the industry, said Harris. "Technology is clearly changing the way producers farm…and equipment is getting more sophisticated." This is due to in a large part to it becoming more difficult to find skilled labor—an issue also being seen in other heavy-duty equipment industries including mining, construction and trucking.
"For many farms in the U.S. and Canada, there's a significant gap in the skill level of operators in the operation, and what's needed to operate and run today's equipment at optimal efficiency to produce the greatest yields," he said. "Technology is helping to automate machine processes. Adding automation to machine functionality delivers much more consistency in performance regardless of the skill level of the operator by reducing, and in some cases eliminating, the need for manual adjustments and mistakes."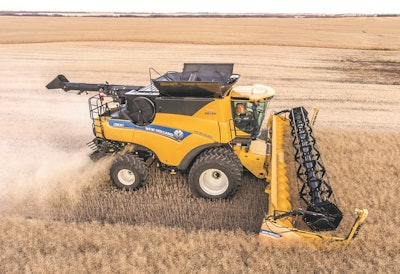 Among these technologies on display was New Holland's IntelliSense featured on its CR7.90 Revelation combine. The system is designed to help operators adjust the combine for optimal performance. Every 20 seconds it is evaluating the right setting—out of 280 million possibilities—to ensure the combine is running at 100% efficiency and 100% theoretical capacity, the company said. New Holland said for expert operators it has seen a 10% boost in productivity over the course of an 8-hour day, and a 20% boost for novice operators. This increased productivity helps to reduce the amount of time the operator has to spend combining and increase profitability.
New Holland introduced several new pieces of equipment during the show.
New Holland Agriculture Extends T6 Tractor Range
New Holland Showcasing Equipment to Boost Quality Forage Production
New Holland Exhibiting Technologies for Increased Operational Performance at Farm Progress Show
FPT Powers New Holland Agriculture Machines on Display at Farm Progress Show 2018
CLAAS of America launched its SILAGE TECH for its JAGUAR self-propelled forage harvesters during the show which bundles together several options, as well as new features, into a single package to make foraging more precise and improve the quality of silage. The system uses a yield measuring and moisture meter to ensure the right amount of inoculant per ton is used and there is a consistent cut length. Silage Tech can be combined with third party systems from companies to provide even more precision and production-monitoring capabilities.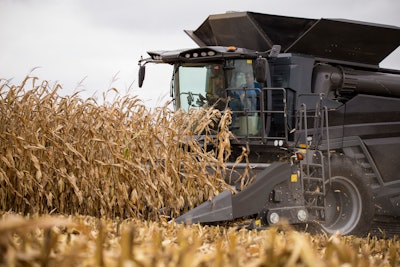 At Farm Progress, AGCO's Fendt IDEAL Combine made its U.S. debut. Taking a clean sheet approach, the company spent 7 years developing and testing the machine based on input from customers and dealers. Simplicity—in regards to operation and maintenance—was one of the key development points for AGCO, and can be seen through the inclusion of more automation in the machine.
AGCO said automation is very important for total in-field efficiency. The IDEAL harvest system uses a combination of specialized sensors to determine what is and what is not a grain and direct the system to change combine settings as necessary to produce the customer's pre-set harvest requirements. Operators are provided a real-time view of what's happening within the machine at all times. Separation, crop load and more can all be seen on a touchscreen tablet within the cab so operators can monitor and make adjustments as necessary in order to be more efficient and productive. The system is also able to compensate for changes to crop density or field slope and adjust the machine as needed to maintain performance and quality.
Additional features of the new combine are the inclusion of an in-house designed track ride track system and the company's Vision Cab with enhanced ergonomic features. The company is also introducing the use of MAN engines in the combine as it has seen the performance it can provide customers.
Watch a video about the operator comfort features included in IDEAL's Vision Cab.
Making equipment more mobile
Track and tire products make up a large part of the exhibits at the Farm Progress Show each year. New to the show this year was CEAT which has recently entered the North American market, and displayed several tires for the agricultural market including its FARMAX R85 Ag radial tire offering low compaction, high traction and high roadability.
Michelin introduced its CerexBib2 tire for harvesting applications featuring VF technology—e.g. very flexible sidewalls. With the VF technology the tire is able to provide 40% more carrying capacity versus a standard tire or operate at ultra-low pressures to carry the same weight. The VF tire flexes at different points in the sidewall to enable it to run at ultra-low inflation pressures—as low as 17 psi—while spreading out the footprint to help minimize soil compaction.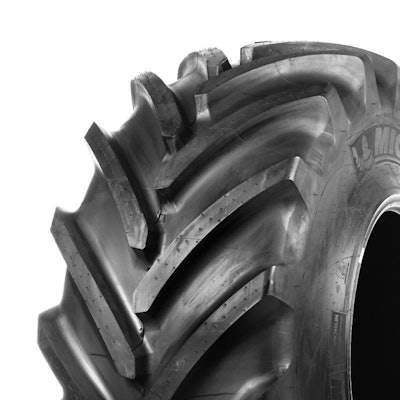 In addition, Michelin said the other big change to the tire from the previous version was making it central tire inflation system (CTIS) ready.
The company also exhibited its CrossGrip, an all-seasons tire with snow compounds. Michelin said it's the first tire it has built specifically for snow; the combination of the special snow compounds and a non-directional tread enable operation in both forward and reverse in snowy conditions, whereas other tires for snow typically have a directional tread which is not as effective.
Currently there are four sizes available which fit small tractors, as well as backhoe loaders, telehandlers and compact wheel loaders. The company plans to introduce more sizes for additional equipment, including larger agricultural tractors.
At the show Titan held a Q&A session with two dealers whose customers have been utilizing the Goodyear Farm Tire LSW1400/30R46 super single tires instead of tracks to provide increased performance and reduced soil compaction. Among the advantages the dealers spoke of were the reduced costs of the tires—about $40,000-50,000 less to purchase, as well as reduced maintenance costs—compared to tracks. Additionally, one dealer noted tracks can be more difficult for roadway travel. Both dealers noted increased interest from customers in the tires, which has been aided by OEMs such as John Deere and Case IH offering them as a factory-fit option. Being able to purchase the tires from an OEM makes them a more "real" solution in customers' minds due in part to the rigorous testing OEMs put their equipment and components through.
Watch a recap of the Q&A session.

Both Michelin and Titan noted the continued trend of agricultural equipment getting larger and tire manufacturers needing to keep up with that. Michelin said at a certain point the machines will likely get longer—similar in concept to the Tribine Harvester first introduced at Farm Progress in 2016 and of which a new model was recently released—requiring not only bigger tires, but more of them. This is because machines are already reaching the limit of how wide and tall they can be due to infrastructure—roads, bridges, the trucks which carry them, etc.
Scott Sloan, Ag Product Manager for Titan and Goodyear Farm Tires, said the increased horsepower and size of machines could curtail off as new technologies enable faster and lighter weight designs. Robotics may be one way this occurs, enabling smaller "armies" of machines to maneuver through a field and help minimize soil compaction, as well as change tire needs. But for the foreseeable future, especially in North America, Sloan said machines will continue to be bigger and thus require larger tire sizes.
Want more news from one of the year's biggest agricultural shows? Search 'Farm Progress Show 2018' at oemoffhighway.com to find more news and product announcements from the show.