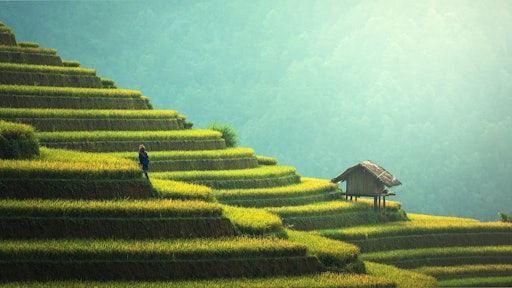 The last of the three sessions at Agritechnica 2017's specialist conference for agricultural machinery manufacturers and exporters will focus on Southeast Asia. Ag Machinery International 2017 – Access to Emerging Markets aims to help inform delegates obtain information about promising markets in emerging economies and developing countries. The conference program on November 16 is titled Southeast Asia in focus – Will Western brands find their place?
Taking place in Room 13/14 of the Convention Center at Hanover's Exhibition Grounds from 09:30 to 11:30, the session is in two parts: Thailand – Rapid structural change and business opportunities; and Myanmar – Opportunities for international manufacturers. This part of the conference will be conducted in English only.
Strong demand for tractors in Thailand
Thailand is an important potential destination for farming equipment as, according to a report prepared by the Indian government (Thai Market for Agricultural Machinery), the agricultural machinery market in Thailand was valued at 680 million euros in 2014.
Increasing demand for tractors in particular is expected to help drive overall market growth. Demand for these machines is increasing because they can be used for multiple purpose. Additionally, as rice is by far the most important crop throughout Thailand, rice transplanters are another promising segment in the country's agricultural equipment market.
Also helping the demand for farm machinery is increasing food consumption, both domestically and internationally; and a decreasing agricultural population in Thailand, leading to labor shortages.
The report adds that Thailand's agricultural machinery sector is dominated by a handful of large companies, all of which are foreign-owned. These include Kubota, Yanmar, New Holland and John Deere.
Local machinery manufacturers are relatively small tend to dominate the low-end machinery and parts segment of the market, leaving the high-end market segments relying on imports. The Indian report assesses the degree of rivalry among the key players in the Thai market as strong overall.
Brand names are a critical factor that influences farmers' purchasing decisions, although they are becoming increasingly price-sensitive. Versatility and durability, easily accessible parts and good resale value are all elements considered when Thai farmers decide to buy machines for their farms.
Rice dominates Myanmar's farm production
According to a U.S. government report from July this year, rice is by far the largest agricultural product in Myanmar, accounting for nearly 60% of output by value. The World Bank estimates that the country's agriculture sector accounts for 38% of national GDP and 23% of exports; and it also employs more than 60% of the workforce.
In July 2016, Myanmar's government officially announced a 12-point economic plan targeted at developing a market-oriented economy. This includes strengthening farming production, enhancing food security, increasing exports and improving the living standards of the rural population, which depends on farming as their first and key source of income. The government is reforming the laws and policy governing the country's agriculture sector to meet the set targets under the economic plan.
There is market potential in Myanmar for both the setting up of assembly and manufacturing facilities for farm equipment, and for the sale of light to heavy agricultural machinery including power tillers, walking tractors, water pumps, sprinklers, drip irrigation sets, rice transplanters, threshers, seeders, weeders and dryers. Farm storage facilities are also in high demand.
Network opportunity to exchange ideas and experiences
The Ag Machinery International conference series which first took place at Agritechnica 2013, consists of three sessions on consecutive days from November 14-16. Each session will offer market reports and best-practice examples from successful firms. Farmers from the respective countries will also be reporting from the field. After the conferences, there will be the chance for delegates to exchange ideas and experiences and network with invited guests at country-specific get-togethers.
All three sessions take place at the Convention Center at the heart of Hanover's Exhibition Grounds. Anyone with an admission ticket to Agritechnica is eligible to participate, but prior registration is required for organizational reasons. Interested parties will be able to register online from early September via the trade fair's website.
Agritechnica 2017 takes place from the November 12-18 (with special preview days on November 12 and 13). More than 2,800 exhibitors from all over the world have registered to take part.