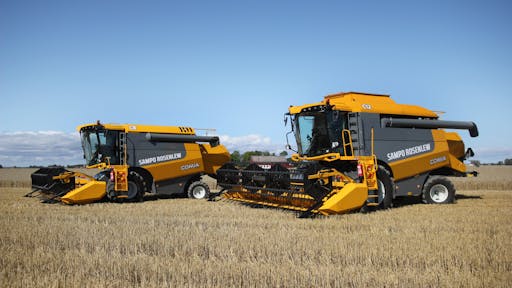 Mahindra & Mahindra Ltd.'s Farm Equipment Sector (FES), a part of the USD 19 billion Mahindra Group, will showcase its range of tractors and farm machineries at the upcoming Agritechnica Trade Fair in Hanover, Germany. The company is participating in Agritechnica for the first time.
Mahindra will introduce its range of newly developed tractors - the 6000, 7000 and 9000 Series, machinery and equipment for soil tillage, sowing and harvesting products at the main stand in Hall 5, Stand D03 between November 12 and 18, 2017.
With its vision to continuously innovate the future of farm production and to drive farm prosperity across the world, the company brought into its fold leading agricultural machinery and technology companies to offer complete farm mechanization solutions ranging from tractors to implements to harvesters.
Mitsubishi Mahindra Agricultural Machinery of Japan, Sampo Rosenlew in Finland and Hisarlar in Turkey has enabled it to play strongly in global markets in segments like Paddy machinery, grain harvesters and advanced ground tilling machinery. Recently, the company announced entering into a partnership with Erkunt Traktor Sanayii A.S. of Turkey.
The Agritechnica Trade Fair offers Mahindra an ideal platform to showcase its products.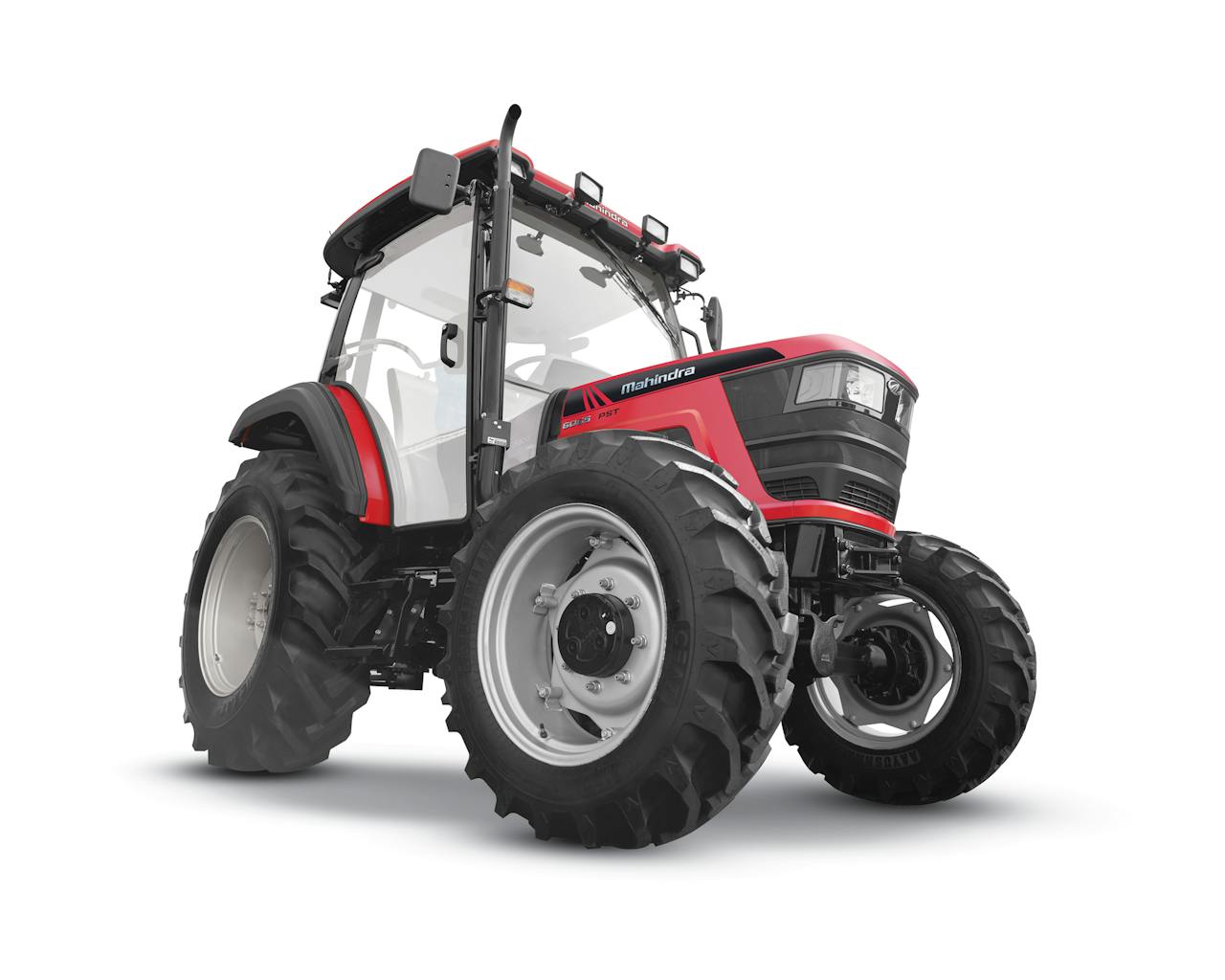 Mahindra tractor
Mahindra's offerings in Tractors
Through a portfolio of brands, the company caters to the customized needs of farmers around the world, from dryland cultivation in Americas, Europe, Africa and parts of Asia to wetland cultivation in Far East, China and Southeast Asia. All these tractors are designed to help farmers evolve to greater levels of efficiencies in farming and mechanization, thereby increasing their productivity and enhancing their prosperity.
Under the Mahindra Brand, the company offers tractors in the 15-120 hp that are globally known for their strength, fuel efficiency and reliability. Mahindra is the market leader in the world's largest tractor market, India. In the U.S., it is among the top 3 brands in its relevant segment. The company is also among the leaders in SriLanka, Bangladesh, Nepal and has strong presence in various countries in Africa, South America and the Asia Pacific region.
Mitsubishi Mahindra Agricultural Machinery Company Ltd offers tractors from 13-135 hp, including the wheeled and crawler tractors. These tractors are known for their "long life", safety and durability. With highly advanced features like Gyro Mac for Implement tilt control, VRC Control for Implement sensitivity and Quick Turn features, these tractors are ideal for paddy and vegetable farms and as well for various applications in small orchards, vineyards and plantations. Mitsubishi Mahindra Agricultural Machinery Co Ltd., is among the leaders in Japan. They also have a presence in several Southeast Asian markets and parts of Europe. In North America, their tractors have a very strong presence in the subcompact and compact tractor industry. These tractors are highly appreciated for the comfort offered and their ease of operations.
Erkunt Traktor Sanayii A.S offers tractors in the 55-110 hp category. The range includes Open Field and Orchard Tractors. Erkunt is among the leaders in Turkey and are known for being Innovative and offering Fuel Efficient tractors with higher Pulling Power and Performance. With features like powershift and electro hydraulics controls these tractors are ideal for Cereal farms, Pastures, Vegetable and Orchard farms. Outside Turkey, these tractors are sold under the "Armatrac" brand. They are sold in Europe, Middle East and in African countries.
The company is introducing its new generation of tractors in the 65-120 hp category that are designed to offer unmatched combination of performance, fuel efficiency and reliability. These tractors feature the proprietary mCRDTM engine technology for added efficiency and lower emissions, heavy-duty synchromesh transmission with power shuttle and heavy lift hydraulics. The mCRDTM engines are less complex, requires no operator involvement and provides high fuel efficiency and excellent torque characteristics ensuring maximum productivity in both PTO and draft applications. As innovative as they are versatile, these tractors are ideal for primary and secondary tillage, crop protection, mowing, haying, slashing and other loader applications.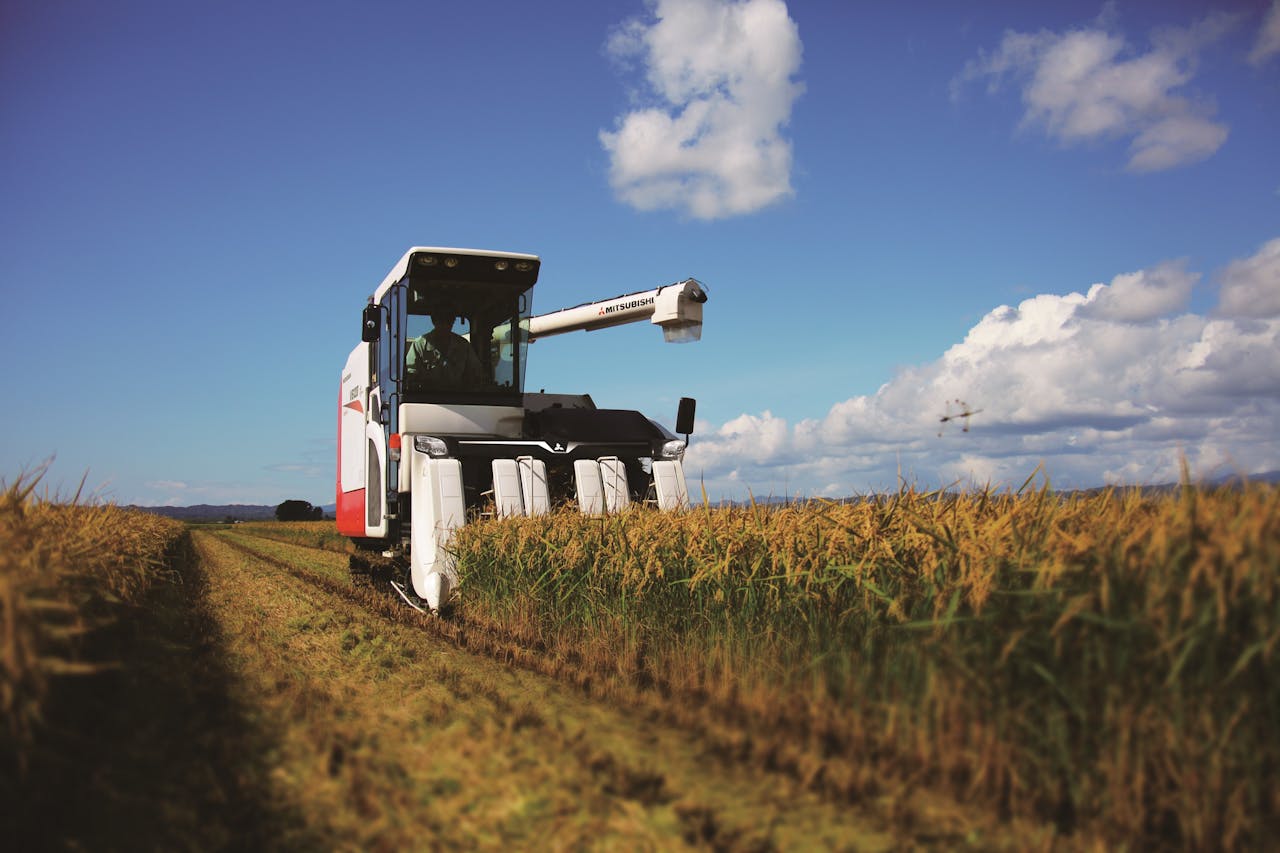 Mitsubishi Harvester
Mahindra's offerings in Harvesters
The company offers a wide range of Harvesters from Sampo Rosenlew Ltd and Mitsubishi Agricultural Machinery Company Ltd. With the combined portfolio, the company provides customised Harvesters for almost all crops from wet paddy to dry cereals.
Finland based, Sampo Rosenlew manufactures a huge range of combines, all with the straw walker technology, starting from Plot combines of 75 hp with 1.5 m cutting width to the large 300 hp+ Combines, with cutting width up to 6.9 m. These harvesters are known for their reliability, power, low table losses, excellent cleanability, maximum grain separation and unprecedented driving ergonomics. They are used to harvest wheat as well as rice or any other crop in different conditions all around the world. More than 90% of their production is exported, to more than 50 countries across the globe. Apart from Western Europe, the other major markets are Azerbaijan, Kyrgyzstan, Armenia, Mongolia, China, Georgia, Tajikistan and Algeria. These combines have also been assembled in Russia, Turkey, Iran, Ukraine, Moldova.
Mitsubishi Agricultural Machinery Company Ltd, based in Japan, produces both type of combine Harvesters – The Half feed and Full Feed (Conventional-Reel) design. All combine Harvesters are track type, with Hydrostatic Transmission for smooth travel operations and excellent work-ability in wet conditions. The Half feed range includes harvesters from 2 Row, 11 hp to 6 Row, 98 hp Harvesters. These combines offer technologically advanced features that ensure higher threshing efficiency and smooth maneuverability in wet conditions, like the Horizontal Automatic Control feature that keeps the Harvester Horizontal in uneven conditions, feeding chain synchronised to the travel speed. This ensures a constant amount of feed being fed to the threshing drum, single control lever for maneuvering and cutting height adjustments, twin cylinder threshing drums etc.
The Full feed range includes harvesters from 40-114 hp. Mitsubishi Harvesters have a very strong presence in Japan. Other markets where their products are sold are Taiwan, South Korea etc.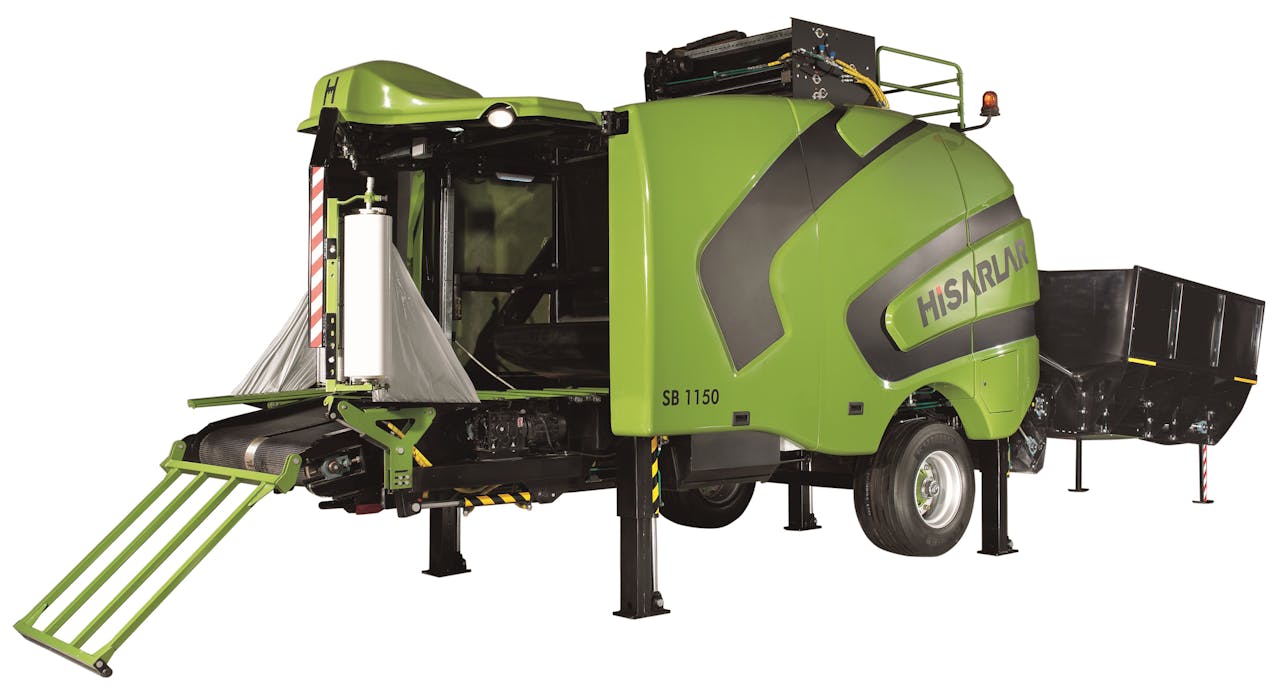 Hisarlar ImplementMahindra's offerings in Implements and other Farm Machinery
Mahindra offers complete range of mechanization solutions under two brands "Hisarlar" and "Mahindra."
Hisarlar implements and Farm Machineries are well known for their strength and durability. Their product range addresses the complete need of mechanization, from land preparation to post harvest. Which includes Rotavators, Mulchers, Harrows, sprayers, fertiliser spreaders, Balers etc. The company enjoys a huge brand affinity in Turkey, such that rotavators in Turkey is synonymous to Alabora, a product brand of Hisarlar.
Under the Mahindra brand, the company offers implements and other farm machineries for land preparation, sowing, crop care, harvesting and post harvesting that are well suited for applications with low- to mid-horsepower tractors.