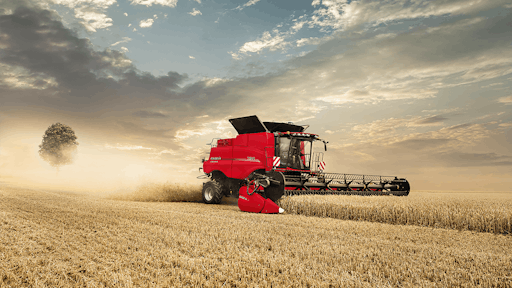 Case IH
U.S. self-propelled combine sales increased during October while tractor sales fell, reports the Association of Equipment Manufacturers (AEM).
Total U.S. farm tractor sales decreased 3.5% compared to the previous year. Self-propelled combine sales grew 8.1%.
Sales of 2-wheel-drive tractors decreased 3.5%; under 40 hp models fell 3.9% and sales of 40-100 hp tractors dropped 4.9%. One bright spot was the 100-plus hp segment which increased 1.9% in October.
U.S. 4-wheel drive tractor sales declined 2.8%.
Read the full U.S. Ag Tractor and Combine Report
Canadian agricultural equipment sales also saw a drop in October. Four-wheel-drive tractor sales fell 51% (from 102 to 50 units sold year over year). Self-propelled combine sales dropped 9.2% during the month.
AEM data shows Canada's 2-wheel-drive tractor sales were mixed. The under 40 hp and 100-plus hp segments both saw decreases of 11.6% and 18.8%, respectively. Tractor sales for 40-100 hp models, however, rose 6.1%.
Read the full Canada Ag Tractor and Combine Report
"This month's numbers show cause for caution in the Ag sector," says Curt Blades, Senior Vice President of Ag Services at the Association of Equipment Manufacturers. "We're hoping a return to stability in global trade policies and practices occurs soon in order to ease uncertainty for North American farmers, and ultimately, agricultural equipment manufacturers."
Companies in this article