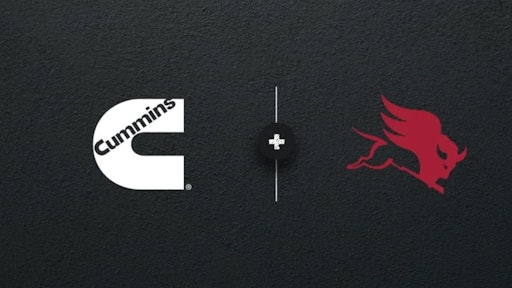 Cummins
The February announcement of the Cummins acquisition of Meritor is under review by regulators, but in the meantime, designers and specifiers of components for off-road OEMs can expect joint go-to-market efforts, particularly on drivetrains for zero-emission vehicles. Since the companies had little overlap in off highway, according to Cummins Component Segment President Mahesh Narang in a briefing with OEM Off Highway, the shared ownership could help drive Meritor deeper into the sector.
"Meritor sales in off highway are $500 million-plus," Narang said. "They are present in three applications—specialty, defense and off highway. They are really strong in specialty and defense, where we can leverage our Cummins products. Cummins has a strong position in China and Asia, more so than they do. They fit really well in with where we have strengths. There is some overlap between us, but not much in the off-highway space."
Construction equipment holds perhaps the greatest immediate opportunity for the combined entity.
"With defense, you typically have longer lead times, and the design cycle is longer," Narang said. "In specialty, the volume is a lot lower per application… in construction. There is still enough scale to invest in new technologies. I do see opportunities in all of these — but the general hypothesis is we do things with more momentum when they can scale as they can in new construction."
Integrated Offerings And Operations
Acquisitions should result in a condition where the combined entity is greater than the sum of its parts, and in the case of Cummins and Meritor, the joint organization will work more collaboratively in some settings than others.
"Our opportunity is in four key subsegments," Narang said. "For customers who want to buy components like brakes, axles or turbos, there will be minimal harmonization. A second group is where they buy our engines, diesel, or hydrogen fuel cells … there is some harmonization there because we can look at tradeoffs between engines and brakes — harmonization for systems in our core technologies. Most harmonization, however, will be in the new power space. We mentioned in our acquisition announcement that the e-axle is a key component for our e-fuel and fuel cell future.
We have an entire business unit focused on it through our new power unit."
On the analyst call following the announcement, Cummins' discussed its commitment to achieving net zero emissions by 2050.
"The important point to make to you is that we all know climate change is real and happening and impacting our planet," Cummins Chairman and CEO Tom Linebarger said on the call. "There is not a more important thing for any of us, regardless of our role, in the government, to do than address climate change. And that means our industry has to change. We are a big user of fossil fuels and a big generator of carbon in our industry. The commercial and industrial market has to decarbonize. The good news for Cummins is that decarbonization is a growth opportunity for us … we will win in this market because we have what it takes to help our customers decarbonize."
"One of the key reasons we like this partnership is that we want to invest more in the decarbonization effort. We will certainly increase our investments in this space," Narang said. "If you look at how much we were spending in decarbonization, we will step up that effort. It is our plan to do more in this space."
The fourth and final area where the two companies will harmonize their offering is in telematics solutions.
"The last area where both Cummins and Meritor will work more closely together is in developing digital offerings — this really helps customers from a repair and diagnostic standpoint," Narang said. "We are working closely with our distribution network for those digital offerings because they use them for the prognostics that determine when a sensor will fail. Meritor, for instance, has a tire pressure monitoring system, and we will leverage our systems to make them more open to each other."
Cummins-Meritor Combined Value Prop
As the deal works through regulatory approvals, no changes will be made, but even once the merger has the green light from the Securities and Exchange Commission (SEC), OEM design, purchasing and new product development teams will find little changed in their relationship with either company.
"They will work with the same people in both locations and in the same organizations," Narang said. "A lot of the new power groups will leverage each other's synergies. That is one of the key investment pieces we had — to expand product and manpower as we see the e-axle as the integration point from battery packs to movement of the wheels, and from hydrogen and fuel cells.
While the goal is for Cummins to marry its products tightly to Meritor's, particularly in new power applications, all of each company's components will be available as they historically have been.
"Those engineers who are working on new technology will find that on new power they will be very integrated," Narang said. "One-plus-one will add up to more than two. The e-axle is where we will mount a lot of the power components. We are excited we have one more level to improve the value proposition for customers, especially on fuel economy from engine to the wheel. But not every customer will want that. For customers who do want that, we will work on improving the value proposition for an integrated system. For customers that just want components, we are flexible to what our customer needs are. If they want only axles, we will sell them that. If they want an integrated power pack or a battery pack or a fuel cell, we will work with them."
Companies in this article