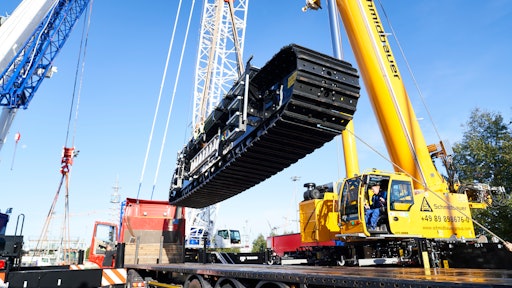 Messe Munchen GmbH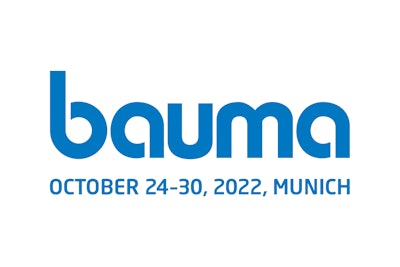 Our team is at bauma 2022 and will be here all week. More than 3,100 exhibitors from around 60 countries will be featuring their new technology and top products. More than 30 cranes are set-up in the outdoor area. We will share our top news, great conversations and social/video coverage of this event with you on this website and social media. Today, we share some of the technology being exhibited at the show.
Perkins Exhibits New Technology and Electric Options
Perkins is demonstrating the company's 90-year history of delivering customized power solutions during bauma 2022 through a broad spectrum of technology designed to address the needs of original equipment manufacturers (OEMs) and their customers. These solutions include field-proven engine technologies that lower greenhouse gas emissions while delivering significant improvements in power density, performance and operating efficiency, as well as expert technician services, flexible engine repower and replacement options, and genuine replacement parts.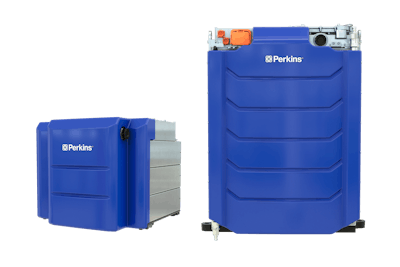 Additionally, Perkins is engaging in a battery program as part of its ongoing initiative to help the company's customer base during the energy transition. The company will present its wide range of technologies for helping OEMs with the sustainability of high-performing jobsites.
Learn more from this Perkins press release or visit Stand A4.336.
Three 'Giant' Tires on Exhibit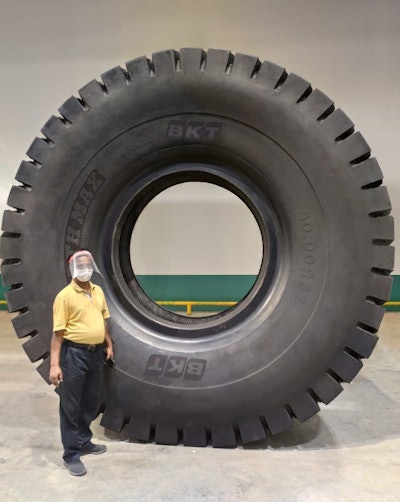 BKT displays three giant tires during bauma. The first is EARTHMAX SR 468, the largest tire ever made by BKT, launched on the market in 2021. It is designed for rigid dump trucks and exhibited in size 40.00 R 57 corresponding to a height of 3.5 meters, a width of 1.13 meters and a weight of 3,800 kilograms (kg).
The second tire is EARTHMAX SR 46, displayed in sizes 27.00 R 49 and 33.00 R 51. This tire is also designed for rigid dump trucks. The 33.00 R 51 size is equivalent to a diameter of over 3 meters or precisely 3,061 millimeters (mm), a width of 905 mm and a weight of 2,400 kg. The 27.00 R 49 has a diameter of exactly 2,688 mm and a width of 746 mm.
Learn more from the BKT press release or visit Stand A6.215.
PALFINGER Exhibits New Technology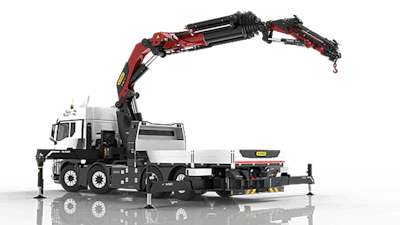 In addition to innovative crane models and lifting solutions, PALFINGER uses alternative types of drive, as well as smart technologies and assistance systems to open future-oriented applications for its customers. Changing conditions need intelligent solutions. They provide new ways of doing things, increase efficiency, and are also sustainable and future oriented. It is with this strategy that PALFINGER presents new technologies and solutions at bauma 2022.
They will display:
TEC Series—Smart lifting solutions
Smart Control and Smart Loading Assist
Electrical solutions, including the eDRIVE technology
Learn more from the PALFINGER press release or visit Stand FS.1304-1.
Scanreco Displays Remote Control Technologies
Smart Operator and the product series based on the new G6 Platform from Sanreco is equipped with the company's invention and a third-party approved safety solution. With it, Sanrenco brings solutions to local OEMs that was previously only available to global OEMs.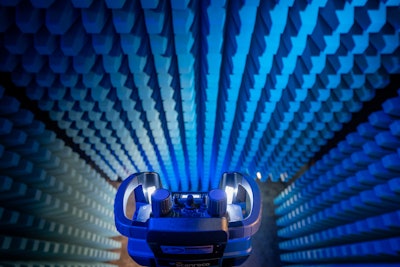 The G6 Platform literally brings the center stage into the hands of the OEM engineer and their customer. Even the operator can (and should, according to Scanreco's concept Smart Operator) give their input on how to best configure the remote control for their application and specific usage. Scanreco's new platform offers full flexibility as to where and how to place any lever, joystick, button, or switch without compromising on functional safety. Learn more by visiting the website or Stand A2.141.
Alternative-Fuel Engines Featured by Kohler
Kohler, which has chosen the Munich tradeshow to present the new roadmap that will transform the group from a power producer to an energy supplier. On the road to clean energy, a first step forward has already been taken with the acquisition of Curtis Instruments, a leader in electric vehicle and hybrid applications. The acquisition expands and diversifies Kohler's product portfolio, leveraging Curtis' expertise in electrification, and solidifying Kohler's commitment to hybrid and electrified solutions. Since February 2022, Kohler has allowed hydrotreated vegetable oil (HVO), a renewable fuel that can be produced from vegetable oils and fats, to be used on its entire range of diesel engines. Unlike conventional biofuels that are derived from crops that compete with food use, HVO is derived from waste that does not take land away from agriculture, leading to a reduction in carbon dioxide emissions of up to 90%.
Alongside HVO, Kohler has also decided to include hydrogen as an alternative fuel: an incredibly versatile energy source whose technology is rapidly evolving. It will certainly be an uphill road, and we are only at the beginning. The hydrogen internal combustion engine will be a cost-effective drop-in solution, and potentially adaptable to most applications. Learn more from the Kohler press release or visit Stand A4.225.
GSSI Exhibits StructureScan Mini XT
Geophysical Survey Systems, Inc., (GSSI) will be exhibiting the StructureScan Mini XT at bauma, the construction and mining machinery trade fair. This show will be held at the Trade Fair Center in Munich, Germany October 23-30. In booth B4.312/11, GSSI will be available to demonstrate the capabilities of the Mini XT.
The StructureScan Mini XT is ideal for concrete inspection and evaluation. Easily and accurately locate the position and depth of metallic and nonmetallic objects in concrete structures, including rebar, conduit, post-tension cables, pan decking, voids and service utilities. Reduce safety risks, financial exposure, and costly delays and provide the full range of services to your customers by adding this concrete scanner to your toolbox. Visit the website or Stand B4.312/11 for more information.