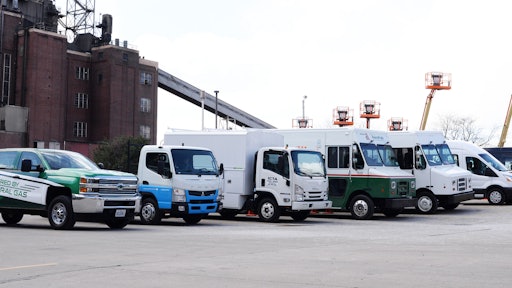 In addition to driving work trucks featuring the latest advanced fuel technologies, attendees at The Work Truck Show 2018 will have the chance to engage with some of the newest technology and efficiency solutions available to today's fleets, including drone delivery, as part of the popular Ride-and-Drive. Also new to the event this year is an interactive manufacturing education center.
The Work Truck Show takes place March 6–9 at the Indiana Convention Center in Indianapolis, IN. Educational sessions, Green Truck Summit and Fleet Technical Congress begin March 6, and the exhibit hall is open March 7–9. The Work Truck Show Ride-and-Drive and Mobile Learning Center are available to all attendees March 7–8 from noon–4:30 p.m.
The new mobile learning center is an on-the-go classroom located on the Ride-and-Drive grounds. It is equipped with examples of manufacturing technologies and systems available today and being developed for the future — such as 3-D printing and scanning, laser cutting and robotics. The interactive experience also features online training resources and additional information on education and career pathways in manufacturing.
"One of the greatest problems facing our nation, which is extremely true in the work truck industry, is finding and retaining solid employees who are dedicated to their craft," says Doyle Sumrall, NTEA Managing Director. "The mobile learning center is a great opportunity to highlight how far manufacturing careers have come from the three 'Ds' of yesteryear: dirty, dark and dangerous. These days, it's a skillful combination of cutting-edge technology and hands-on hard work, with serious viability and growth potential, which show attendees will be exposed to when they visit the center."
Complementing the mobile learning center — which is presented by Visionary Center for Sustainable Communities (VCSC), an organization dedicated to providing training, counseling, and resources within advanced manufacturing and other industries — will be a concurrent education session on Tuesday, March 6 from 3–4:15 p.m. titled "Solutions for Building a Skilled Manufacturing Workforce." Presented by Bill Gaines, chairman and senior engineer of Transfer Flow Inc., and Kirste Webb, CF APMP Fellow and executive director of the VCSC, the session will provide innovative solutions for helping educational institutions and manufacturers build a pipeline of skilled employees to help fill the current and continuing demand for skilled workers in manufacturing.
Work Truck Show Ride-and-Drive
The popular Work Truck Show Ride-and-Drive gives attendees the chance to meet key suppliers, learn about innovative safety and clean vehicle solutions and test-drive or ride in the latest trucks.
"This year's Ride-and-Drive offers real-time opportunities to connect with up-and-coming technologies that will make fleet operations more efficient," says Christopher Lyon, NTEA Director of Fleet Relations. "The event showcases new solutions that can be applied to fleets today, from last-mile deliveries via drone that essentially adds a second employee to increase service efficiency to new auto-docking capabilities and expanded start-stop technology that extends from pickup trucks to larger work trucks."
A CDL with air brake endorsement is required to drive some trucks, and attendees can choose to ride in or drive any of the participating vehicles, including:
Alliance AutoGas's 2016 3.5-liter Ford F-150 V6, featuring a complete "plug and play" conversion system from gasoline to propane autogas, an injector spacer plate, and engine control unit.
Cummins Inc.'s B6.7 engine with stop-start capabilities for maximum fuel economy in an International DuraStar.
Eaton's International 4300 DuraStar featuring

Eaton

Cummins

7-speed Procision Dual-Clutch Automatic Transmission calibrated with

Eaton's

auto-docking technology.
Ford's Super Duty Chassis Cab and its F-650 and F-750 lineup featuring either the 6.7L Power Stroke Turbo Diesel V-8 or the class-exclusive 6.8L Triton V-10 gasoline engine.
Hino COE 195H electric hybrid truck, also available with a clean diesel powertrain.
A Ford F-250 pickup truck equipped with InterMotive's EcoStar Idle Reduction System and Idle Timer Controller.
Isuzu FTR 18-foot van configuration, featuring lightweight elements from Morgan, Maxon and TODCO.
Kenworth T680 tractor equipped with the new Worthington Type 3 Rail Mount compressed natural gas fuel system.
Mitsubishi FUSO eCanter all-electric truck.
Power Solutions International's Chevrolet 2500 crew cab pickup featuring its compressed natural gas (CNG) fuel system.
Utilimaster's AmeriPride walk-in van built on a Motiv all-electric chassis.
Drone delivery demos offered
Workhorse will demonstrate its HorseFly drone package delivery system in the Ride-and-Drive area at noon, 1:30 p.m. and 3 p.m. Workhorse says that using a drone can improve delivery efficiency, while reducing vehicle emissions, as it is launched from the top of a Workhorse electric/hybrid delivery truck and delivers one package while the driver is free to deliver a second package. The HorseFly drone, which adheres to all FAA safety regulations, flies autonomously to its destination, and then re-docks with the truck in a new location.