Construction industry professionals who are looking ahead and want to invest in their future will find the newest equipment and product innovations as well as focused industry networking and learning opportunities at CONEXPO Latin America 2019.
Registration is now open for the exhibition, which will be held October 2-5 in Santiago, Chile (Espacio Riesco).
CONEXPO Latin America is the most prestigious construction and infrastructure exhibition for Hispanic America. The show offers a CONEXPO-quality experience where all construction industry stakeholders can conveniently meet and share the latest best practices and technology trends.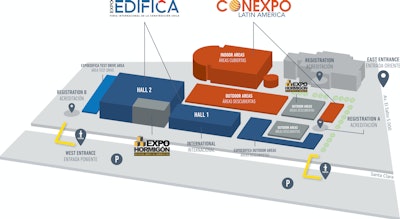 The show again co-locates with the building materials exhibition Expo Edifica (and its Expo Hormigón component), continuing the cooperative partnership between the Chilean Chamber of Construction and the Association of Equipment Manufacturers (AEM), which owns and produces CONEXPO Latin America.
Show Registration is Simple and Fast
Attendee badges are free if you register through the show website through September 30. Save time and money by registering in advance. One badge allows access to all three events (CONEXPO Latin America, Expo Edifica and Expo Hormigón).
The simple and fast registration process allows visitors and exhibitors to more easily connect during and after CONEXPO Latin America, providing added value to the show experience.
"We extend an invitation to all industry professionals who want to gain the knowledge they and their teams need to succeed in today's and tomorrow's business environment," says Fred Vieira, CONEXPO Latin America Show Director and AEM Director, International Exhibitions and Events.
"CONEXPO Latin America 2019 offers state-of-the-art product innovations and equipment to help our attendees improve their productivity, reduce downtime, and enhance safety and sustainability," Vieira adds. "Do not miss this opportunity to attend as CONEXPO Latin America goes to a three-year cycle with the 2019 show."
CONEXPO Latin America 2019 planning is well underway to provide a high-quality show experience that meets the specific needs of the regional marketplace. Co-located educational and networking events are in the planning stages to benefit the show's Latin America and international audiences.
Companies in this article