Mack Trucks
OEM Industry News Briefs provides a weekly round up of the latest news and company announcements you may have missed in the heavy equipment engineering and manufacturing industries.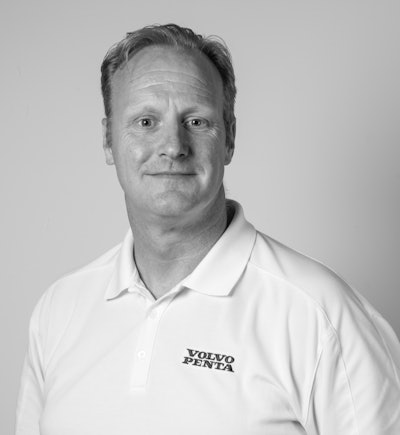 Volvo Penta announces management changes
Volvo Penta has announced Tony Kelleher as the Acting President of Volvo Penta of the Americas. He replaces Martin Bjuve. Kelleher has served several roles with the company, most recently as Vice President of Customer Support & Training.
"It is exciting to have Tony on board within the Volvo Penta Executive Group," says Heléne Mellquist, President of Volvo Penta. "He has a strong focus on the customer perspective and is well-respected across the Volvo Penta organization. I am confident he will support our employees, customers, and key stakeholders in a leading way."
Bjuve, who has served as President since 2020, will take a new role within the Volvo Group. Recruitment for a permanent replacement is ongoing.
Daimler selects Meritor to supply electric powertrain for school buses
Daimler Trucks North America has chosen Meritor as the supplier of electric powertrains for the all-electric Saf-T-Liner C2 Jouley school bus from its Thomas Built Buses (TBB) brand. Meritor will supply its Blue Horizon 14Xe integrated powertrain for use on the buses.
The agreement is to begin January 2024 and is expected to span 5 years.
"The versatility and robustness of the integrated 14Xe ePowertrain is a great complement to the next-gen, all-electric Jouley from Thomas Built," said Kendra Eads, vice president of engineering and technology, TBB, in Daimler's press release announcing the supply agreement. "We look forward to working closely with our colleagues at Meritor on integration of the 14Xe and delivering even greater efficiencies for school districts across the country."
The announcement came the same day as Meritor announcing availability of the ePowertrain and that it would begin production of it. "Our 14Xe ePowertrain has been thoroughly tested hauling loads and logging real world miles in various conditions and multiple applications, allowing us to offer the industry a proven, all-electric, zero emissions solution," said Chris Villavarayan, chief executive officer and President, Meritor, in the company's press release announcing the start of production of the ePowertrain.
Meritor plans to build the fully integrated electric powertrain at its manufacturing facility in Asheville, North Carolina. A modular design enables easy adaptation to various applications in Classes 5-8 commercial vehicles.
READ MORE: Meritor to Begin Production of Electric Powertrains, Forms New OEM Partnerships
Goodyear collaborates on carbon black facility
The Goodyear Tire & Rubber Co. has signed a collaboration agreement with Monolith to develop and use carbon black made from methane for tires. Producing carbon black from methane is considered to be less impactful on the environment which would help Goodyear with its efforts to use more sustainable materials in its tires.
Per Goodyear's press release announcing the partnership, carbon black is a key ingredient in tires, providing compounds in the tires with strength, improved tear resistance, and increased abrasion resistance. A typical consumer tire is made of 15-20% carbon black by weight. Traditional carbon black comes from the combustion of residual oil or coal tar oil.
Monolith has developed a method for producing carbon black using a plasma-based process. It uses renewable electricity to complete methane pyroysis explains Goodyear in its press release which results in outputs of only carbon and hydrogen. Life cycle assessments have shown reduced environmental impacts such as fewer carbon emissions produced compared to the traditional process.
Goodyear states the life cycle assessment shows that this technology has the potential for a carbon-neutral to carbon-negative impact, based on increased utilization of biomethane feedstock versus natural gas in the future.
IVECO partnering on autonomous truck pilot
CNH Industrial's truck brand IVECO is partnering with Plus (formerly Plus.ai) to launch an autonomous truck pilot in Europe and China. The companies will work together to validate and integrate Plus' autonomous trucking technology into the IVECO S-WAY truck.
The first trial will be conducted over a wide range of environments and driving conditions. Plus' PlusDrive solution in which a driver is still in the vehicle as well as a Level 4 autonomous driving technology will be evaluated during testing.
"We have always emphasized the need for expansive testing to validate that an autonomous driving system is able to handle diverse weather, terrains, and driving scenarios. This pilot will accelerate our efforts to start production of autonomous trucks that combine Plus's production- ready, high performance, full-stack Level 4 autonomous driving technology with IVECO's deep engineering expertise and focus on safety and sustainability," said Shawn Kerrigan, COO and Co-founder of Plus, in IVECO's press release announcing the partnership.

John Deere acquiring majority ownership in battery tech provider
John Deere has announced an agreement to acquire majority ownership in Kreisel Electric, Inc., an Austria-based battery technology provider. Per John Deere's announcement, Kreisel has developed high-density, high-durability electric battery modules and packs as well as a charging infrastructure platform that can be used in various applications including those in off-highway markets.
John Deere sees growing use of batteries in a variety of applications and is thus making investments to develop and provide battery technology to customers. With the investment in Kreisel Electric, the company will be able to optimize and integrate technology as well as make use of the Kreisel Electric charging solution to provide a more complete solution for customers.
"Kreisel's battery technology can be applied across the broad portfolio of Deere products, and Kreisel's in-market experience will benefit Deere as we ramp up our battery-electric vehicle portfolio. Deere will provide the expertise, global footprint, and funding to enable Kreisel to continue its fast growth in core markets," said Pierre Guyot, Senior Vice President, John Deere Power Systems, in the company's press release announcing the investment. "This is an opportunity to invest in a company with unique technology that's designed for the demanding conditions where Deere customers work.
"Furthermore, building an electrified portfolio is key to John Deere's sustainability goal of pursuing new technologies that reduce the environmental impact of new products and work toward zero emissions propulsion systems on equipment, while increasing our customers' efficiency and productivity."
dSPACE partners with KPIT and Microsoft on ADAS and autonomous driving development
dSPACE announces it is partnering with Microsoft and KPIT Technologies to provide OEMs and Tier 1 suppliers with a solution that will aid homologation (self-certification in the U.S.) for advanced driver assistance systems and autonomous driving.
Millions of miles of testing are required to certify autonomous vehicles which requires intensive data-driven simulation. By taking a collaborative approach that brings together experts in various areas of autonomous driving, an improved solution can be provided to help improve development time for OEMs.
Per dSPACE's press release announcing the partnership, each company will bring necessary expertise to provide manufacturers with a one-stop solution: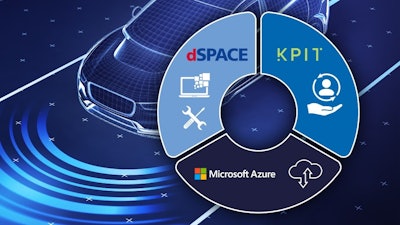 KPIT will leverage decades of experience in working on the development, validation, and integration of applications for autonomous driving for next-generation technology roadmaps. The company will contribute its expertise in software development, integration, and validation to this collaboration. KPIT will also use a suite of virtual simulation and validation tools purpose-built for autonomous driving use cases.

dSPACE

will contribute tools and solutions for data-driven development, simulation, and validation. The company has been helping its customers improve their validation methods for more than 30 years and offers OEMs and Tier-1s new solutions for the development of applications for autonomous driving. To this end,

dSPACE

recently launched SIMPHERA, a web-based, highly scalable, cloud solution that lets users perform the computation-intensive validation of functions for autonomous driving quickly and easily. SIMPHERA supports the collaboration of development teams that are distributed worldwide and lets customers seamlessly integrate their applications.
Microsoft Azure Core and Services help automakers accelerate their digital transformation by providing global cloud services and computing capabilities uniquely tailored to deliver virtualization of infrastructure and networking for ADAS feature development and validation in a cost-performant, scalable, and repeatable manner.
"Introducing and operating a data-driven development and validation tool chain is a huge effort for our customers. This collaboration enables the rapid adoption of tools as well as engineering and cloud expertise to deliver a complete end-to-end solution. This significantly increases development speed, which is key in this fast-moving ADAS/AD market," said Tino Schulze, Executive Vice President Automated Driving & Software Solutions, dSPACE, in the company's press release.
Mack Trucks begins serial production of LR Electric
Mack Trucks announces its first fully-electric truck, the Mack LR Electric, is beginning serial production at the company's Lehigh Valley Operations (LVO) in Macungie, PA. This facility is where the company manufactures all Class 8 trucks for North America and export.
"Customer response to the LR Electric has been overwhelmingly positive, and we look forward to putting more into fleet operations now that we are in production," said Jonathan Randall, Mack Trucks senior vice president of sales and commercial operations, in the company's press release announcing the start of serial production.
The truck is powered by four Nickel Manganese Cobalt Oxide (NMC) lithium-ion batteries and charged by a 150 kW SAE J1772-compliant charging system. Per Mack Trucks' press release, the batteries provide vehicle propulsion and power for all onboard accessories driven through 12V, 24V and 600V electric circuits. A three-mode regenerative braking system helps recapture the energy from the hundreds of stops the vehicle makes each day as a result of increasing payload throughout the day.
Equipment bodies from various manufacturers can be fitted onto the Mack LR Electric to meet customers' specific application needs. The truck features a similar design as the diesel-powered LR truck, ensuring an equivalent driving experience for customers.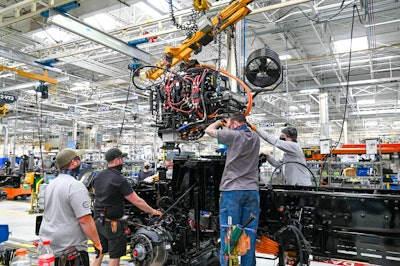 Companies in this article