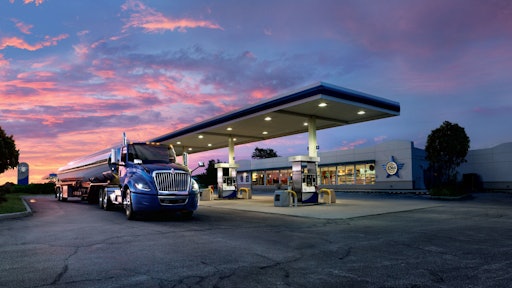 International Trucks
Editor's Note: This news item was originally published on Nov. 8 and has been updated with additional information.
Preliminary North American Class 8 truck orders in October reached 22,100 units, reports FTR. This was the highest level since November 2018, but 51% lower than October 2018. FTR says October 2019 order activity was the weakest for the month since 2016.
October orders were the highest for the year overall, and up 79% on a month-over-month basis. Class 8 orders totaled 192,000 units over the past 12 months.
Class 5-7 orders reached 16,400 units which was a decrease of 12% on a month-over-month basis, reports ACT Research. "The fade that started in medium-duty orders during the summer lingered into the start of Q4, and if the preliminary order read stands as printed, October will represent a 40-month order low," explains Kenny Vieth, ACT Research's President and Senior Analyst.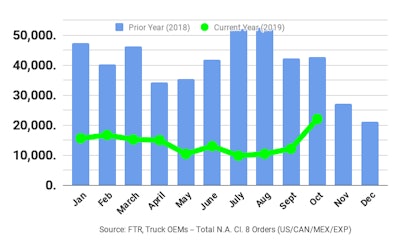 FTR expects cancellations of Class 8 orders to remain elevated as OEMs shake out excess 2019 orders from the backlog.
Don Ake, Vice President Commercial Vehicles at FTR, comments, "Orders increased in October as expected, however, caution prevails. The trade and political turmoil are producing a highly uncertain business environment. Fleets are only ordering for their immediate needs. They are not willing to speculate much beyond the first quarter of next year. The OEMs have plenty of open capacity right now, so carriers are willing to approach 2020 a step at a time.
"The orders were fair in October. Freight growth is flat, as the industrial sector slows and manufacturing struggles a bit. Orders are expected to stay in this range for a few months until there is more confidence in the economy and less turbulence in the trade war and political arena."
"The North American commercial vehicle industry kicked-off 'order season' in an encouraging fashion, with preliminary order activity rising to a six-month high in October," adds Vieth. "Class 8 orders were the star of October, rising to an 11-month high. While freight market conditions remain weak, the market is arguably benefiting from a substantive change in the 'must-have' tractor spec: AMT, ADAS, and superior fuel economy are considerations to offset weakness in the top-line."
Challenges and opportunities continue
ACT's recently released North American Commercial Vehicle OUTLOOK (N.A. CV OUTLOOK) indicates the trade war with China remains a primary risk for the commercial vehicle market as well as the U.S. economy as a whole. Manufacturers and farmers have been struggling due the continued trade tensions. Continued escalation of tariffs imposed by both the U.S. and China—including those recently imposed on some European heavy equipment—are financial stress and impeding spending ability.
U.S. consumers, however, provide a bright spot for the commercial vehicle market. Consumers are anticipated to be the key driver of growth in the mid-term outlook, says ACT. The approaching holiday shopping season should prove particularly beneficial in aiding economic growth.
"With around 80% of North America's Class 8 market and about 90% of the Classes 5-7 and trailer markets beholden to the U.S. economy, it is little wonder that ACT's forecasts focus heavily on the North American, and primarily the U.S., economy," says Steve Tam, ACT's Vice President. He elaborates, "We are seeing weaker-than-expected activity in the economies of Canada and Mexico and our U.S. growth expectations, at 2.2%, are now below start-of-the-year levels. Looking to 2020, GDP growth in all three North American economies is anticipated to fall below 2%, with the US and Canada at 1.7% and Mexico rebounding to 1.4%."
Regarding the trade war and risk of a recession, Tam comments, "If the President doubles down from here, a greater global downturn could ensue, with the worst outcomes spreading beyond the impact of tariffs and into a global currency war. If Schedule D tariffs are put in place in December, the likelihood of recession rises."
Companies in this article