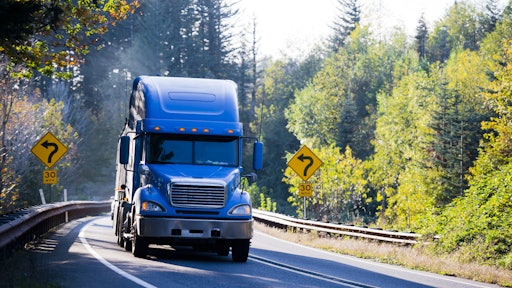 ©vit – stock.adobe.com
Preliminary North American Class 8 truck orders were over 40,000 units for the sixth consecutive month in March 2021.
According to FTR, net orders came in at 40,800 units. Orders were down 9% on a month-over-month (m/m) basis, but up more than 33,000 units compared to March 2020 the research firm says. It notes Class 8 orders total 372,000 units for the past 12 months.
ACT Research, on the other hand, reports preliminary Class 8 orders reached 40,000 units in March and were down 10% from February. However, ACT says it was a 424% increase from March 2020 which was negatively impacted by the COVID-19 pandemic.
ACT reports demand for Classes 5-7 rose 19% from February to 31,400 units. Demand was more than double (103%) the year-ago level.
Final data from both research firms will be available later in the month.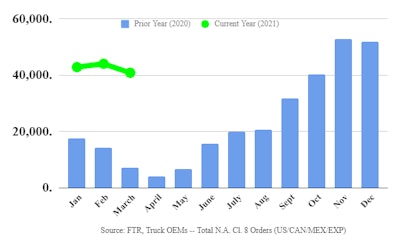 Demand strong, but supply chains pose challenges
FTR notes there is a greater need for trucks to handle freight growth which has been brought about by a recovering economies as well as government stimulus. Truck demand is strong as customers look to add more trucks to their fleets, but supply chain constraints are making it difficult for manufacturers to meet this demand. Rising costs of materials such as steel and the ongoing semiconductor shortage are making it difficult for OEMs to produce the requested trucks.
Volvo Group announced in March the semiconductor shortage is impacting its global truck production, and the company will have to implement stop days across its manufacturing facilities. The company also noted this shortage could impact other areas of its business.
U.S. President Biden signed an executive order in February which aims to address this supply chain issue, but that will take some time to have an impact on the manufacturing industries which rely on these components.
Don Ake, Vice President of Commercial Vehicles for FTR, comments, "There is tremendous pent-up demand being generated due to the constrictions on supply. The pressure in the market is building, as orders continue to flow into OEMs at a record pace. To have this level of orders roll in for half a year is impressive and unprecedented.
"The component shortages of semiconductors and other parts are causing problems throughout trucking. Fleets desperately need many new trucks right now to keep up with demand, but production throughput is being constricted. It appears the industry will be playing catch-up well into the first half of next year.
"There are no clear indications of when the supply chain issues will be resolved. We expect computer chips to be in short supply for at least a few more months. Worker shortages at key suppliers should get alleviated some by the vaccines. The backup at the ports will also take a few months to resolve."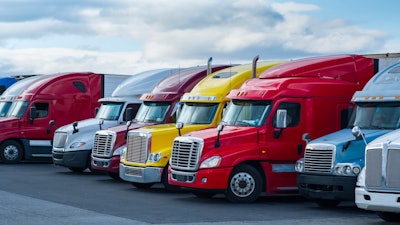 "Fanning the flames of an already robust economy, $1.9T in additional stimulus has started filtering its way into consumers' pocketbooks," says Steve Tam, ACT's Vice President. "In addition, the prospect of a $2T infrastructure bill has consumers and businesses setting their sights higher for both the near- and mid-terms. And, included in that outlook appears to be a need for an increasing number of commercial vehicles."
Regarding the heavy-duty market, Tam comments, "Despite retrenching from February, Class 8 demand remained strong in March, well above replacement and even anticipated economic growth, let alone the industry's ability to keep pace in the current supply chain constrained environment."
He notes, "In similar bullish fashion, consumer demand, fueled at least in part by the optimism associated with the nearly $2T in recently approved stimulus, has caused buyers of medium-duty commercial vehicles to remain at the demand trough for yet another month. This is particularly interesting, given the medium duty's second fiddle position in the supply chain pecking order."
Listen to our podcast interview with Chris Fisher, Senior Commercial Vehicle Analyst at Power Systems Research, about the current state of the North American commercial vehicle market and impacts of current supply chain issues.
Companies in this article