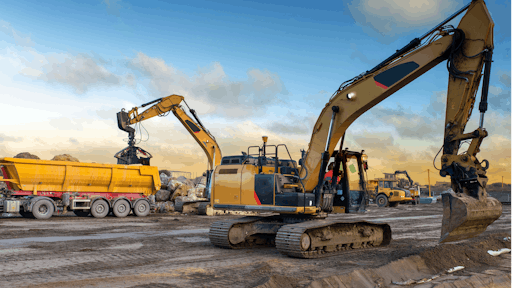 ©Image'in – stock.adobe.com
On January 14, President-elect Joe Biden announced a $1.9 trillion stimulus proposal which aims to aid with the growing coronavirus pandemic and the economy. During his announcement he said it's critical to act now.
According to The Hill, Biden described his plans for expanding distribution of coronavirus vaccinations, helping schools reopen, delivering aid to workers and small businesses, as well as tackling the country's hunger crisis and providing funding to state and local governments.
His plan has two-stages, the first of which he wants Congress to pass immediately. The second part of the proposed stimulus package will be further laid out in February and will include investments in infrastructure, research and development, and clean energy.
These investments are welcome news to many in the heavy equipment and manufacturing industries. Associations like AEM (Association of Equipment Manufacturers) have been calling for infrastructure investment, as well as investments in U.S. manufacturing.
AEM held a webinar on January 14 during which it discussed the 2020 election and the current state of the equipment manufacturing industry. Industry leaders emphasized the benefits of a bipartisan infrastructure plan — and the fact it should be bipartisan — to the equipment industry.
An infrastructure plan would provide work for construction companies who then may be able to purchase more equipment from OEMs. In general, it would help create jobs as well as provide a much needed update to U.S. infrastructure.
Also included in the plan is about $20 billion for hard-hit transit agencies, says U.S. PIRG, the federation of state Public Interest Research Groups (PIRG). This funding will help them maintain routes and ensure public transportation continues to be available for those who need it. In addition, continuing to fund these agencies will enable them to replace vehicles as needed which also benefits manufacturers who supply components and vehicles to the industry.
Upon announcement of Biden's plan, Matt Casale, U.S. PIRG Environment Campaigns Director issued a statement saying, "We thank the president-elect for recognizing the importance of public transportation and proposing much-needed relief for our nation's transit agencies. This investment will be critical in ensuring that agencies across the country are able to overcome the challenges posed by the pandemic without decimating service.
"Once we emerge from the pandemic, we look forward to working with the Biden administration and Congress to provide long-term, sustainable investment in public transportation. This is necessary to allow our transit agencies to not only be more resilient during crises, but also to expand access and modernize services."
What would a Biden infrastructure plan look like?
Biden's infrastructure plan would be part of his overall Build Back Better plan through which he intends to launch a national effort aimed at creating jobs that would enable our country to build a modern, sustainable infrastructure now and deliver an equitable clean energy future. To achieve this, he says there will be a need for millions of construction, skilled trades and engineering workers. This will help create opportunities for both younger and older generations of workers.
According to the plan laid out on Biden's website, investments will be made in:
Infrastructure
Auto Industry
Transit
Power Sector
Buildings
Housing
Innovation
Agriculture and Conservation
Environmental Justice.
During the Consumer Electronics Show (CES) 2021 held January 11-14, the incoming director of the National Economic Council Brian Deese spoke about the Build Back Better plan and how it aims to invest in the technology sector to achieve its goals. He noted there will be targeted investments in domestic enterprises as a means of aiding the economy and improving U.S. innovation. Areas of investment could include research and development as well as manufacturing.
READ MORE: Heavy Equipment Industry Increases Presence at CES 2021
As part of these efforts, Deese also noted the importance of creating partnerships with the private sector. These partnerships will help ensure decisions are being made that best benefit all parties involved.
Companies in this article