Daimler Trucks North America
*Editor's Note: This news was originally published on November 4 and updated December 16, 2021 with additional information.
In April 2021, the U.S. Department of Energy (DOE) announced it would initiate a third iteration of the SuperTruck program which challenges OEMs and component manufacturers in the heavy truck industry to develop solutions to improve freight efficiency.
For SuperTruck 3, medium- and heavy-duty truck technologies will be evaluated, including electrification and hydrogen solutions.
On November 1, U.S. Vice President Kamala Harris and U.S. Secretary of Energy Jennifer M. Granholm announced the DOE will award $199 million in funding for 25 projects focused on developing cleaner technologies for cars and trucks. Among these projects is the SuperTruck 3 program.
The funding is in line with President Biden's announcement in April to have have half of all vehicles sold in the U.S. be zero-emissions vehicles by 2030 while also achieving net zero emissions economy wide by 2050, reports the DOE in its press release announcing the new funding.
READ MORE: Biden Targets 50% Emissions Reduction by 2030
Companies selected for SuperTruck 3
The DOE has selected five heavy vehicle manufacturers to participate in the SuperTruck 3 program. A total of $127 million will be provided to the companies as part of the cost-shared project which aims to develop electric medium- and heavy-duty trucks as well as freight system concepts with the goal of achieving higher efficiency and zero emissions, according to the DOE.
Funding will be provided over 5 years and those participating in the program will match federal funding dollar for dollar. Per the DOE's press release, the companies selected for this iteration of SuperTruck are:
PACCAR Inc (Bellevue, WA) will develop 18 Class 8 battery-electric and fuel cell vehicles with advanced batteries and a megawatt charging station will also be developed and demonstrated. (Award amount: $32,971,041)
Volvo Group North America, LLC (Greensboro, NC) will develop a 400-mile-range Class-8 battery electric tractor-trailer with advanced aerodynamics, electric braking, EV optimized tires, automation and route planning. A megawatt charging station will be developed and demonstrated. (Award amount: $18,070,333)
Daimler Trucks North America, LLC (Portland, OR) will develop and demonstrate two Class 8 fuel cell trucks with 600-mile range, 25,000-hour durability, equivalent payload capacity and range to diesel. (Award amount: $25,791,669)
Ford Motor Company (Dearborn, MI) will develop and demonstrate five hydrogen fuel cell electric Class-6 Super Duty trucks targeting cost, payload, towing, and refueling times that are equivalent to conventional gasoline trucks. (Award amount: $24,952,314)
General Motors, LLC (Pontiac, MI) will develop and demonstrate four hydrogen fuel cell and four battery electric Class 4-6 trucks. The project will also focus on development of clean hydrogen via electrolysis and clean power for fast charging. (Award amount: $26,061,726).
Daimler Trucks North America (DTNA) participated in the first two SuperTruck programs. For SuperTruck 3, it aims to demonstrate the fuel efficiency and emissions-reduction capabilities of its fuel cell truck in regional and long-haul applications.
In the latest version of the program, DTNA says in its press release announcing its SuperTruck 3 award that it will develop various technologies which demonstrate the ability of a fuel cell electric truck to exceed long-haul sleeper truck performance, efficiency and range requirements without compromising payload. Technology modeling, analysis, concept selection and design will be among the first steps the company takes along its development path. Several technologies and concepts will be evaluated before they are built and placed on the demonstration truck.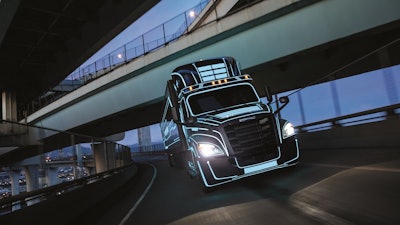 "Inaction is not an option. As market-leader, we are in the driver seat to bring new, clean trucking solutions to market. We remain laser-focused on our goal to electrify our trucks and to help build the necessary infrastructure," says Dr. Rainer Müller-Finkeldei, Senior Vice President Engineering & Technology at DTNA, in the company's press release. "Through DOE's SuperTruck 3 program, we will be able to more quickly investigate high-risk, high-reward technologies to clear the technical pathway for their development and potential integration in series production - for the mutual benefit of our environment and our society."
Volvo Group North America (VGNA) is another repeat participant of the SuperTruck program. The company says in its press release announcing its award that it's proposal for SuperTruck 3 was developed to meet several DOE objectives and targets significant breakthroughs in zero-emission vehicle (ZEV) freight solutions to serve logistics operations for the company's manufacturing plants along a 400-mile route spanning several mid-Atlantic states in the U.S.
VGNA's proposal details five routes with different mileages, payload capacities, Class 8 tractor specifications, and high-power charging solutions. This will help the company to better evaluate the potential of its design in various applications in which trucks might be used. The company plans to work with several external partners including dealers, customers, suppliers and third-party research partners.
Simulation and evaluation along with vehicle testing will all be conducted by VGNA as part of the project.
"The entire team at Volvo Group North America is honored to be selected once again for the SuperTruck 3 Program, especially with the program's focus on zero-emissions, battery-electric vehicles in the medium- and heavy-duty truck segments," said Martin Weissburg, Chairman of Volvo Group North America, in the company's press release. "Today's news also underscores the importance of our ongoing relationship with the DOE, and our commitment to advancing sustainable transport and infrastructure solutions that deliver meaningful contributions toward tackling climate-change challenges."
PACCAR has also participated in the previous SuperTruck programs. The company will further advance its Class 8 Kenworth and Peterbilt battery electric and fuel cell vehicles as part of SuperTruck 3. Schneider Electric has announced it will partner with PACCAR as part of the program by providing electric vehicle infrastructure design and microgrid resiliency.
"As the federal government continues to place a greater emphasis on infrastructure modernization and digitalization, this grant will help us build the foundation to meet the evolving electrification needs of fleets and truck operators," said Kevin Self, Senior Vice President, Strategy, Business Development & Government Relations, Schneider Electric, in the company's press release announcing its partnership with PACCAR. "We are excited to join the SuperTruck 3 program to develop the required electric charging infrastructure to support PACCAR's electric trucks program now and into the future."
SuperTruck 3 designs are currently planned to be unveiled by the end of 2025.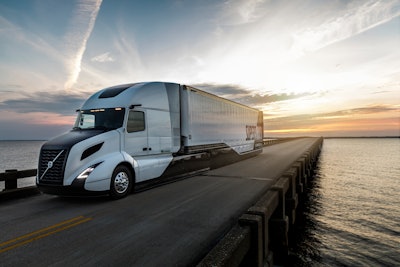 Previous SuperTruck program results
The first SuperTruck program was initiated in 2009 with the goal of improving heavy-duty truck freight efficiency by 50%. All companies which participated met or exceeded these goals. In 2016, SuperTruck 2 began which looked to double the efficiency of Class 8 trucks.
Volvo's first SuperTruck demonstration truck exceeded the 50% freight efficiency target, and the company says it is on track with its SuperTruck 2 project to more than double Class 8 vehicle payload-per-mile per gallon for productivity gains, as well as improved fuel efficiency.
DTNA and its project partners in the first SuperTruck program developed a truck demonstrating over a 115% improvement in overall freight efficiency compared to a 2009 baseline truck. Its SuperTruck 2 vehicle is scheduled to be revealed in 2022 and to date is on track to achieve further efficiency goals.
Earlier this year, Cummins Inc.—which has participated in the first two SuperTruck programs—was honored by the DOE for achieving 55% brake thermal efficiency on an engine featuring waste heat recovery technology as part of its SuperTruck 2 R&D efforts. As part of the program, the Cummins engine will be integrated into a Peterbilt truck to demonstrate the efficiency goals of the project.
"Getting to 55% BTE was about optimally moving the needle in many areas. The interactions among the engine subsystems complicated defining how to operate each of these subsystems to reach the optimum engine performance. Achieving the final objective occurred with careful hardware selection and a month of optimization of the engine and Waste Heat Recovery systems at the test cell," said Jon Dickson, Cummins Principal Investigator for the SuperTruck II initiative, in a news piece from the company about the achievement. "There were a lot of people at Cummins that came together to make this happen, who never gave up even when we were down to the wire, and I'm thrilled to accept this award in recognition of their perseverance."
While the SuperTruck program is a demonstration project, many of the technologies developed during the first iteration have been brought to market. For DTNA, these include the enhanced aerodynamics and improved engine thermal efficiency features found on the current Freightliner Cascadia.
Volvo's first SuperTruck design helped with the creation of wave piston, turbo compounding and common rail fuel injection systems that are now found on many of its engine designs for heavy-duty trucks.
Companies in this article