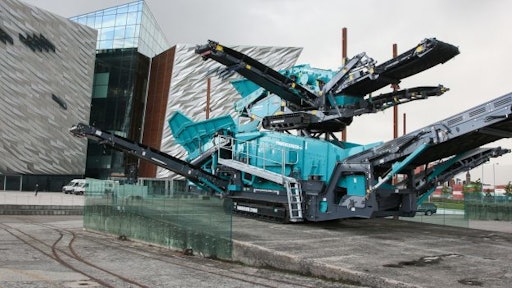 Powerscreen will attend CONEXPO-CON/AGG 2017. Powerscreen will be exhibiting on the Terex booth #G3382 in the outdoor Gold Lot at the Las Vegas Convention Center from March 7–11, 2017. Three machines will be on display: Powerscreen Premiertrak 600 jaw crusher, Powerscreen Warrior 600 screen and Powerscreen Warrior 2400 screen.
Commenting on the forthcoming line up at CONEXPO, Colin Clements, Powerscreen Global Product Line Director, says, "CONEXPO is the perfect platform for Powerscreen to showcase our innovative products to the market and our strong display of machines do just that. Powerscreen staff and distributors are looking forward to meeting with customers to discuss the features and benefits of our extensive product portfolio."
With over 50 years powering the industry, Powerscreen has developed and maintained an aggressive position in the mobile crushing and screening industry. It will fully demonstrate the versatility of its portfolio with the three machines at CONEXPO which illustrate compact design with the Warrior 600, the daddy of all mobile screens – the Warrior 2400 and the company's branch into diesel-electric machines with the Premiertrak 600.
Warrior 600 screen
The Warrior 600 is the most compact heavy-duty mobile screen and makes the Warrior range the widest in the market with seven machines of varying size to meet a variety of customer requirements. Ease of transport is only one of many exciting features on this model. The Warrior 600 screen is highly versatile with its ground-breaking simple conversion from 3-Way Split mode to 2-Way Split mode which can be completed in minutes. It has been specifically designed for operators for whom versatility, maneuverability and transportation are of key importance. The Warrior 600 also features a highly aggressive 2.4 m x 1.2 m screenbox capable of 6g of acceleration. The high-strength, high amplitude, two-bearing screenbox promotes easy handling and separation of large items from material fines in recycling tasks, such as soils from tree stumps and logs, fines and rock from overburden and blasted rock. User benefits include a rapid set-up time and ease of operation aided by hydraulic folding side conveyors, rigid feed hopper sides and two speed tracks.
Warrior 2400
Specially designed for large scale operators in the quarrying and mining sectors, the Warrior 2400 screen is capable of handling larger feed sizes and throughputs, whilst remaining convenient to move and transport. It features a heavy-duty incline screen with a high amplitude triple shaft drive mechanism, lending it to screening, scalping, two- or three-way splitting and stockpiling materials like aggregates, topsoil, coal, construction, demolition waste and iron ore. The screen will accept a wide variety of media making it suitable for many applications.
Set-up time and ease of operation are aided by hydraulic folding tail and side conveyors, two-speed tracks, a slide-out tail conveyor facility to aid media access and load sensing collection conveyor circuit to avoid blockages. It's simple-to-use electrical control system allows operators to monitor and diagnose the machine on site via an LCD display without specialist tools. The Warrior 2400 is available with optional dual power.
Premiertrak 600
The diesel-hydraulic and diesel-electric variants of the Premiertrak 600 jaw crusher have been designed and constructed to deliver maximum production and performance with increased uptime and low running costs. The high capacity jaw is fed by a vibrating grizzly feeder with variable speed control and a large grizzly area to maximize removal of fine material to extend the wear life of jaw plates within the crusher chamber. The bypass chute is also fitted with wear-resistant liners as standard, and incorporates an adjustable five-position deflector plate to divert material to either the product or side conveyors.
The machine control system incorporates a state of the art, modern interface with intuitive graphics and high resolution display for ease of operation. This is further enhanced with the automatic start/stop functionality, excellent diagnostic capability and straightforward machine adjustments. The speed of jaw crusher on the Premiertrak 600 can be varied to suit the application and therefore optimize performance. In addition to this, the hydraulic system has been designed and configured to increase uptime and fuel efficiency.
The Premiertrak 600E electric variant is equipped with an over-size genset sufficient to run another plant (it successfully powers the large Powerscreen Warrior 1400XE heavy-duty scalping screen) and additionally can be powered from a mains source which substantially decreases the running costs and environmental impact.
With convenience and safety in mind, the Premiertrak 600 can be fully set up from ground level thanks to its hydraulic folding and locking hopper system. It can be adjusted to maximise productivity in any application and can be configured with an independent live pre-screen for the efficient removal of scalped materials either into a waste or a sized sub-base product.