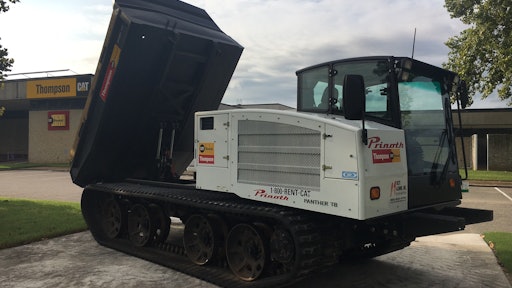 The PRINOTH Panther has found a new partner with Thompson CAT of Memphis for the regions of Western Tennessee and Northern Mississippi.
Recognized by the Tennessee dealer as a high quality product, easy to maintain, the PANTHER lineup was also selected by Thompson CAT because it is powered by Caterpillar engines. PRINOTH manufactures premium vehicles that resonate well with CAT dealers whose household brand is also known for its high-end rating.
Furthermore, the PANTHER fleet will be added to dealership's CAT Rental Store, thus providing PRINOTH with great visibility. "CAT Rental Stores provide niche equipment such as ours an unprecedented window to the construction market," explains Alessandro Ferrari, Vice-President of Sales at PRINOTH before adding, "Overall, we've very excited to welcome Thompson CAT into the PRINOTH family."
ICUEE
PRINOTH will be exhibiting at ICUEE in booth N3016 October 3-5.