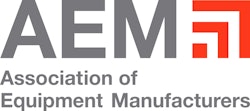 The Association of Equipment Manufacturers (AEM) continued its efforts in support of the ratification of the United States-Mexico-Canada Agreement (USMCA) when a representative of the association participated in a meeting at the White House. 
Read more about the USMCA and other industry associations urging its passage to aid U.S. trade relations and the economy in the article "Associations Urge Passage of USMCA."
AEM Director and Husco CEO Austin Ramirez met with President Trump, Vice President Pence, United States Trade Representative Lighthizer, and other senior White House officials to discuss how to get the trade agreement across the finish line this year.
"AEM and equipment manufacturers strongly support immediate congressional approval of USMCA," said Ramirez. "We will work closely with both Democrats and Republicans to build the necessary support to pass a USMCA bill that will sustain free trade in North America and open new markets for equipment manufacturers."
Ramirez joined Philip Blake, President of Bayer Corporation; Joshua Bolten, President & CEO of the Business Roundtable; Gary Heminger, Chief Executive Officer of Marathon Petroleum; James Groover, Chief Executive Officer of Ag-Pro Companies; and other executives to discuss the shared goal of preserving and strengthening North American trade.
"The USMCA will impact more than two million American manufacturing jobs that depend on exports to Canada and Mexico," said Alyssa Farah, Press Secretary for the Vice President. "It will open up new export opportunities to Canada for America's dairy and poultry farmers. And it provides the most comprehensive intellectual property rights enforcement for any trade agreement. This is a win for America and for our trading partners."
USMCA is critical to the long-term success of equipment manufacturers. The industry's two largest export markets in the world are Canada and Mexico, and trade with these countries has contributed to significant growth and global reach. When equipment manufacturers are successful globally, they add family-sustaining jobs in communities across the country. AEM has been making the case for expeditious passage of the agreement to members of Congress, and will continue to educate the American public about the benefits of the new deal.