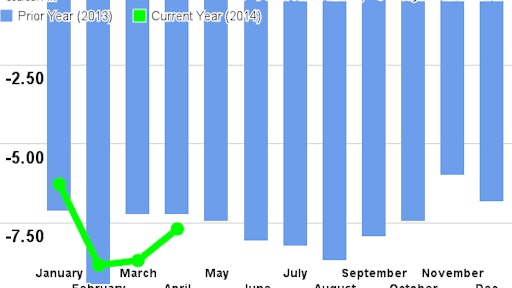 FTR's Shippers Conditions Index (SCI) for April rose one point to a reading of -7.7, reflecting a mild pullback from a critical capacity possibility reflected in the previous month's reading. However, this one month change does not signal any real improvement in trucking capacity which remains extremely tight. The index remains in low territory reflecting the 98 to 99% readings for truck capacity utilization, with little relief in sight until the next recession. Freight growth should remain strong through the balance of the year, and the rate shippers pay for truck freight will continue to rise.

Eric Starks, FTR's President, comments, "The shipping situation is not as critical as it was just a few months ago when weather related issues disrupted the supply chain. However, we are still near a tipping point. If the economy starts to accelerate as we move through the summer months, additional strain would be put on an already fragile capacity situation. Shippers should expect carriers to push rates higher as we move through the year. The biggest pressure will come from trucking companies who continue to struggle finding qualified drivers to move freight."

The Shippers Conditions Index is a compilation of factors affecting the shippers transport environment. Any reading below zero indicates a less-than-ideal environment for shippers. Readings below 10 signal that conditions for shippers are approaching critical levels, based on available capacity and expected rates.