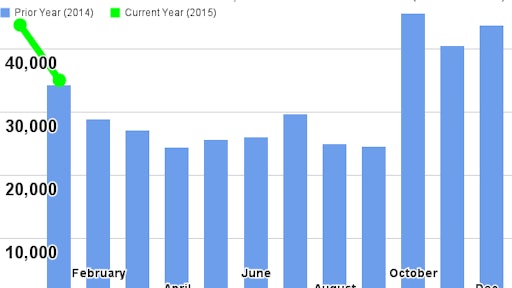 FTR has released preliminary data showing January 2015 North American Class 8 truck net orders at 35,060 units. While orders cooled from the torrid pace of 2014 Q4, this is the strongest activity for January since 2006 and improving 2% year-over-year. Orders fell back into more traditional patterns with most, but not all, OEMs continuing their strong order momentum. Class 8 orders have totaled 377,000 over the past 12 months.

Don Ake, FTR Vice President of Commercial Vehicles, comments, "Even though orders were their lowest in the last four months, the market remains very robust. Fleets are now trying to determine their requirements for the entire year and then place orders accordingly. With limited build slots available, they have to be more strategic in their buying decisions. We should see more normal ordering cycles for the next few months. The orders this month continue to support the strong FTR forecast and are right in line with our expectations."

Final data for December will be available from FTR later in the month as part of its North American Commercial Truck & Trailer Outlook service.