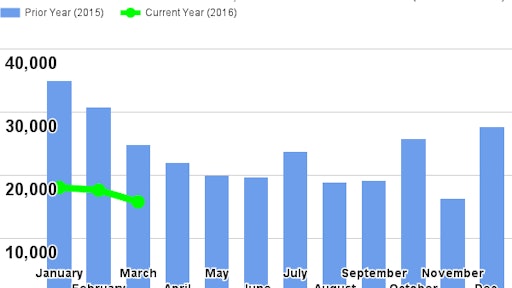 FTR has released preliminary data showing March 2016 North American Class 8 truck net orders fell for the third consecutive month to 15,800 units, the lowest level since September 2012. March 2016 orders were 12% below February and down 37% year-over-year (Y/Y), the weakest month of March since 2010. Class 8 orders have now totaled 245,000 over the past 12 months. They are expected to remain under 20,000 units for the next few months, as the market bottoms out.   
Don Ake, Vice President of Commercial Vehicles at FTR, comments, "Orders were slightly below expectations as the market continues its downward slide. Fleets are being very cautious in the current uncertain economic environment.  Freight has slowed due to the manufacturing recession, so they have sufficient trucks to meet current demand. Some fleets are also delaying replacing older units until conditions improve. There are very few dealer stock orders, since inventories are sufficient and OEM lead times are short.
"OEMs continue to reduce production rates in response to an expected 26% drop in build this year. Inventories remain high and retail sales have moderated, so order rates should remain subdued in the short-term. Manufacturing is expected to improve soon and this is expected to increase freight levels and stabilize truck demand."
 
Final data for March will be available from FTR later in the month as part of its North American Commercial Truck & Trailer Outlook service.