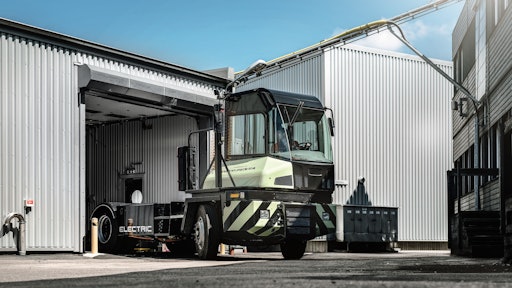 Volvo Penta
Technological advancements such as electrification of terminal tractors and integration of Internet of Things (IoT), coupled with rising demand for automation at port terminals, warehouses, and distribution centers, are expected to fuel the adoption of terminal tractors. Further, rising international trade activities are encouraging users to opt for terminal tractors to boost work efficiency and reduce human error. This, in turn, will pave the way for significant opportunities for terminal tractor manufactures, globally.
The global terminal tractor market is expected to create an absolute dollar opportunity of U.S. $235 million by the end of the forecast period (2020-2030), and surpass a market value of U.S. $875 million by 2030.
Key takeaways from the Terminal Tractor Market Study include:
By fuel, conventional fuel terminal tractors are set to hold a share-wide market dominance with over 90% of the total market value by the end of forecast period.
By end use, port terminals are projected to expand at a value CAGR of 3% and be valued 2.8X more than intermodal facilities by the end of 2020.
By ownership, the industrial and commercial segment is anticipated to expand 1.4X by gaining 90 BPS over the course of the forecast duration.
The terminal tractor market in East Asia is expected to grow the fastest by experiencing a value CAGR of over 4%, whereas, North America is projected to be valued 2.3X than East Asia and account for a major chunk of the demand pie by the end of the forecast period.
"Suspension of manufacturing and logistics activities amidst the COVID-19 pandemic will lead to short-term implications on the demand for terminal tractors. However, the market is set to regain traction over the coming years, owing to revolution in the retail sector, emergence of e-Commerce platforms, and increase in seaborne trade activities, which will create high demand for terminal tractors across the world," says a report analyst.
Strategic Agreements to Remain Key Strategy in Terminal Tractor Market
Prominent players in the market are continuously focusing on maintaining agreements with several clients to expand their global footprints. Through such agreements, companies are focusing on broadening their customer base and gaining a competitive edge over other players. For instance,
In 2020, Kalmar Inc., entered into an agreement with Australian company Nyrstar for the supply of heavy terminal tractors. Through this agreement, the company will supply three terminal tractors - TR618i, which are designed for moving heavy loads in any condition and also comply with EU Stage V emission norms.
In 2020, Terberg Group entered into an agreement with the Port of Helsingborg, a Swedish container specialist, for the supply of YT203-EV electric terminal tractors. These electric terminal tractors will have a battery pack capacity of 222 kWh, which will enable the port to save on maintenance and diesel.