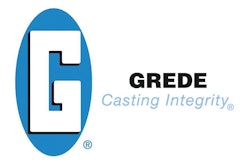 Since its formation as a new business entity early in 2010, Grede Holdings LLC has booked over $162 million in new business, increased plant utilization by 80%, added over 900 employees (a 32% increase), and received numerous customer awards.
"In February 2010, we combined the best-of-the-best in terms of people, technologies and assets of the former Grede Foundries Inc. and Citation Corporation to form Grede Holdings LLC," says Doug Grimm, chairman, president and CEO. "In doing this, we positioned ourselves for growth and our efforts are clearly paying off."
Grede's $162 million in new business will launch over the next two years and includes all major markets such as automotive ($75 million), industrial ($38 million), and medium and heavy duty truck ($49 million). "This new business is coming from both existing and new customers who see the true value of the business combination," says Grimm.
"In addition, our growth strategy includes constantly seeking and evaluating potential strategic acquisitions that will complement and expand our facilities, capabilities and product mix," adds Grimm.
"Much of the reason for our success is due to the men and women of Grede who have worked tirelessly to integrate the two companies during 2010. Moreover, I would like to thank our customers who have worked with us to optimize our manufacturing footprint to better support their needs in this improving economy," says Grimm.