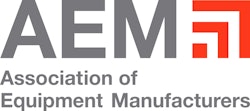 Attendees at the upcoming CTT-CONEXPO Russia 2011 exhibition are invited to a special meeting of the Construction Equipment Committee of the Association of European Businesses in the Russian Federation (AEB) during the show. The AEB event will feature presentations on construction machinery market analysis, machine types and uses, specification and technical requirements, and customs issues.
The Association of Equipment Manufacturers (AEM) is organizer of the CONEXPO Russia exhibit area at the 2011 CTT, the Construction Equipment and Technologies Specialized Demonstration Show, which will be held May 31 to June 4, 2011 at the Crocus International Exhibition Center in Moscow.
The AEB Construction Equipment Committee meeting is scheduled for June 1, 2011 from 10:30 am to 12 noon local time (registration from 10:00 AM) in Hall 2, Pavilion 1.
The Russian economy continues to improve and the country has allocated billions of dollars for infrastructure projects that will need new equipment and technologies.
"This meeting will be very informative for companies looking to improve their knowledge of the Russian construction marketplace; it will provide extra value to show attendees and we are pleased to support the event," states Show Director Melissa Magestro.
On the meeting agenda are David Hill, committee chairman and JCB Russia's regional director for Russia & CIS, and Anton Medvedev, chairman of the committee's statistics working group and Caterpillar CIS's business development manager, as well as Frank Schauff, AEB's chief executive officer.
The AEB Construction Equipment Committee is comprised mainly of CONEXPO Russia exhibitors and AEM members. AEB is an independent non-commercial association of companies, large to small, including key Russian, American and Japanese companies. The AEB mission is to improve Russian business development and investment conditions. The AEB Construction Equipment Committee also operates a retail sales statistics exchange program for participating companies.