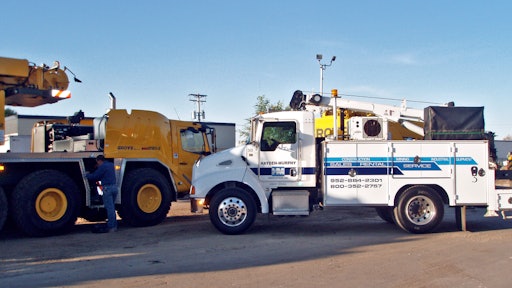 Hayden-Murphy Equipment is the newest company to qualify for the Manitowoc Crane Care EnCORE Partner program network. Hayden-Murphy is a Manitowoc distributor based in Minneapolis, MN, and has been in business since 1957. EnCORE Partner status allows Hayden-Murphy to fully remanufacture Grove and Manitowoc cranes to original Manitowoc specifications, including all product updates.
EnCORE Partners is one of Manitowoc Crane Care's newest initiatives. Manitowoc is creating a strategic network of certified dealers throughout North America with the ability to totally remanufacture cranes, as well as make major structural repairs. EnCORE Partners perform both these activities in line with the latest OSHA guidelines.
Hayden-Murphy is one of only eight Manitowoc Cranes dealers in the United States to receive EnCORE Partner status.
Mike Kirk, product support manager for Hayden-Murphy, says becoming an EnCORE Partner means they are able to offer more services to their existing and potential customers.
"The ability to make structural repairs really allows us to expand our scope of services," he says. "Boom repair is a big need in this industry. Most cranes will experience boom damage at some point in the equipment life cycle. Offering this service will help our customers significantly reduce downtime."
In addition to structural repairs, Hayden-Murphy will also perform complete crane remanufacturing, working closely with Manitowoc engineers.
To qualify for the EnCORE Partners program, dealers invest considerable time in training technical staff, including advanced training for welders to earn the proper certifications for welding structural components on cranes. Each dealer must also add a trained structural engineer to its staff to interface directly with Manitowoc on technical issues. Manitowoc Crane Care provides full commercial, technical and financial support for all EnCORE Partners.
Gilberto Ferreira, global EnCORE general manager with Manitowoc Crane Care, says the program is designed to not only extend the service life for cranes, but to also ensure the work is done to the highest quality standards and meets all Manitowoc guidelines and OEM specifications.
"Our program provides customers a cost-effective fleet management solution. Remanufacturing significantly extends the life of the crane and, because it is done in close collaboration with Manitowoc, customers are assured of the quality and reliability of the repairs," he says. "In fact, Manitowoc fully certifies the load charts of the remanufactured crane after completion."
Ferreira says that barring any major structural repairs, remanufacturing typically costs about 50% of the price of a new crane.
"This not only saves the customer money, but it also extends the life of a crane that would otherwise be sold for scrap value," he says.