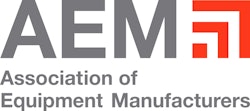 The Association of Equipment Manufacturers (AEM) and the I Make America (IMA) campaign announce the recipients of the first annual Pillar of the Industry award: Angus-Palm, Caterpillar Inc., International Construction Equipment and Stone Construction Equipment. The four companies were recognized for their outstanding contributions to the people and communities of the equipment manufacturing industry through their extensive I Make America campaign activities. They received the awards last week at the AEM Annual Conference in Aventura, FL.
I Make America is a grassroots campaign that was launched one year ago to dramatically improve American manufacturing policies to create more jobs in the U.S. and keep our economy competitive with other countries. The campaign has enlisted the support of more than 14,000 people nationwide, AEM's 850+ member companies and industry organizations.
"I Make America's first year has been a great success thanks to the outstanding support of our AEM member companies. Four of these companies raised the bar of public affairs advocacy and we commend their efforts through these Pillar of the Industry awards," says Dennis Slater, president of AEM. "As members of AEM, they exemplify the commitment we need from all manufacturers around the country to send the message to Congress and the White House that our economy is in urgent need of a new manufacturing policy that will create jobs."
The Pillar of the Industry award recipients achieved gold-level status for their participation in the I Make America campaign, including significant employee involvement; outreach to their state, local and federal legislators; and engaging with their communities through social media and traditional media channels.
Find out more about Angus-Palm, Caterpillar, International Construction Equipment and Stone Construction Equipment's IMA campaign activities and view their Day in America Life videos here.