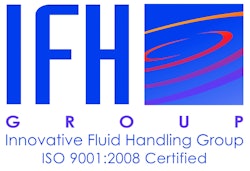 The IFH Group, a leading manufacturer of custom-fabricated hydraulic oil reservoirs, fuel tanks, lubrication storage and handling systems and other weldments and assemblies, has named Keith Ellefsen President.
Ellefsen takes over the presidential duties from James King Jr., who retains his position as CEO. Before being named President, Ellefsen served as Vice President, Operations/Chief Operating Officer since 2006. He joined The IFH Group in 1999, when it was known as Sauk Valley Equipment Company, as Research Manager, then moved to Plant Manager.
"As President, I will continue to grow the company," he says, "making sure we have the right people and resources to do the job right for our customers." This includes offering new product lines as well as increasing the company's vertical integration. According to Ellefsen, the company is investigating the feasibility of offering plastic tanks to its customers along with its existing steel, stainless steel, aluminum, and aluminized steel products. The IFH Group recently acquired Williams Powder Coating of Phophetstown, IL, and created a new division – Powder Coaters, LLC – and is looking into acquiring full machine shop capabilities as well. "The more vertically integrated we are, the more efficient we can be," Ellefsen comments. "We want our customers to look at us as a resource, not just a supplier."
Keith Ellefsen earned a Bachelor's degree in Industrial Engineering from Southwestern College, Winfield, KS. He is a member of the American Welding Society and the Society of Manufacturing Engineers (SME).