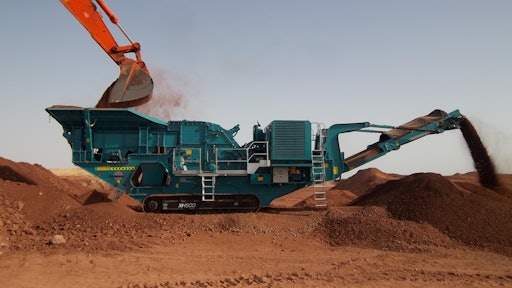 Powerscreen, part of Terex Corporation and one of the world's leading providers of mobile crushing and screening equipment, will be exhibiting its popular XH500 impact crusher on the Powerscreen booth 17540 at MINExpo, Las Vegas September 22 to 24, 2012.
Commenting on MINExpo, Damian Power, Powerscreen Global Product Line Director says, "We are excited to attend our first MINExpo and showcase our versatile and highly productive XH500 impact crusher. This unit demonstrates one of the many equipment solutions we offer to meet the crushing and screening needs of the mining segment across the world. In addition to the XH500, our recently launched and largest jaw crusher, the Powerscreen XA750S, the 1500 Maxtrak cone crusher and our flagship Warrior 2400 screen represents our commitment to providing the high capacity equipment required by our customers in the mining segment. Finally, our team of crushing and screening professionals is looking forward to meeting new and existing customers to discuss how our equipment and features can benefit them."
Powerscreen XH500
The XH500 is the flagship horizontal shaft impactor. It is versatile, efficient and highly productive, offering excellent reduction and an output potential of up to 500 tph (550 US tph) in quarrying, recycling and demolition applications. The machine features a live independent pre-screen and full underbelt product conveyor as standard and an optional vibrating underpan. It is ideally suited to contract crushing due to its high productivity and ease of set-up, operation and maintenance.
Powerscreen invites MINExpo attendees to visit them at booth 17540 to receive first-hand information on Powerscreen products and to meet members of the Powerscreen sales and customer support teams and representatives from Powerscreen's Dealer Network.