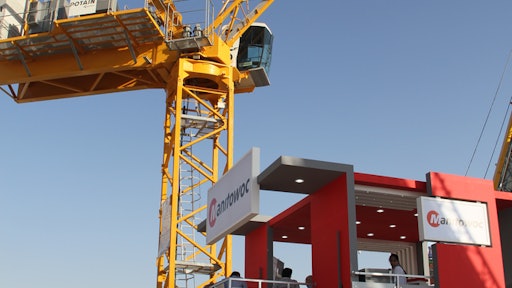 Manitowoc Cranes displayed products and services at two separate booths during this year's INTERMAT Middle East exhibition. The event, held October 8 through 10 at the Abu Dhabi National Exhibition Center in UAE, saw Manitowoc reinforce its commitment to the Middle East region and highlight its industry-leading network. A major factor in Manitowoc's strong Middle East network is its 19 dealers spread across the region, and two were at INTERMAT Middle East with their own displays at the company's booths.
Dominating Manitowoc's 300 m2 outdoor space were an MR 295 luffing-jib crane from its Potain brand and one the most popular Grove products in the Middle East, the RT765E-2 rough-terrain crane. The company also exhibited a 22 ton capacity YB7725, the most powerful unit in its range of industrial cranes.
Philippe Cohet, executive vice president for Manitowoc Cranes EMEA, says the exhibition was a great opportunity to remind customers of the company's diverse product range and widespread presence throughout the Middle East.
"We are in a privileged position in the Middle East with a well-established support network and powerful products that are ideally suited to the demanding and ambitious projects in the region," he says. "We continually develop better services and machines, and our suitability for this region is demonstrated by the fact we've worked on some of the largest developments in the Middle East. As we expand our Manitowoc Crane Care customer support services and introduce new products to the range, we are excited to see what challenges lie ahead."
Manitowoc has the broadest sales network for lifting equipment in the Middle East. The company established its own regional office in Dubai in 2005, to complement its 19 dealers in the Middle East, many of whom have represented the company for years.
Two of the largest dealers, Kanoo Machinery, which represents Grove and Manitowoc cranes in several countries, and NFT, which represents Potain, were both at the Manitowoc booths. Through long-term partnerships, these two companies have worked with Manitowoc on some of the largest developments in the Middle East, including the $3 billion Qatar Petroleum Financial District in Doha and the $10 billion King Abdullah Financial District in Riyadh, Saudi Arabia – both of which are currently under construction.
In addition to exhibiting cranes in the outdoor area, Manitowoc also took a 50 m2 indoor stand to highlight its Manitowoc Crane Care customer support services, which offers some of the best after-market care to crane owners in the Middle East. Manitowoc Crane Care operations provide on-site services, spare parts distribution, training, and technical documentation. The company also offers local EnCORE crane refurbishment, which is handled at the company's 10,000 m2 facility in Dubai.