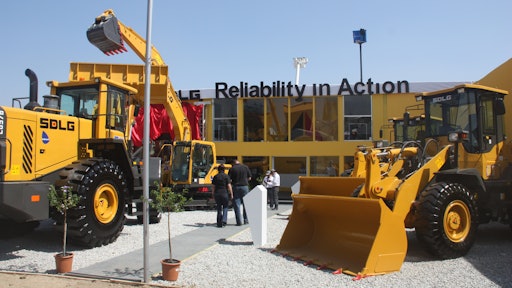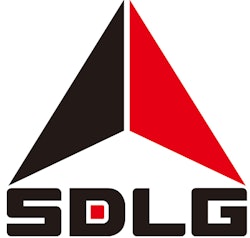 The global roll-out of the excavator line from Chinese equipment giant Shandong Lingong Machinery Co. Ltd. (SDLG), continues. The latest market for the range of robust and reliable hydraulic excavators is South Africa and the company announced the arrival of the machines by showing two units, the LG6150E and the LG6210E, at the inaugural bauma Africa held in Johannesburg, South Africa.
The LG6150E and LG6210E hydraulic excavators have already successfully launched into the Russian and Moroccan markets, while in Brazil SDLG has opened a new US $10 million production line in Pederneiras to manufacture excavators for the local regional market. "Our range of hydraulic excavators has been designed with export markets in mind," explains Wang Xiaohui, Head of Export Sales at SDLG. "We understand that our customers want a tough machine that will keep running — even in the harshest conditions. Plus they want to get a fast return on their investment. We've kept that in mind and created a range of excavators that deliver on price and performance."
Meeting market needs
SDLG's range of hydraulic excavators are ideally suited to the African market and are manufactured in the company's world-class production facility in Linyi, in China's Shandong Province, where industry-leading production techniques ensure high quality, fast delivery and a cost effective package, every time.
The 14 t LG6150E excavator is designed for lighter construction and civil works. Its light weight is ideal for municipal maintenance work as the machine can be easily and cost-effectively transported yet it still offers the power and performance to get the job done.
The 21 t LG6210E is fitted with a 3.9 m dipper arm for ultimate versatility and an extended undercarriage for maximum stability. At the larger end of the scale in the SDLG range, this excavator is most suitable for large-scale construction sites, road drainage, pipe trenching and hopper loading.
Trusted partner for life
SDLG's range of products is distributed in Southern Africa through authorized national dealer Babcock International Group. Babcock is known for its customer-focused approach – boasting a nationwide network of sales, service and parts centers that offer customers the best support over the course of a machine's lifetime. Since partnering with SDLG in 2012, Babcock has seen significant demand from the re-handling, construction, quarrying, agricultural and aggregate industries for the company's reliable, cost effective and easy-to-maintain equipment.