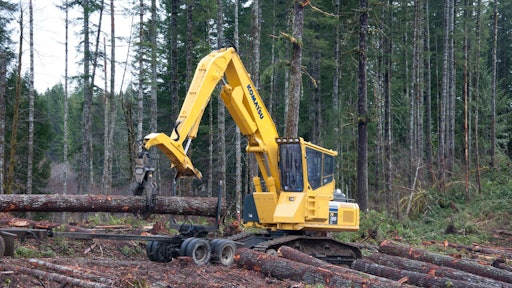 Komatsu America Corp. showcases PC390LL-10 log loader. With a flywheel horsepower of 257 HP (192 kW), the PC390LL-10 is powered by a Komatsu SAA6D114E-5 engine and is EPA Tier 4 Interim and EU Stage 3B emission certified. Built upon a proven Tier 3 engine platform, Komatsu has leveraged its leadership in technology and innovation to design an environmentally-friendly engine that increases power while decreasing fuel consumption.
Weighing in at 106,924 pounds (48,500 kg) in log loader configuration, the PC390LL-10 has improved efficiency, 5% greater HP, lower fuel consumption, a new Oregon OSHA ROPS/OPS/FOPS/TOPS/WBC certified forestry cab for improved operator comfort, and enhanced serviceability to maximize productivity while lowering operating costs when compared to the previous model*.
The PC390LL-10 is equipped with the latest KOMTRAX technology, which is fully integrated with Komatsu's Tier 4 technology and sends machine operating information to a secure website utilizing wireless technology. Data such as operating hours, location, cautions and maintenance alerts are relayed to the web application for analysis. The KOMTRAX fleet monitoring system increases machine availability, reduces the risk of machine theft (compared to machines not KOMTRAX-equipped), allows for remote diagnosis by the distributor, and provides a wealth of other information to drive business efficiency and productivity.
Features of the new PC390LL-10 include:
EPA Tier 4 Interim and EU Stage 3B Emission Certified Engine
Built upon proven Tier 3 technology, the SAA6D114-5 engine has 5% more HP, 7% greater displacement and provides lower fuel consumption than the Tier 3 engine on the previous model. The Komatsu Tier 4 Interim engine uses an advanced electronic control system to manage air-flow rate, fuel injection, combustion parameters, and aftertreatment functions to optimize performance, reduce emissions, and provide advanced diagnostic capability.
As a leader in hydraulic technology, Komatsu has also developed a hydraulically actuated Komatsu Variable Geometry Turbocharger (KVGT) and an Exhaust Gas Recirculation (EGR) valve that provides better precision in air management as well as longer component life. The Komatsu Diesel Particulate Filter (KDPF) has an integrated design that will not interfere with daily operation but will keep the operator aware of its status.
Highly Efficient Hydraulic System
This integrated design uses a closed center-load sensing hydraulic system which has taken hydraulic efficiency to the next level using variable speed matching. Variable matching allows the engine speed to adjust based on the hydraulic pump output for both light and heavy duty applications. Additional enhancements have been made within the hydraulic system to reduce hydraulic loss, resulting in better efficiency and lower fuel consumption. The PC390LL-10 also has adjustable flow controls for boom, arm, heel and grapple functions for fine tuning hydraulic response to individual operator preference.
Upgraded Major Components
All major components on the new PC390LL-10 including the engine, hydraulic pumps, motors, and valves are exclusively designed and produced by Komatsu. The PC390LL-10 uses swing system and undercarriage components from the next-size larger Komatsu excavators for working in demanding logging applications. Rear compartment covers are thicker than those used on standard excavators, and the compartment doors also feature stronger door hinges. Larger final drives and motors provide high drawbar pull for demanding shovel logging applications. Updated full length support ski track roller guards help increase track life in tough logging conditions.
New Komatsu Forestry Cab
The new Oregon OSHA ROPS/OPS/FOPS/TOPS/WBC certified Komatsu forestry cab provides a more comfortable and quieter work environment so operators can maximize their productivity. The cab is specifically designed for forestry applications and gains strength from a reinforced framework. The operator platform is mounted on viscous damper mounts which provide low vibration levels. The high-back, fully-adjustable seat is air suspended and heated for enhanced comfort. An auxiliary input has been added to connect an MP3 player, satellite radio or other device that uses a standard auxiliary plug. Two 12-volt ports have also been incorporated into the cab. The cab is available with 48 in. (1,220 mm) hydraulic tilting and 7 in. (177 mm) fixed cab risers.
A new high resolution 7 in. LCD color monitor features enhanced capabilities and displays information in 25 languages for global support. The operator can easily select from six working modes to match machine performance to the application. These working modes include Power Mode, Economy Mode, Heavy Lift Mode, Breaker Mode, Attachment Economy Mode and Attachment Power Mode. The new monitor panel also provides Eco Guidance (operational efficiency guidance), operational records, fuel consumption history, and utilization information. A standard rearview monitoring system, with the camera integrated into the counterweight, allows the operator to view directly behind the machine with the push of a button.
New Komatsu-designed Live Heel Logging boom
A new Komatsu-designed 42 ft. reach live heel logging boom is now available with Komatsu designed hydraulic cylinders and guarding. 58 in. and 60 in. opening forestry grapples are available as factory installed. In addition to the live heel front end, a full complement of Komatsu excavator booms, arms and buckets are also available for road building and clearing. A special arrangement without bucket cylinder and linkage is available for processor head applications.
Convenient Maintenance and Serviceability
The PC390LL-10 provides easy service access to reduce costly downtime. The new model has longer handrails that surround the upper structure for easier accessibility. The radiator and hydraulic oil cooler are mounted side by side, making it easier to maintain and service these two components when required. A new battery master disconnect switch is now standard. The machine is also equipped with the exclusive Komatsu Equipment Management Monitoring System (EMMS) which provides enhanced diagnostic features that give the operator, and technicians greater monitoring and troubleshooting capabilities. EMMS also continuously monitors many critical systems, as well as the planned maintenance schedule, and provides troubleshooting assistance to minimize diagnosis and repair time.
*All comparisons are to the PC350LL-7EO