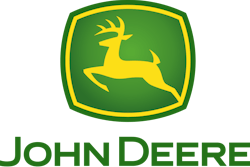 Deere & Company has announced it will make workforce adjustments at several factories in Iowa and Illinois. The actions include indefinite layoffs at five locations that build agricultural equipment as well as an extended inventory adjustment shutdown at another factory. In addition, Deere says it has added new jobs at two locations that build construction and forestry equipment.
Deere says the workforce adjustments reflect the economic forecast included in the company's November 2014 earnings report as the company continues to align the size of its manufacturing workforce to market demand for products.
The changes will place approximately 910 employees on indefinite layoff from facilities in Iowa and Illinois. Deere says the approximate number of layoffs at each location include 565 total at three locations in Waterloo, IA; 300 at the Des Moines Works in Ankeny, IA; and 45 employees at Harvester Works in East Moline, IL.
In addition, approximately 500 employees at Deere's Seeding and Cylinder facility in Moline will go on an extended inventory adjustment shutdown. That location typically has a seasonal inventory adjustment this time of year. For Seeding and Cylinder employees, the adjustment shutdown is expected to end in late summer.
The announced layoffs are effective at different dates for each location. They begin in early February and most are effective in late March. This announcement is in addition to workforce adjustments announced in August.
Meanwhile, Deere has added 220 new jobs at construction and forestry factories in Iowa. These two factories - Dubuque Works and Davenport Works – have each added 110 new jobs. Deere says nearly all of these positions have been filled by individuals who had been working for Deere at other locations but were laid off after the company announced workforce reductions at agricultural equipment factories in August.