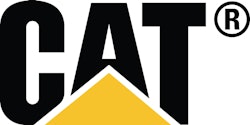 Caterpillar Inc. has announced first-quarter 2016 sales and revenues of $9.5 billion, down from $12.7 billion in the first quarter of 2015. First-quarter 2016 profit per share of $0.46 was down from a profit of $2.03 per share in the first quarter of 2015. Excluding restructuring costs, profit per share was $0.67, compared with $2.07 per share in the first quarter of 2015.
"While first-quarter results were about as we expected, sales and profit were well below the first quarter of 2015. Sales declined across the company with substantial reductions in construction, oil and gas, mining and rail. While many of the industries we serve are challenged, we remain focused on what we can control: the quality of our products, our market position, safety in our facilities and continued restructuring and cost reduction. In fact, our period costs and variable manufacturing costs in the quarter were nearly $500 million lower than the first quarter of 2015," says Caterpillar Chairman and Chief Executive Officer Doug Oberhelman.
2016 Outlook
The company has seen recent increases in commodity prices, some signs of improvement in construction equipment in China and better order activity than expected at bauma, the world's leading trade fair for many of the industries it serves. While Caterpillar is seeing a few positive signals, other parts of its business remain challenged. As a result, it has lowered the midpoint of the outlook for 2016 sales and revenues about 2%.
Sales and revenues in 2016 are expected to be in a range of $40-$42 billion with a midpoint of $41 billion. The previous outlook was a range of $40-$44 billion with a midpoint of $42 billion. The decline in the midpoint of the sales and revenues outlook range is a result of several factors that, while not individually large in the context of the outlook, collectively add up to about $1 billion. Those factors include lower transportation sales (rail, marine and the ending of production of on-highway vocational trucks), lower mining sales and weaker price realization than previously expected.
The profit outlook at the midpoint of the sales and revenues range is now $3.00 per share, or $3.70 per share excluding restructuring costs. The previous profit outlook was $3.50 per share, or $4.00 per share excluding restructuring costs at the midpoint of the previous sales and revenues outlook. The expected decline in sales and revenues and an increase in expected restructuring costs are the primary reasons for the decline in the profit outlook.
Restructuring costs are now expected to be about $550 million in 2016, up $150 million from the previous outlook. The decision to end production of on-highway vocational trucks is the primary reason for the increase in restructuring costs.
"While many of the industries we serve are challenged today, we're looking ahead and investing for the future. We're investing substantially in R&D, driving forward on our Lean journey, continuing implementation of Across the Table with our dealers and accelerating our digital strategy," says Oberhelman.
"Our digital strategy is an exciting investment for the long term. We're hard at work, inside Caterpillar and with our digital partners, developing the data architecture and applications that will make our products smarter and help our customers improve productivity and safety. Our goal is to help customers be more productive, better manage their fleets and make more money with Caterpillar than they could with our competitors. Our approximately 400,000 (and growing) connected assets mean entire fleets and job sites – from machines to tablets to drones – will eventually share data on one common technology platform in the age of smart iron. One thing that I am certain of is that it's times like these when the Caterpillar team demonstrates the innovation and ambition to be the leader in all we do," adds Oberhelman.
Highlights
First-quarter sales and revenues and profit excluding restructuring costs about as expected
Continued tough market conditions in many of the company's businesses – Mining, oil and gas, rail and construction in key developing countries
Good operational performance continues – Overall machine market position better in first quarter of 2016 than this point last year; continues to improve in China. Focus remains on quality, safety and cost reduction
Outlook lowered – Midpoint of sales and revenues range lowered about 2%
Strong balance sheet ­– Maintained $0.77 per share dividend (announced April 13, 2016)
Significant progress on restructuring actions – Contributed to substantial cost reduction in first quarter
Investment in the future continues – Focus on accelerated digital technology, R&D, Lean and dealer-focused initiative "Across the Table"