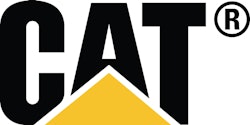 Caterpillar Inc. has announced profit per share of $0.48 for the third quarter of 2016, a decrease from $0.94 per share in the third quarter of 2015. Excluding restructuring costs, profit per share was $0.85, down from $1.05 per share in the third quarter of 2015. Third-quarter 2016 sales and revenues of $9.2 billion were down 16% from $11.0 billion in the third quarter of 2015.
"Economic weakness throughout much of the world persists and, as a result, most of our end markets remain challenged. In North America, the market has an abundance of used construction equipment, rail customers have a substantial number of idle locomotives, and around the world there are a significant number of idle mining trucks," says Caterpillar Chairman and Chief Executive Officer Doug Oberhelman. "However, there were a few bright spots this quarter. Both the construction industry and our machine market position improved in China. Most commodity prices, while low, seem to have stabilized. Parts sales have increased sequentially in each of the last two quarters. Our machine market position and quality remain at high levels and our work on Lean and restructuring are continuing to help us lower costs.
"I'm pleased with how Caterpillar has responded and our team's incredible focus on reducing costs and pulling through profit despite sluggish end markets. In the third quarter, despite a $1.8 billion decline in sales and revenues, our operating profit pull through was significantly better than our target range. Lower variable manufacturing costs of $234 million and lower period costs of $420 million enabled us to offset much of the negative impact from a weak sales environment and continue investment in products and digital capabilities," says Oberhelman.
2016 Outlook
The full-year outlook for 2016 sales and revenues is about $39 billion, and profit is $2.35 per share, or $3.25 per share excluding restructuring costs. The outlook does not include potential mark-to-market gains or losses related to pension and OPEB plans, which are likely to significantly impact full-year 2016 results. The previous outlook for 2016 expected sales and revenues to be in a range of $40.0 to $40.5 billion, with profit at the midpoint of the sales and revenues range of about $2.75 per share, or about $3.55 per share excluding restructuring costs. Restructuring costs in 2016, which were expected to be about $700 million, are now forecast to be about $800 million, primarily due to asset write downs recognized in the third quarter.
Preliminary Outlook for 2017 Sales and Revenues
Caterpillar's preliminary outlook for 2017 is that sales and revenues will not be significantly different than 2016. The balance of risk, particularly during the first half of the year, is likely on the negative side. The company is, however, encouraged that most commodity prices important to its business have improved from the lows earlier in 2016. Should commodity prices show relative stability and move higher in 2017, it is reasonable to expect that the business would respond, and Caterpillar could see a more positive second half. The preliminary outlook for 2017 is based on the company's expectation that world economic growth will remain subdued at close to 2.5% – similar to the past few years.
"While we are seeing early signals of improvement in some areas, we continue to face a number of challenges. We remain cautious as we look ahead to 2017, but are hopeful as the year unfolds we will begin to see more positive momentum. Whether or not that happens, we are continuing to prepare for a better future. In addition to substantial restructuring and significant cost reduction actions, we've kept our focus on customers and on the future by continuing to invest in our digital capabilities, connecting assets and jobsites and developing the next generation of more productive and efficient products," says Oberhelman.
Following is a summary of positive and negative factors that could influence 2017 sales and revenues:
Positive factors
Prices for some commodities important to

Caterpillar's

business have improved from earlier lows. Oil prices are currently near $50 per barrel, but are still volatile. While about 70% below the prior peak in 2014, the U.S. active rig count is up 37% since May of 2016.
Most prices for mined commodities have risen from lows earlier this year, and

Caterpillar

is expecting average prices in 2017 to be flat to up modestly from 2016. It is seeing recent improvement in dealer rebuild activity and some firming of aftermarket parts sales in mining.
The construction industry and

Caterpillar's

market position have continued to improve in China, and the company is expecting a continued small improvement in 2017.
Construction sales in Brazil and Russia have likely bottomed at very low levels in 2016.
After several years of decline, surveys of capital expenditures in the mining sector indicate spending should level off in 2017.
Negative factors
While sentiment around mining has definitely improved, there are still many idle trucks on customer sites, and

Caterpillar

has not seen an increase in orders for new equipment.
While mining-related commodity prices have improved, some remain at levels that the company believes are too low to drive additional investment.
Construction activity and construction equipment sales in North America during the second half of 2016 are now anticipated to be lower than expected in the previous 2016 outlook.

Caterpillar

is concerned that could continue into 2017.
There is continuing uncertainty in Europe, particularly around the impact of Brexit on European economic growth, business confidence and investment.
While sales in China have improved, there is risk of slowing if Chinese government monetary and fiscal policy become less supportive.
Power generation sales are expected to be down, particularly in the oil-producing regions of Africa/Middle East where the pace of investment has slowed.
Marine engines for boats that service offshore oil and gas are not expected to improve as oil prices, while better, are not expected to be sufficient to improve offshore rig economics in 2017. Tug markets also are expected to be weak with weak freight movement.

Caterpillar

expects continued weakness in industrial engine sales to agricultural customers and small generator set packagers.
North American rail is again expected to be a challenged industry with many idle locomotives.
"As you know, I've decided to retire after 41 years at Caterpillar, and Jim Umpleby will succeed me as CEO. He's been a key part of the leadership team for several years and is absolutely ready to lead Caterpillar. I'm confident I'm turning over a company that's ready for a better future. We have a great team, our product portfolio is the best ever, our machine market position and quality remain at high levels and we've significantly improved our cost structure. At some point, and I think we're getting closer to that point, our businesses will turn up. Many of our businesses, including mining, oil and gas, rail and construction, are currently operating well below historical replacement demand levels in many parts of the world. It's a good time for Jim to take over, as I know Caterpillar will deliver even better financial results when key industries begin to improve and get back to mid-cycle replacement demand levels," says Oberhelman.