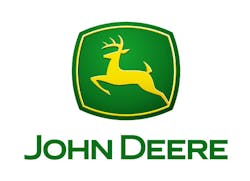 Deere & Company reported net income of $1.135 billion for the second quarter ended April 28, 2019, or $3.52 per share, compared with net income of $1.208 billion, or $3.67 per share, for the quarter ended April 29, 2018. For the first 6 months of the year, net income attributable to Deere & Company was $1.633 billion, or $5.07 per share, compared with $673.2 million, or $2.05 per share, for the same period last year. 
Affecting last year's results were charges to the provision for income taxes due to U.S. tax reform legislation (tax reform). Without these adjustments, net income attributable to Deere & Company for the second quarter and first 6 months of 2018 would have been $1.034 billion, or $3.14 per share, and $1.476 billion, or $4.49 per share, respectively. 
Worldwide net sales and revenues increased 6%, to $11.342 billion, for the second quarter of 2019 and rose 10%, to $19.326 billion, for 6 months. Net sales of the equipment operations were $10.273 billion for the quarter and $17.214 billion for six months, compared with $9.747 billion and $15.721 billion last year.
"John Deere produced solid results for the quarter despite uncertain conditions in the agricultural sector," says Samuel R. Allen, Chairman and Chief Executive Officer. "Ongoing concerns about export-market access, near-term demand for commodities such as soybeans, and a delayed planting season in much of North America are causing farmers to become much more cautious about making major purchases. At the same time, overall economic conditions remain positive, a fact that along with a growing customer base has contributed to strong results from our construction and forestry business."
Company Outlook & Summary
Company equipment sales are projected to increase by about 5% for fiscal 2019 compared with 2018. Included in the forecast are Wirtgen results for the full fiscal year of 2019 compared with 10 months of the prior year. This adds about 1% to the company's net sales forecast for the current year. Also included in the forecast is a negative foreign-currency translation effect of about 3% for the year. Net sales and revenues are projected to increase about 5% for fiscal 2019. Net income attributable to Deere & Company is forecast to be about $3.3 billion.
"Although the long-term fundamentals for our businesses remain favorable, softening conditions in the agricultural sector have led Deere to adopt a more cautious financial outlook for the year," says Allen. "The lower forecast is partly a result of actions we are taking to prudently manage field inventories, which will cause production levels to be below retail sales in the second half of the year. At the same time, Deere's long-term strategies remain on track and we are fully committed to their successful execution. We continue to expand our global customer base and are encouraged by the market's positive response to our line-up of advanced products and services."