In the off-highway business environment, cost management drives a lot of decision-making. Engine-on hours dramatically impact the economics of any operation. Whether it's a company trying to minimize fuel consumption and DPF regeneration costs, or an organization leasing off-highway equipment that's concerned about paying for additional hours of machine idling, if an engine is running, it's costing someone money.
In the perennially sunny locations and particularly during warmer summer months, engines are asked to work harder and longer for one reason – to keep their operators safe and comfortable.
Today's larger capacity equipment can mean longer cues for loading, often creating a situation where machines are basically sedentary. Commonly sitting under significant sun-induced heat loads, the machines have to idle to provide cabin cooling for operators.
It's the law… of thermodynamics
Coincidently, lunch periods often occur at midday when the sun is at its hottest, and many fleets and operators may be tempted to leave equipment idling during these times to avoid the discomfort of a hot cabin environment. Unfortunately, leaving equipment idling not only costs money, but may bring everyone involved into conflict with the patchwork of non-idling laws and regulations beginning to surface in the off-highway market.
Consequently, many machines are turned off and left essentially cooking in the sun for anywhere from a few minutes to an hour, and a lot can happen to a mostly glass-enclosed cabin in that time. According to a September 2011 article published in the Journal of Applied Science, solar irradiation absorbed by a cab's outer surfaces can cause thermal load transfers of up to 1,800 Watts, combining with the 200 W heat transfer from the powertrain, up to a total 2 kW of heat to the cabs interior and thus, the operator.
"Using the iterative method for outside and inside roof surface temperatures calculation, interior surfaces temperatures were estimated at more than 50 C (122 F)," wrote study author, Dragan Ruzic1.
Since other studies suggest that subjects begin to experience pain at a temperature of 45 C (113.4 F), it's no wonder that operators have been forced to become creative in dealing with their oven-temperature cabins. It is not uncommon to see long sleeved shirts on operators, or fabric-draped seats and other surfaces within a cabin to shield them from the heat.
Webasto engineers looked at the situation and saw that it was really a short-duration cooling challenge. It was clear that that cabin-cooling intervals of between five to 90 minutes would address the vast majority of the periodic cooling needs for off-highway equipment. In fact, if a machine's air conditioning system has been cooling its cabin during operation, the auxiliary cooling requirement can be focused on maintaining a comfortable ambient temperature within the already cool cab, until the operator can return to work and start the vehicle again.
Envisioning and building an alternative for cabin cooling
As a top-100 global tier-one automotive and aftermarket equipment manufacturer, Webasto produces millions of climate control products for passenger cars, heavy-duty on- and off-road vehicles, as well as watercraft. To address the problem of short-duration cab cooling, the company coupled its engineering prowess and spirit of innovation to engineer a unique new cooling solution.
Webasto envisioned a clean and environmentally friendly battery-driven electric cooling system. Employing its substantial technical resources, the company embarked on the development of what would later become known as its Polar Cab engine-off air conditioning systems.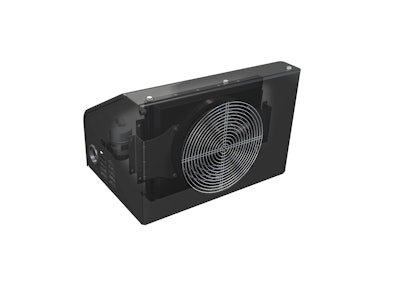 Using it's short-term cooling duration mindset, Webasto saw past the 15,000 to 20,000 BTU/h requirement associated with engine-on vehicle air conditioning systems, shooting for and achieving a system that would maintain a cab temperature of 23 C (74 F) for 90 minutes while under a full sun load and ambient exterior temperature of 43 C (110 F) with just 7,000 BTU/h.
The Polar Cab technology underwent more than two years of research, development and testing. In its efforts to develop a product robust enough to take on what the off-road environment would throw at it, Webasto exposed prototypes to a battery of destructive and non-destructive testing protocols, including shock, vibration, salt spray and a laboratory-controlled environmental chamber with a full-size wheel-loader cab.
The company also conducted customer field-testing under the most challenging conditions of high humidity, high heat, dust and dirt. Testing was conducted on equipment in various locations throughout the Southern United States.
The Polar Cab ES by Webasto drastically cuts idling time and cost. The system provides engine-off operator comfort by maintaining cool cabin temperatures during wait/load time. Polar Cab ES engine-off air conditioning system effectively keeps cabs cool even under hot, humid and full sun load conditions.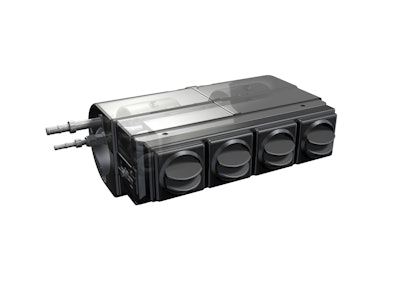 The Polar Cab ES engine-off battery driven electric cooling system also benefits users by decreasing the frequency of machine service/maintenance intervals and by increasing DPF life spans by requiring fewer regenerations. Use of the system can maximize warranties, minimize lease rates and increase vehicle resale values. The Polar Cab ES requires no annual component replacement or significant maintenance. The system works on R134A refrigerant.
The system consumes around 40 amps of battery power during operation and includes a compact 24V variable-speed electric compressor, with no additional batteries required in most applications requiring 30 minutes or less cooling time. The Polar Cab ES can be installed with one of two different aftermarket kit configurations. The Oakland kit is designed for a ceiling mounted evaporator applications, while the Osaka kit is engineered for floor- or shelf-mounted evaporator applications.
Both Oakland and Osaka kits include refrigerant lines and fittings, mounting hardware, control unit and wiring harness. A low voltage disconnect set at 24.1 volts protects battery levels from deep discharge. Both systems also come with an intuitive digital user interface with an easy-to-read LCD display and soft-touch buttons.
1. Dragan Ruzic, "Agricultural tractor cab characteristics relevant for microclimatic conditions" Journal of Applied Engineering Science 9(2011)2, 198
Companies in this article