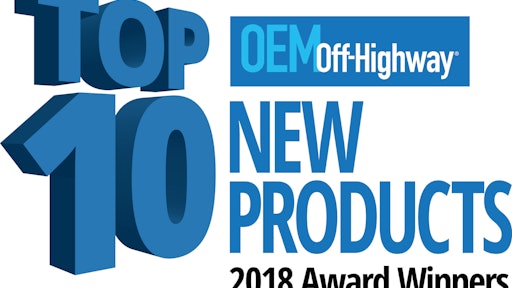 Red Dot Corporation has announced the launch of its first all-electric, heavy-duty HVAC unit, the E-6100-0-24P.
Turnkey system that is ready to be installed on roof of vehicle cab
Self-contained system which simply requires operator to provide power for it to function
Produces 300 CFM of airflow while achieving 15,000 BTUs per hour
Enables removal of compressor from engine compartment
Eliminates many potential leak points associated with hose runs
Offers significant reduction in refrigerant charge
24V unit, and 12V unit in development
---



The Perkins Syncro range delivers from 29-100 kW (39-134 hp) of power and between 120-500 Nm torque. The 1.7, 2.2, 2.8 and 3.6 liter engines are engineered to integrate perfectly with your machine design and deliver the right value and performance to support your business growth.
3-Cylinder Turbocharged Perkins Syncro 1.7 Liter
29 kW (39 hp)
Maximum torque of 120 Nm at 1800 rpm
Rated speeds up to 2800 rpm
The engine, along with the 2.2 liter, 4-cylinder variant, features common rail direct injection and full authority electronics and meet EU Stage IIIB, U.S. EPA Tier 4 Final emissions standards.
The compact package size and sleek engine architecture of the 1.7 and 2.2 models features a rear-mounted small diesel oxidation catalyst (DOC), allowing customers to adopt no-compromise machine designs across many compact applications including skid steer loaders, aerial work platforms, lift booms, wheeled loaders, hydraulic excavators and rollers.
4-Cylinder 2.8 Liter Diesel Engine
55 kW (74 hp)
Up to 325 Nm of torque
Meets multiple global emissions standards including Stage V, Tier 4 Final
Increase in power density of 22% when downsizing
The 2.8 liter common rail engine, available as a turbocharged and a turbocharged aftercooled variant, delivers the performance, value and reliability our customers expect to help them access new markets and support their business growth.
The Perkins Syncro 2.8 liter benefits from a suite of technologies including a common rail fuel system, electronic control, advanced air systems and flexible aftertreatment configurations, with an array of engine and off-engine mounted options for optimized packaging in all machines.
---


AxleTech introduces the Front Drive Independent Axle Suspension (ISAS) which is specifically designed for applications requiring high mobility and maneuverability.
Modular drivetrain system for all-wheel-drive (AWD) Class 7/8 trucks which maintains same ride height of rear-wheel-drive truck
Bolt-on system that does not require modifications to frame rails
5-12 in. (12.7-30.5 cm) height reduction improves vehicle roll stability versus best-in-class beam axle mechanical AWD
Provides enhanced safety, handling, and stability
Lower center of gravity ensures better vehicle maneuverability and stability for safer and more confident handling
Delivers superior vehicle performance when operating on- and off-road compared to standard drivetrain systems
Ride harshness improvements as well as reduction in unwanted steering feedback lead to less physical fatigue for driver, and higher reliability of cab
Provides 60% reduction in cab and driver-absorbed power
2-times the wheel travel The Independent Front Suspension provides 2-times the wheel travel compared
Shift-on-the-fly transfer case helps address safety and performance concerns of heavy truck industry
Air disc brake with ventor rotor provides superior brake fade resistance and stopping power
Modern steering geometry upgrades truck handling and steering for SUV-like feel compared to standard AWD truck
---


Caterpillar will expand on what is already the industry's broadest industrial engine range with the addition of the Cat C13B 6-cylinder, 12.5 L (12,500 cc) engine.
Will leverage proven, reliable core of components and complementary technology to C9.3B platform
Designed to meet Stage V and Tier 4 Final emissions standards
Combines upgraded air, electrical and aftertreatment systems to produce range of powers from 340-430 kW (455.9-576.6 hp) and up to 2,640 Nm (1947.2 ft.-lbs.) of torque
Package is 30% lighter when compared to previous models
Will be offered in number of configurations to provide OEM customers flexibility to reduce cost of installation
Engine mounted afterteatment (EMAT) and full Industrial Power Unit (IPU) configurations are offered from the factory
Remote mounted aftertreatment is also possible, with minimal installation requirements between engine and aftertreatment
Dual label certification – Stage V and Tier 4 Final - gives customers opportunity to commonize products across regions
No changes to customer interface points for existing products, allowing for seamless changeover
---


The SGH25 wire-actuated encoder from SIKO is characterized by a measurement range up to 2.5 m (8.2 ft.) and an extremely long service life.
Wire-based position sensor
Variety of interfaces meet high requirements, even in applications that are critical for safety
Suitable for applications in mobile machines such as dump trucks, excavators and agricultural machinery
Measures position of hydraulic and telescopic cylinders and communicates it to machine control system via integrated communication protocols
Can be integrated directly into hydraulic cylinders
Newly developed plastic provides strong design and extends fluid temperature range from 85 C (185 F) previously to 105 C (221 F)
Tested to toughest vibration standards
Withstands individual shocks of up to 100 times the force of gravity
Flexible cable cushions hardest impacts
Hydraulic medium also dampens any vibrations that come about
Integrated teach-in function enables measurement length of sensor to be set individually
Features KV1H plug connection, offering protection rating of IP69K
Available with analog interfaces and CANopen or SAE J1939 protocols for transmitting data
Redundant versions with CAT3, performance level D -PLd meet the highest requirements for safety-critical applications in accordance with EN13849
Cable-based design makes hollow boring of piston superfluous, offering cost savings
Can also be installed in telescopic cylinders
---


AxleTech partnered with RBR Enterprise, a leading manufacturer of agricultural equipment, to introduce the RBR Vector 300 with variable track axles.
Mechanically-driven steerable axles
Adjusts to varying row crops in five different track widths: 114 in. (289.6 cm), 120 in. (304.8 cm), 132 in. (335.3 cm), 138 in. (350.5 cm), and 144 in. (365.8 cm)
Wider axle extensions allow for full 15 in. (38.1 cm) extension per side, 150% more than extension of competing designs
At push of a button vehicle can adjust to five necessary track locations which enhances productivity when working in varying row widths
Allows vehicle to turn on a dime, reducing turning radius by almost half
Four-wheel steer allows for increased maneuverability at the end of a pass
Crab steer enables greater control when operating on hillsides
Gross Axle Weight Rating (GAWR) of 32,000 lbs. (14.5 T)
---


MAN Engines has debuted its straight-six, 145-mm stroke, 115-mm bore engine, the MAN D1556, which has applications in agricultural machinery.
Features 9.0 L (9,000 cc) design
Power range from 205-324 kW (279-440 hp)
Compact and lightweight design, measuring 1,414 × 807 × 1,103 mm (l × w × h; 55.7 x 31.8 x 43.4 in.)
Less complex as there is no EGR (SCR only), assisting reliability
Control system for exhaust gas aftertreatment system is fully integrated into EDC (Engine Device Control)
Generates maximum torque value of 1,970 Nm (1,453 ft.-lbs.) between 1,150 and 1,300 rpm
Dry weight of just 860 kg (1,896 lbs.) without exhaust gas aftertreatment
Common Rail System provides maximum injection pressure of 2,500 bar (36,259.4 psi)
Includes turbocharger with variable turbine geometry (VTG), allowing efficient engine operating range customized to perfectly match wide range of applications
VTG turbocharger features compact dimensions compared to two-stage turbochargers and increased brake output without use of additional components such as brake flap or valve brake
High compression also ensures more efficient fuel consumption
Meets most recent emission requirements such as Euro Stage V and US Tier 4
Modular exhaust-gas aftertreatment system consisting of DOC/DPF (diesel oxidizing catalytic converter/diesel particulate filter) and SCR (Selective Catalytic Reduction)
For regions with less stringent emissions requirements in line with EU Stage IIIA/IIIB only the aftertreatment's SCR component group is needed
---


Trident has expanded its TRAXTER range of solid skid steer tires to meet increasing demands on skid steers.
100% flat proof with high damage resistance

Extra deep tread provides three to five times the service life of pneumatic tires

Specially designed sidewall apertures for shock absorption

Supplied as ready-to-fit tire and wheel assemblies for quick and easy replacement

Widest range of application-specific patterns for general construction, landscaping, recycling and scrap handling, demolition, waste handling, etc.

Several sizes to replace equivalent pneumatics (18x8.50-8, 5.70-12, 23x8.50-12, 27x8.50-15, 27x10.5-15, 10-16.5, 31.5x13-16.5, 12-16.5, 33x15.5-16.5, 14-17.5)
---


Webasto Thermo & Comfort has introduced its SP80 low-profile, ceiling-mounted HVAC system.
Makes it possible for OEMs and cabin manufacturers to design vehicle-control spaces with increased headroom and greater visibility
50% the size and 20% the weight of average HVAC systems
Hugs cabin ceilings
3.15-in. (8 cm) thick injection-molded plastic envelope features rounded edges
Central air intake configuration allows air outlets to be precisely oriented to fit cab's particular design
Unit-top, central air intake gives almost unlimited flexibility in way processed air is introduced back into cab environment
25.03-in. (63.6 cm) width and 20.39-in. (51.8 cm) length makes for easy integration into any cab design
Ultra-light weight enables cab roof structures to be lighter as well
Weighs less than 15.5 lbs. (7.03 kg)
Use of reversed curved fan blade, low-profile evaporators and heat exchangers help keep unit thin and reduces mass
High-efficiency fan and state-of-the-art air handling system
12V design
Delivers 7.8 kW of cooling power and 6.8 kW of heating power
---


A full range of metric deep groove ball bearings is now available from The Timken Company.
Portfolio includes standard, thin section, narrow, wide, miniature and extra-small deep groove ball bearings
From 3-400 mm (0.11-15.74 in.) bore sizes
Qualified for electric motors to keep equipment operating smoothly
Follows ISO standards
Dimensionally interchangeable with competitive products
Features super finishing on raceways to reduce friction
Uses premium low torque/noise grease
Available in C3 clearance (preferred for electric motors)
Meets precise manufacturing standards (minimizing noise and vibration)
Offers many open, shield, seal and snap ring combinations to suit different needs
Brass cages are available in select sizes for extra strength in unrelenting conditions
Companies in this article