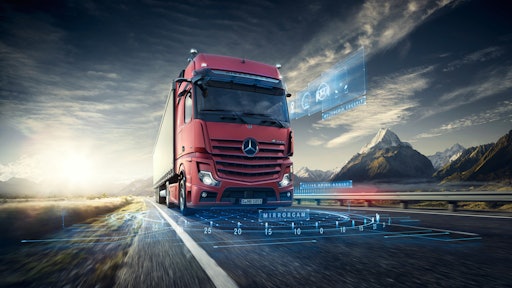 Daimler AG
Electromobility, connectivity and autonomy are the three pillars on which the heavy-duty on-highway vehicle market will continue to focus its R&D efforts. These trends were especially evident at the biennial North American Commercial Vehicle Show (NACV) held in October 2019, demonstrating their impact on the industry.
Electrification in particular has seen a large uptake over the past year in both the truck and bus markets. Volvo Buses announced in November it received its largest electric bus order yet in Europe; 157 of its 7900 Volvo Electric Articulated model will be used on a number of routes in Gothenburg, Sweden.
Interest from end users in employing electromobility is on the rise, as well. Orange EV announced in October it was expanding its operations to a new site with five times the production capacity due to continually increasing interest in its electric vehicles.
Growing development and investment in electrification is being led by both the industry and legislation. Companies are looking to be better environmental citizens—and develop products which allow their customers to be as well—while also needing to provide solutions which meet current and future emissions regulations.
More vehicles entering the market
In early December, Nikola Corp. debuted the latest version of its Nikola TRE Class 8 electric truck for the European market. It will be available in a battery-electric or fuel cell powered model, providing customers an option which best fits their needs.
The company has also formed a partnership with CNH Industrial and its IVECO and FPT Industrial brands to accelerate development of zero-emissions transport.
Read more about Nikola's various partnerships which are aiding development of its fuel-cell powered trucks.
Electric vehicles could be seen at almost every booth at the NACV Show 2019. Freightliner, for instance, highlighted its eM2 and eCascadia electric solutions for the future. "In total, we have 200 battery electric vehicles on the road globally testing and pushing the technology forward," says Roger Nielsen, President and CEO, Daimler Trucks.
International Trucks introduced its eMV medium-duty electric truck during the NACV Show; the model exhibited at the show is based on the diesel-powered MV Series. It was designed to accommodate three battery capacity options: 107, 214 or 321 kWh.
"It features a redesigned aerodynamic hood providing customers with superior visibility," says Persio Lisboa, Navistar Executive Vice President and Chief Operating Officer. "It also features an electric motor with over 474 kW, or 645 hp. The continuous power is over 400 hp (298.3 kW), which is available all of the time.
"The system actually contains two motors in one housing. It runs at peak efficiency across the entire operating range. We expect customers in a typical pickup and delivery application to be able to travel up to 260 mi. (418.4 km) on a single charge. This truck reflects what we expect to see in production in 2021."
Navistar also announced the launch of NEXT, an electrification business unit that will be headquartered in Detroit. Its objective is e-mobility solutions, with the goal of working with each customer to find the ideal solution for their operation.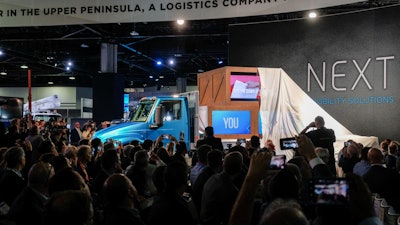 "There is a large potential market for electric trucks. The economics of these vehicles are getting better every day," says Lisboa. "Early adopters are finding there is no one size fits all approach. NEXT Mobility Solutions is a new business unit at Navistar whose mission is to make the move to electric as easy as possible. It goes beyond the vehicle to address the broader electrical ecosystem."
The aim is to bring together experts in engineering, charging systems and telematics to craft a custom solution to address each specific application.
Volvo Trucks announced in December it would expand its electric truck offering to include concepts for construction and regional haul applications. "We see great potential for heavy-duty electric trucks for regional transport and construction in the longer term. With our concept trucks, we aim to explore and demonstrate different solutions for the future while evaluating the level of interest in the market and in society," said Roger Alm, President Volvo Trucks, in the press release announcing the new concept trucks.
The Volvo Group has been researching electrified powertrain technology for the past decade. "Electromobility has been part of the execution model for more than 10 years now, starting obviously with buses — hybrids and fully electric buses. Now it is moving into trucks. It is being launched in Europe and North America in a number of truck models and also construction equipment and our marine segment with Volvo Penta," says Martin Lundstedt, President and CEO, Volvo Group.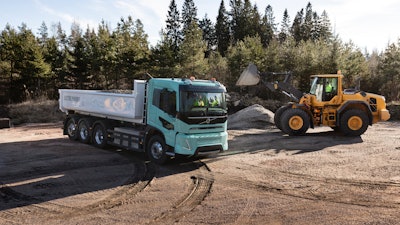 Volvo Trucks' electric VNR truck with a fully electric driveline will be ready for market by the end of 2020. Sales of the Volvo FL and FE electric trucks have already begun in select European markets to meet increased demand for zero-emission solutions in urban environments. "Global urbanization requires urban logistics and truck transport with zero emissions and less noise with increasing urgency. With the Volvo FL Electric and Volvo FE Electric we are able to meet both the strong environmental demands as well as the high commercial requirements of our customers," said Jonas Odermalm, VP Product Line Electromobility, in the press release announcing the start of sales in Europe.
On-highway vehicles of all types are becoming electrified. In early December, Elgin Sweeper Co. announced the release of its plug-in hybrid electric street sweeper. The hybrid Broom Bear is powered by a high-capacity battery which can be recharged while the vehicle is driving or when plugged into an electrical outlet.
SEA Electronics, a power system supplier for medium-duty applications, has provided its technology for three different 100% electric vehicle applications in previous months—a tipper truck, a bucket truck and delivery trucks for IKEA.
Fuel cells expand presence and opportunities
Power and range remain areas of concern in the move to electrification and alternative power sources in general. As such, investments continue to be made in battery technology to increase their power output while also decreasing their size. The latter is an especially important aspect for trucking applications so as not to negatively impact their payload.
Hydrogen fuel cells are another area in which many manufacturers are focusing their design efforts. NACV was the launch site for Hyundai's HDC-6 NEPTUNE Concept. The hydrogen fuel cell truck has a drive system comprised of a 50 kW electric motor coupled to an automatic transmission, as well as several hydrogen fuel cells.
Interest has grown in recent years for hydrogen as a potential fuel source for heavy-duty applications because of the power density it features. It is also a clean-burning fuel as its only emission is water vapor. Hydrogen is plentiful, as well, ensuring scarce and valuable resources are not being depleted.
Read more: Hydrogen Proves its Potential in Heavy-Duty Applications
Cummins also exhibited a hydrogen-powered truck during NACV. Hydrogen is the most recent technology in which the company has begun investing to provide customers with a broad portfolio of power solutions. The company says developing the hydrogen fuel cell truck as a technology demonstrator is an important step in gaining valuable insights that are critical to continue developing the right solutions for the market and preparing for the next 100 years.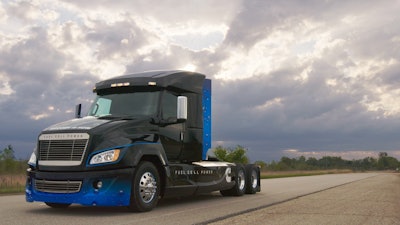 "In the long-run, the customers we serve will likely need more than one type of power, depending on their specific markets, applications and use cases. We are uniquely positioned to help our customers select the right solution for their needs. Our deep technological expertise and global service and support network means we are able to help them transition from one technology to another at the time that's best for their business," says Thad Ewald, Vice President, Corporate Strategy at Cummins and leader of the company's Electrified Power segment.
The zero-emissions Class 8, 6x4 day cab tractor is suitable for vocational applications, including regional haul, urban delivery operations, port drayage and terminal container handling.
It was designed and integrated by Cummins in Columbus, IN, and includes a proton exchange membrane (PEM) fuel cell from Hydrogenics, which was recently acquired by Cummins.
The truck was designed for a 90 kW (120.7 hp) fuel cell and is scalable in 30 kW or 45 kW (40.2 or 60.3 hp) increments up to 180 kW (241.4 hp) and has a 100 kWh lithium-ion battery capacity. The truck has a range of 150-250 mi. (241.4-402.3 km), however, that range can be extended with additional hydrogen tanks, by increasing the tank storage pressure, or by installing additional fuel cells to optimize management of the vehicle load factor. Many of the critical components of the powertrain including the PEM fuel cell, system controller, powertrain controls, wire harnesses and junction boxes, among others, were designed and developed by Cummins.
Freudenberg Sealing Technologies is another company which has recently entered the battery and fuel cell markets. The company is looking to expand its product offering to meet the needs of changing markets, and envisions using batteries and fuel cells together to provide the range necessary for longer range applications.
Read more: Freudenberg Focuses on Fuel Cell Development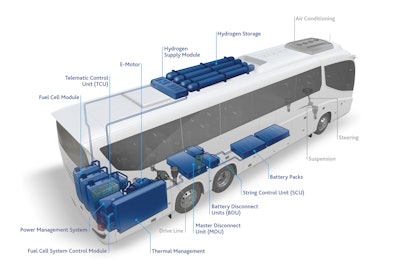 Increased automation and connectivity aim to improve productivity
Connectivity is here now and is already reshaping productivity and the way fleets are managed. Components communicate with each other to drive efficiency, while the vehicles are generating an ever-increasing amount of data that is filling fleet management software systems.
As the number of connected machines continues to expand, data management and data-driven services will become a key performance differentiator. "Connectivity is the basis for everything," says Lundstedt. "We have more than 1 million connected machines around the globe today. An enormous amount of data is generated."
This data is key to driving uptime. All manufacturers have instituted uptime programs that watch for potential failures and provide the data needed for fleet managers and owners to make well-informed decisions.
"Remote diagnostics allows us to predict when certain components need to be replaced proactively," says Peter Voorhoeve, President, Volvo Trucks North America. "We can avoid that unplanned downtime. The same thing with over-the-air downloads. You don't have to go to the dealership anymore for software updates."
Typically, trucks might need software updates or change parameter settings a couple of times a year. Over-the-air updates allow this to happen while the trucks remain in the field in 20 minutes or less.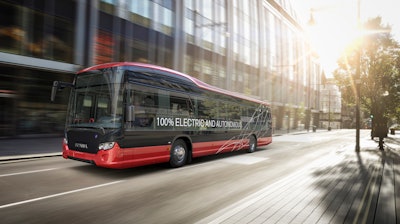 While autonomous vehicles continue to gain media attention, it will still be several years before driverless trucks are on the road. There is still a lot of technology which needs to be developed and validated. There are also the legal issues which go along with it such as who holds responsibility should there be an accident involving an autonomous vehicle However, advances is autonomy will continue to progress and certain applications will see the level of autonomy increase throughout the next few years.
A recent report from Transparency Market Research indicates the logistics industry will be a key driver for autonomous trucks. It projects the global automated truck market will achieve a compound annual growth rate (CAGR) of 55% through 2027.
Automation offers many benefits such as improving safety by removing the potential for human error to occur. It is also seen as a way of overcoming the trucking industry's driver shortage which is anticipated to continue increasing in coming years.
As such, manufacturers are investing heavily in R&D to progress to higher levels of automation in the future.
Freightliner became the first truck OEM to launch a Class 8 truck at the 2019 Consumer Electronics Show (CES). The Cascadia was the first truck to hit the road with Level 2 automation equipped with the Detroit Assurance 5.0 suite of safety systems. "We are committed to bringing SAE Level 4 automated trucks to the road within a decade and we began testing our automated trucks on the highways and interstate freeways in Southwest Virginia," says Nielsen.
Automation comes in many forms and you must determine the best solution for your particular operation. "What gets the most attention is Level 4 autonomy, driverless operations. But for most, autonomy is at best driver-assisted systems," says Lisboa. "We plan to bring to market a Level 2 autonomous solution in the second half of 2020."
Voorhoeve explains that automation is not really about the product but the process. "We don't sell autonomous trucks, we sell autonomous solutions," he says. "We have Volvo Autonomous Solutions as a separate business area.
"If connectivity, electromobility and autonomy come together, then you connect the bigger picture," he concludes.
To learn more about electrification trends in the bus market, read our contributed piece from IDTechEx "Rapid Change and Market Acceptance for Electric Buses."