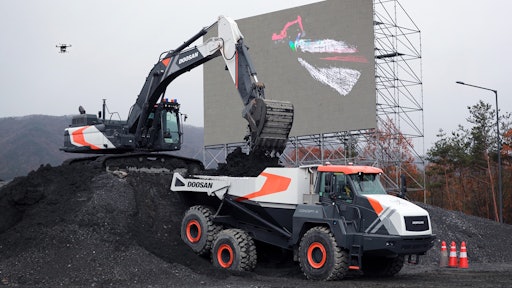 Hyundai Doosan Infracore
Each year the Consumer Electronics Show (CES) brings the best in technology for a range of industries. While consumer electronics is in its name, the event has grown over the years to encompass technologies for use in numerous applications, including the heavy-duty on- and off-highway markets.
In recent years, companies such as Daimler Trucks, Caterpillar Inc., John Deere, ZF and many others have exhibited at the show. Doing so provides an opportunity to show just how advanced technology in the heavy-duty vehicle and equipment industries has become.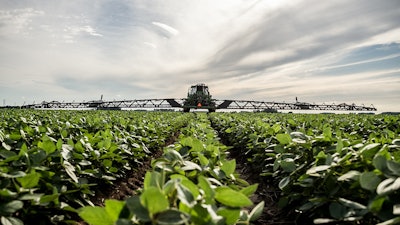 The 2022 show is looking to be no different with several manufacturers directly in or associated with the heavy equipment industries scheduled to take part in the event.
Once again, John Deere's agriculture division will exhibit at the show to demonstrate the many advanced technologies it offers such as precision agriculture solutions and automated systems. The company has also been nominated for a CES 2022 Innovation Award in two categories—the Robotics and Vehicle Intelligence & Transportation categories. In the former, it is up for a Best of Innovation award.
John Deere has been nominated for its See & Spray technology which is an advanced robot utilizing computer vision and machine learning to provide more precise herbicide application.
Winners of the Innovation Award will be announced at the start of CES 2022.
Read more about other companies nominated for the CES Innovation Award.
During the show, the company will unveil an autonomous tractor as a means of demonstrating what it sees is the future of the industry.
FPT showcasing sustainability, future mobility technology
Engine manufacturer FPT Industrial will present future mobility technology as well as its vision for sustainability at CES 2022. The company will have a 2,200 sq. ft. booth organized into four Innovation Areas, each of which is dedicated to advanced technological solutions for sustainability in the company's various market segments including on- and off-road equipment and powertrain systems.
Among the products on display will be an electric axle for use with heavy-duty on-road trucks with a 44-ton gross vehicle weight (GVW). The axle provides 840 kW performance and greater than 92% efficiency. It was developed in partnership with Nikola and sister brand IVECO. The first units are expected for delivery in the U.S. in 2022.
For the off-road segment, FPT will exhibit its F28 Natural Gas engine alongside its use in New Holland Agriculture's methane powered tractor. The tractor is designed to provide a lower emissions solution for farmers while still providing the performance needed to work their fields.
The tractor was recently named among the winners of the annual Tractor of the Year awards honoring agricultural equipment innovations.
FPT will also exhibit a variable-speed, hybrid, multi-mode genset concept known as Smart Hybrid Hub. Per FPT's press release announcing its presence at CES, this new concept is based on the first F28 variable-speed, low-pressure methane engine for Power Generation, fueled by biomethane obtained by the anaerobic digestion of agricultural waste and cattle slurry. The aim is to create a sustainable, net-zero-carbon circular economy, enabling farmers to become 'Energy Independent' from fossil fuels and able to generate additional revenue streams deriving from biomethane surplus sales.
Hyundai and Doosan exhibiting smart construction technology
Hyundai Construction Equipment and Hyundai Doosan Infracore are scheduled to exhibit at CES 2022. The companies will highlight advanced construction technology as well as their vision for autonomous equipment of the future.
At the show the companies plan to show their Concept-X project which combines various autonomous solutions to create a safer and more productive job site. First introduced in 2019, the concept brings together 5G remote control, 3D drone scanning, autonomous vehicle operation and more.
Hyundai Doosan Infracore anticipates commercialization of Concept-X by 2025.
Hyundai Doosan Infracore CEO Young-cheul Cho said in the company's press release announcing its presence at CES, "Automated and unmanned machinery that applies advanced Information and Communication Technology (ICT), such as artificial intelligence (AI), big data, cloud, will be the future trend of construction equipment market" "The Group's three companies of construction equipment, which are Hyundai Genuine, Hyundai Construction Equipment, and Hyundai Doosan Infracore, will reinforce investment in innovative technologies to become a global leader in the market."
READ MORE: Concept-X Drives Doosan Toward Autonomous Construction Equipment Future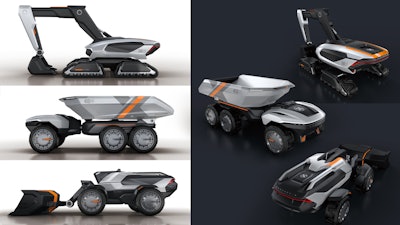 Michelin and AVL partner with Northrop on Lunar Terrain Vehicle
Michelin is one of several companies which has partnered with Northrop Grumman Corp. to transport astronauts around the moon's surface. The companies have supplied various components for the Lunar Terrain Vehicle (LTV) which will be on display at Northrop's booth during CES.
For the LTV, Michelin will develop an airless tire solution. The company will use its expertise in tire technology and previous projects with NASA to design the tire. Michelin's TWEEL is an airless tire already in use in some off-highway applications. Experience developing the TWEEL will aid design efforts for the LTV's airless tire, as well.
Additional partners on the project include AVL which will bring its experience developing battery electric vehicles and autonomous driving capabilities to the project.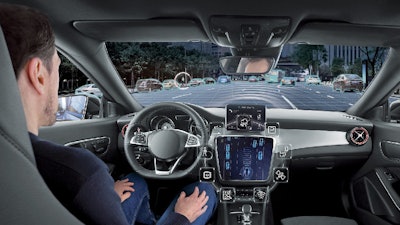 "Together with our teammates, we will provide NASA with an agile and affordable vehicle design to greatly enhance human and robotic exploration of the lunar surface to further enable a sustainable human presence on the Moon and, ultimately, Mars," said Steve Krein, vice president, civil and commercial space, tactical space systems division, Northrop Grumman, in the company's press release announcing the project.
Beyond the LTV project with Northrop and Michelin, AVL plans to highlight an array of technologies under the them "Reimagining Motion" at its CES booth. Among these are its advanced driver assistance systems (ADAS) as well as big data and analytics capabilities.
In conjunction with this show theme and the partnership with Northrop, AVL will unveil a virtual reality experience that will enable attendees to test drive a prototype of the LTV.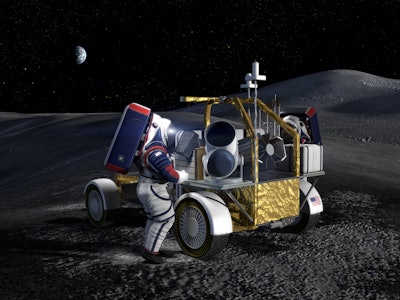 Udelv unveiling autonomous cabless transporter
Silicon Valley based Udelv is expected to unveil its delivery vehicle known as Transporter during CES 2022. The vehicle is said to be the world's first cabless electric delivery vehicle designed for multi-stop delivery applications. It is autonomously operated using technology from Mobileye.
The vehicle is capable of driving at highway speeds and able to stop up to 80 times per delivery run.
Mobileye's self-driving technology uses 360-degree sensing as well as safety technology, an AV map and other solutions to enable operation without a driver.
Udelv anticipates operating over 50,000 Transporters by 2028, and to start commercial deployment as soon as 2023.
Polaris showcasing newly unveiled electric UTV
Polaris recently introduced its all-electric UTV, the RANGER XP Kinetic which it plans to showcase during CES 2022. Two trim options are available:
Premium which is equipped with a 14.9 kWh lithium-ion battery capacity and estimated range of up to 45 mi. and
Ultimate featuring 29.8 kWh battery capacity and up to 80 mi. range.
The company says the vehicle is capable of providing 110 hp and 140 lb.-ft. of instant torque to ensure optimal performance for customers. With these power capabilities, the RANGER XP Kinetic can tow 2,500 lbs. and haul 1,250 lbs. The vehicle also features 14 in. of ground clearance and 10 in. of suspension travel to ensure a comfortable ride.
Electric operation provides not only helps reduce emissions but also offers a quieter ride that ensures comfort for operators. It also aids use near animals or when in quiet areas.
Polaris has begun taking reservations for the UTV and expects first shipments in Summer 2022.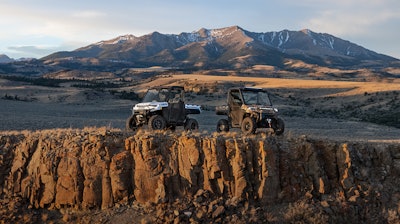 Companies in this article